CAN MANCHESTER CITY BE THE CHAMPION OF ENGLAND ONCE AGAIN??

Wow, it's been another week for the title race between Liverpool and Manchester city. The two team for the past two to three season have been challenging each other for the premier league title and now the two coaches of the two teams are proving to the world that they can bring good out of any player which they got. Jürgen Klopp of Liverpool and pep guadiola of Manchester city have been greatest rival coach in the premier league for now which I know next season other club coach can come in into the light of discussion. The season is about coming to an end with just few games left to be played to determine the winner for this season premier League.
Guau, ha pasado otra semana para la carrera por el título entre Liverpool y Manchester City. Los dos equipos durante las últimas dos o tres temporadas se han estado desafiando entre sí por el título de la liga principal y ahora los dos entrenadores de los dos equipos están demostrando al mundo que pueden sacar algo bueno de cualquier jugador que tengan. Jürgen Klopp del Liverpool y Pep Guadiola del Manchester City han sido los mejores entrenadores rivales en la Premier League por ahora y sé que la próxima temporada otro entrenador del club puede entrar en la discusión. La temporada está a punto de llegar a su fin con solo unos pocos juegos por jugar para determinar el ganador de la Premier League de esta temporada.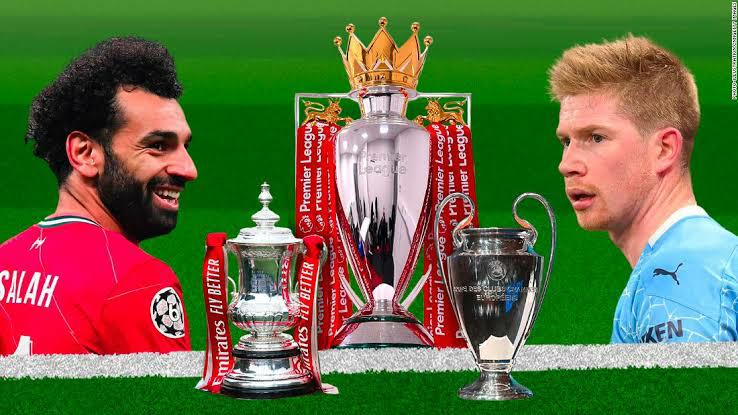 Source

For me I think premier league looks harder or let me say tougher than other league you can imagine, for the past few season in other league, one can know who will lift the trophy before even reaching the last games of that season, let me first go to bundesliga,looking at Bayern Munich who have been lifting the trophy for the past three season or more and from their league it is easy to know that they are going to win the league, okay coming back to ligue one in France, Paris Saint Germain (PSG), this team also have been announced as this season champion even before the end of the league and this is not the first time it will happen.
Para mí, creo que la Premier League se ve más difícil o déjame decir más difícil que cualquier otra liga que puedas imaginar, durante las últimas temporadas en otra liga, uno puede saber quién levantará el trofeo incluso antes de llegar a los últimos juegos de esa temporada, déjame primero. ir a la bundesliga, mirar al Bayern de Múnich, que ha estado levantando el trofeo durante las últimas tres temporadas o más y, por su liga, es fácil saber que van a ganar la liga, está bien volver a la ligue uno en Francia, Paris Saint Germain (PSG), este equipo también ha sido anunciado como campeón de esta temporada incluso antes del final de la liga y esta no es la primera vez que sucederá.

Okay now back to premier league talk the greatest rival for the title have been between this two teams which no other team have come in between then as fellow rival. Now it's happening again. Premier league is always nice to watch because there is no continuous win for a particular team as one can't predict how the next game might be. The Game is remaining just three for the champion to be known yet it's just getting tougher than expected.
Bien, ahora volvamos a hablar de la Premier League, el mayor rival por el título ha sido entre estos dos equipos, y ningún otro equipo se ha interpuesto entre ellos como rival. Ahora está sucediendo de nuevo. La Premier League siempre es agradable de ver porque no hay una victoria continua para un equipo en particular, ya que uno no puede predecir cómo será el próximo juego. Solo quedan tres para que se conozca al campeón, pero se está volviendo más difícil de lo esperado.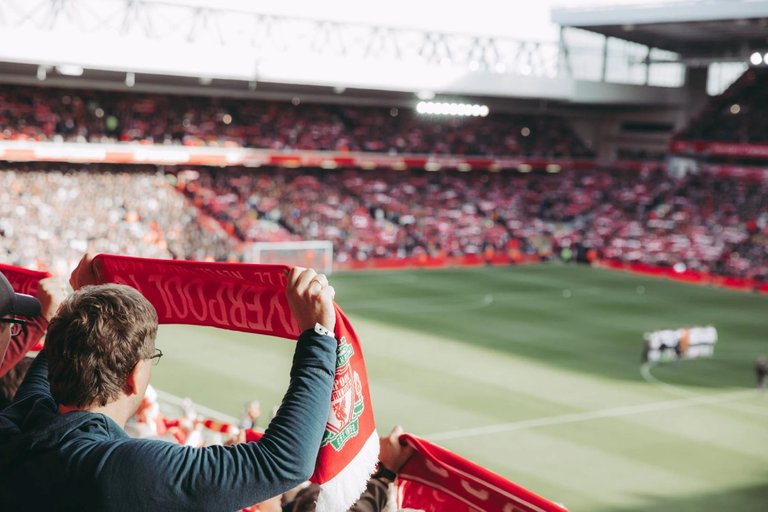 Source


The title challenger which is Liverpool draw a vital match which suppose to have ease the stress of fighting more for the trophy because Mancity won't have been trying and playing hard not to loose any match. Liverpool taking on to Tottenham Hotspur on Saturday made so much effort in other to score more and earn a three point but Tottenham Hotspur who are also looking for a spot in the champions league made it very tough for liverpool as they played defensively and even with that a poor play by fabinho and Robertson made Son score first against Liverpool.
El retador al título, que es el Liverpool, sortea un partido vital que supone haber aliviado el estrés de luchar más por el trofeo porque Mancity no habrá estado tratando y jugando duro para no perder ningún partido. El Liverpool, que se enfrentó al Tottenham Hotspur el sábado, hizo un gran esfuerzo para anotar más y ganar un triple, pero el Tottenham Hotspur, que también está buscando un lugar en la liga de campeones, se lo puso muy difícil al Liverpool, ya que jugó a la defensiva e incluso con eso. una mala jugada de fabinho y Robertson hizo que Son anotara primero ante el Liverpool.

It gets tougher because Liverpool need to score two goals in other gain a win, Robertson and fabinho were replaced in other to keep the hope of winning alive. Thanks to Luis diaz who raised the hope by scoring an equalising goal and this earned them just a point. So Mancity who took on to Newcastle today played with all what they have got and scored 5 goals to secure a win. They now have goal difference of 4 against Liverpool and I must say that the remaining match for man city is light a soft cake and it look so easy for them.
Se vuelve más difícil porque el Liverpool necesita marcar dos goles en otro para ganar, Robertson y fabinho fueron reemplazados en otro para mantener viva la esperanza de ganar. Gracias a Luis Diaz que levantó la esperanza al marcar un gol del empate y esto les valió solo un punto. Entonces, Mancity, que se enfrentó a Newcastle hoy, jugó con todo lo que tenía y anotó 5 goles para asegurar una victoria. Ahora tienen una diferencia de goles de 4 contra el Liverpool y debo decir que el partido restante para el man city es un pastel suave y parece tan fácil para ellos.


But since this is football anything can happen and the mighty might fall just in the hand if a little team. The league champion is yet to be decided and it might extend till the very last day of the league before we know since this occurrence has happened before and I won't be surprised if Liverpool later become the champion of England this time but I know it will be very tough but let's keep calm and watch till the end.
Pero como esto es fútbol, cualquier cosa puede pasar y los poderosos pueden caer en manos de un pequeño equipo. El campeón de la liga aún no se ha decidido y podría extenderse hasta el último día de la liga antes de que lo sepamos, ya que esto sucedió antes y no me sorprendería si el Liverpool luego se convierte en el campeón de Inglaterra esta vez, pero lo sé. Será muy duro, pero mantengamos la calma y observemos hasta el final.

---
---