Week 7 Result: 68 points - a pretty good week for me!
68 points puts me inside the top 1 million teams for the week. OK, it's not the highest bar for success but given that:
(a) there are around 7.5m teams; and
(b) I've only been in the top 1m twice in the first 7 weeks;
I'll take it.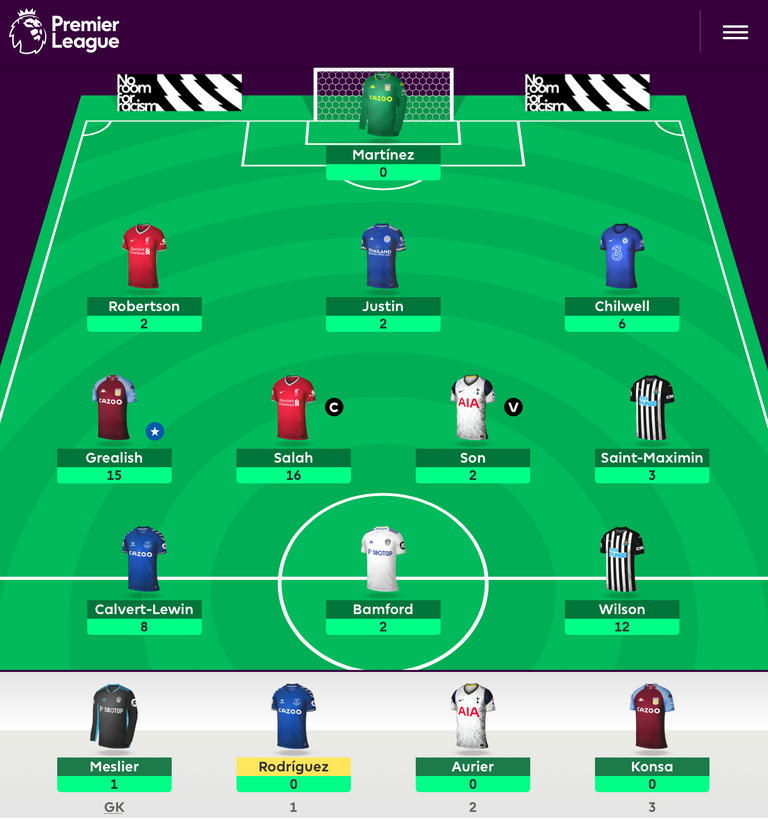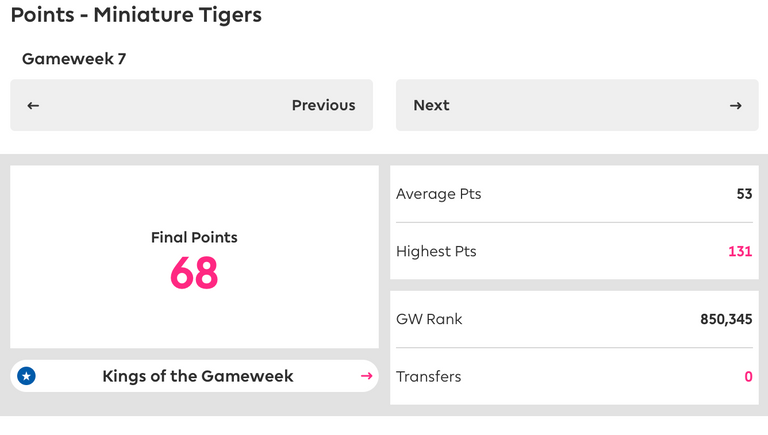 Transfer thoughts for week 8:
Strikers:
Up front, Wilson, Calvert-Lewin and Bamford are currently 3rd, 4th, and 5th in the overall points standings for forwards, so there I am happy. They're all scoring pretty regularly and I can't really afford to upgrade anyway.
Midfielders:
Even better, Son, Salah, Grealish, and Rodriquez are 1st, 2nd, 3rd and 5th in the overall standings. Rodriquez is injured but should be back pretty soon, maybe even this week.
I've a temptation to look at Bale. Once he's fit I think he'll score plenty. But as I have bigger problems at the back it'll have to wait.
Defenders / Goalkeeper:
I have two transfers available this week. One will be for a goalkeeper, one a defender. I have 2.3m spare cash but I'll need to free up another 2m or so if I want to land Bale. So cash-neutral transfers at best.
There don't seem to be many clean sheets floating around this season. Wolves have 4 out of 7 games but have had a fairly easy set of fixtures so far. Aston Villa have 3 out of 6. No one else hits above 50%.
Chelsea have 3 clean sheets out of the last 4 so have a little form but I already have Chilwell. Should I double up with Zouma? He's the most transferred-in player so far this week. Is Mendy going to keep playing?
Man City also have 2 out of the last 3 but with games against Liverpool and Spurs coming up it's the wrong moment.
Suggestions welcome!
Week 8 captain:
Spurs are playing West Brom whilst Liverpool are away at City. So it'll be Son as captain. At least that's an easy one!