This July, after quarantine restrictions had eased and after nearly 20 years, I started bouldering again and wondered how I managed to go for so long without climbing.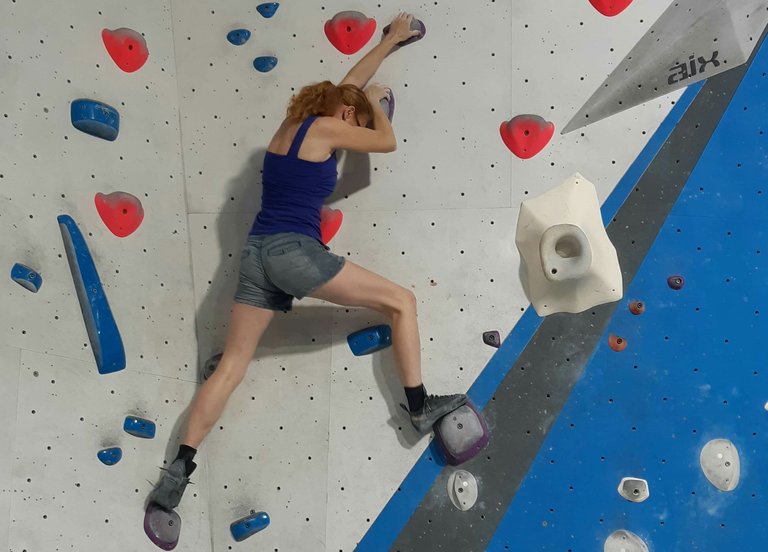 I've always enjoyed climbing throughout childhood, whether it was trees or rocks, but I never really thought of doing it more regularly as a hobby until my sister introduced us to indoor roped climbing in Leeds. From there hubby (also a fan of climbing as a child) and I ended up finding a local climbing centre in Nottingham and purchasing climbing harnesses. However, while this climbing centre had a few roped climbing walls, it had a much better bouldering set up and we quickly discovered that we preferred this style of climbing, without the ropes to mess around with. It became a regular event for us to attend each Saturday and even my father joined us.
When I fell pregnant I continued to climb for a little longer, mostly traversing at lower levels to avoid falls, but stopped when I became too heavy to accomplish much any more. My father and husband continued, to my envy, but eventually they too stopped as with children in tow it became harder and funds became scarce.
For those who might be wondering, bouldering is a form of rock climbing without ropes. Instead mats are placed to cushion any falls and generally you only climb up to 3 or 4 metres. It can be done indoors or out, but it's likely safer inside as mats can be placed permanently to cover the entire climbing floor area. When climbing indoors, grips called holds and volumes are attached to the wall and can be set up to meet different grades of climbing.
There are currently 14 different types of rock climbing and generally climbers will prefer some types over others. While I wouldn't recommend any type of climbing to be done entirely alone, due to the risk of injury, the free climbing styles are the only types you don't necessarily have to have a partner for.
When we first came to South Australia, we looked into climbing again, with the children being old enough to join in. However, the only place were could find was mostly roped climbing and had just a tiny section for bouldering and the roped climbs weren't particularly good. Our daughters ended up doing dance and gymnastics in the end anyway, so my time got taken up with that, but this year things changed. My eldest moved out and my youngest was having back problems and struggling to keep up with her gymnastics training. Not wanting her to completely drop all physical and social activity, I suggested we look into climbing again and low and behold there were two more choices we'd either not seen before or weren't there before and they were bouldering focused.
We opted for Beyond Bouldering in Kent Town, which was the closest and had the widest range of opening hours. They have their original wall at Keswick, but it's smaller and is open less often, so it gets much busier.
Beyond Bouldering Climbing Gym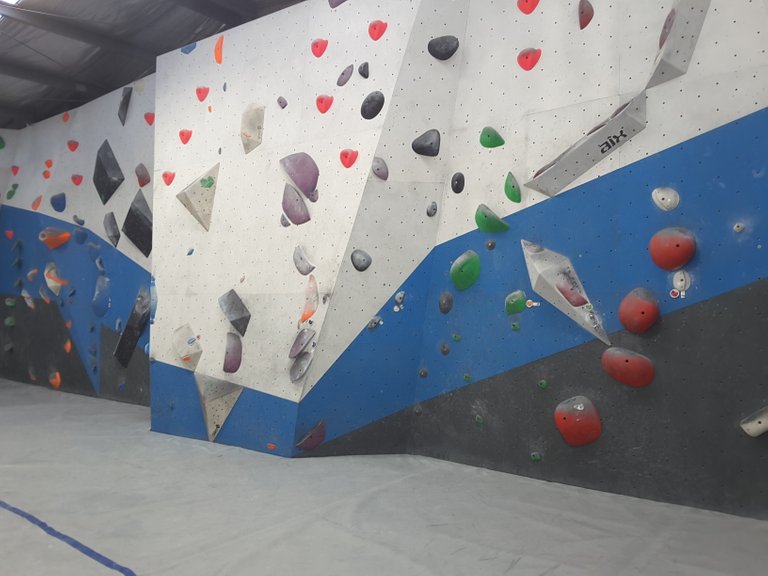 Beyond Bouldering actually styles itself on fitness through climbing, hence the name "gym." I'd say a lot of their revenue comes from casual visitors as nearly every session we'll see people come in wearing the hire shoes. Quite often school groups or after school clubs will turn up and recently we saw a group of women who were obviously fitness fanatics, judging by their muscle tone, but were clearly new to climbing.
Unfortunately, unlike when we first started climbing indoors all those years ago, you can't just climb in your trainers or sports shoes, you have to hire climbing shoes if you don't already have any. On your first visit you'll need to fill out a waiver, watch a safety video and have a staff member go through things with you on a simple demo climb.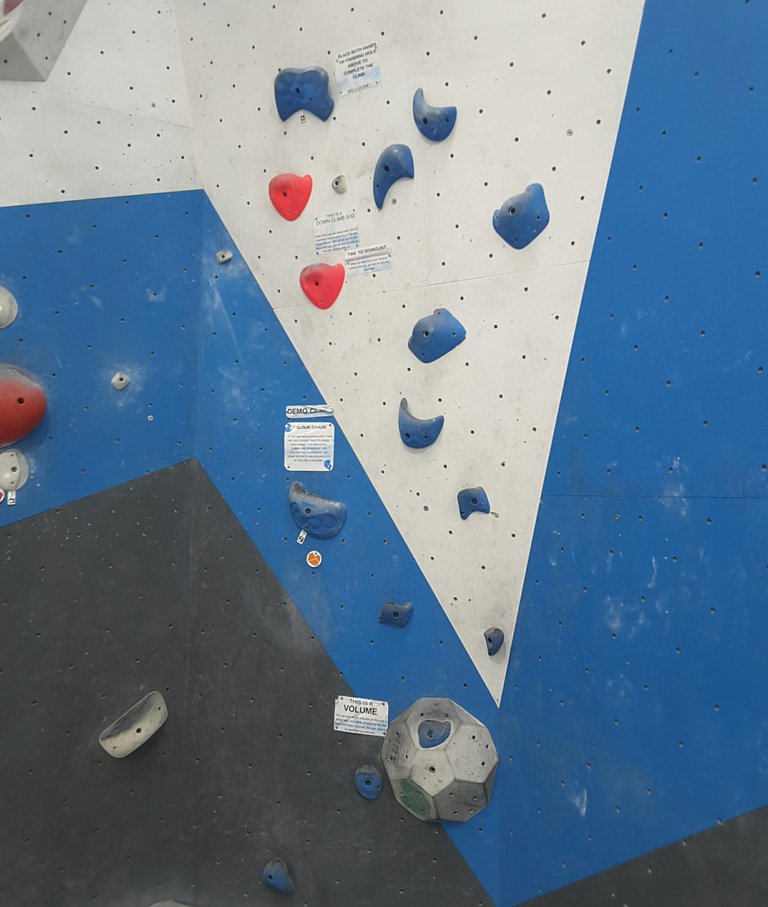 You'll have to demonstrate that you can fall safely, landing, bending your legs, pulling your arms across your chest and rolling onto your back. I can tell you now that this only really works when you're planning to come off the wall. When you come off unexpectedly, you generally don't have enough time to think about it and you land how you fall, often in the position you were in as you reached for that hold that you came off. Unless you're a gymnast who has spent the last 7+ years practicing landing in a safe position when things go wrong and then you can preach to your elders that they must turn in the air to land safely. I'm sorry, my brain doesn't work that fast. I'm on the wall…then I'm not.
Usually climbing is graded by numbers and letters, from beginner to extreme levels. This varies from country to country on how they choose to label grades. Beyond Bouldering has grade climbing marked with colours.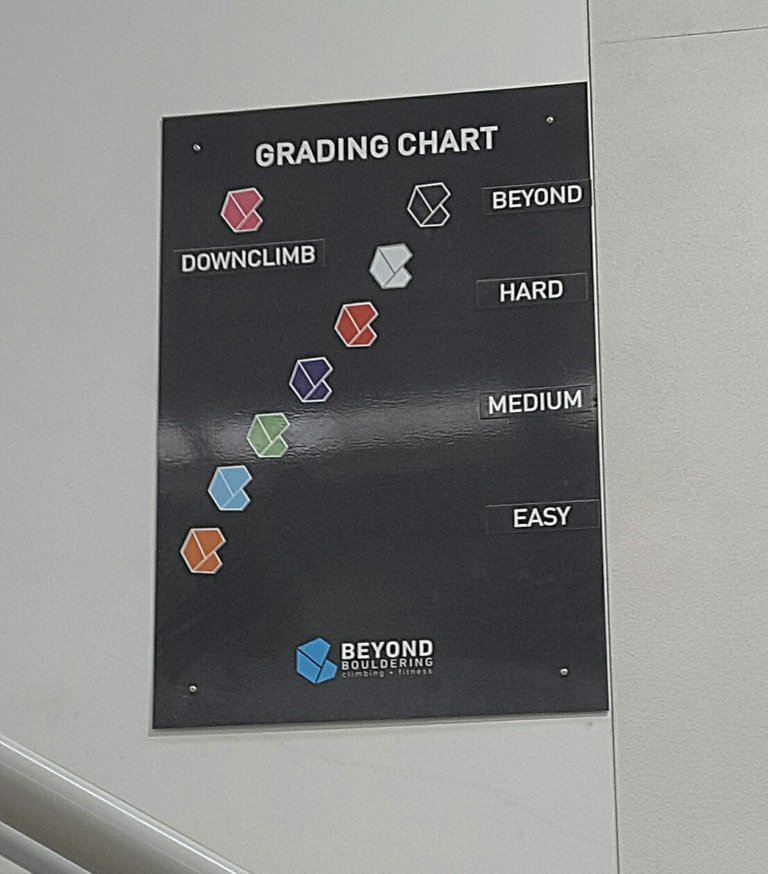 The starting hand hold/s are marked with their grade colour and the top is marked. Unless two top holds are marked, it's usually expected that you will match both of your hands on the top hold and do so securely.
The beginner level is an orange/brown colour and the top is halfway up the wall. It's usually no more challenging than climbing a ladder. The next step is blue and that has the same difficulty level as the orange, but usually the finish hold is at the top of the wall, giving a slightly longer and higher climb. Next is green which is heading just out of the easy category and into the lower end of medium. This will be a less straight forward climb which might challenge you to move your body in ways that are less like climbing a ladder, or they might be good ladder like holds, but take you onto an overhang, putting more of your body weight onto your arms. They might be on a flat wall and have plenty of holds to choose from, but they are smaller giving you less room to grip. Some will be almost as easy as a blue, but you had to try something a little different to scale them and others will be more challenging as they approach the medium range.
Purple is the midway point where you're truly into the medium skilled climbing range. These require more technique and strength. The grips might only have enough room for your finger tips, you might have to match your foot to a hand hold in order to reach the next hold or they might be what's called a sloper where you can only hold on with a curved hand and friction. They will range from something that is more like a high end green, to something more like a low end red, the next grade up. You'll start having to do things like keeping your weight to one side in order to be able to hold onto a sideways facing hold or spraging between two volumes to work your way up, rather like climbing between the walls of a corridor.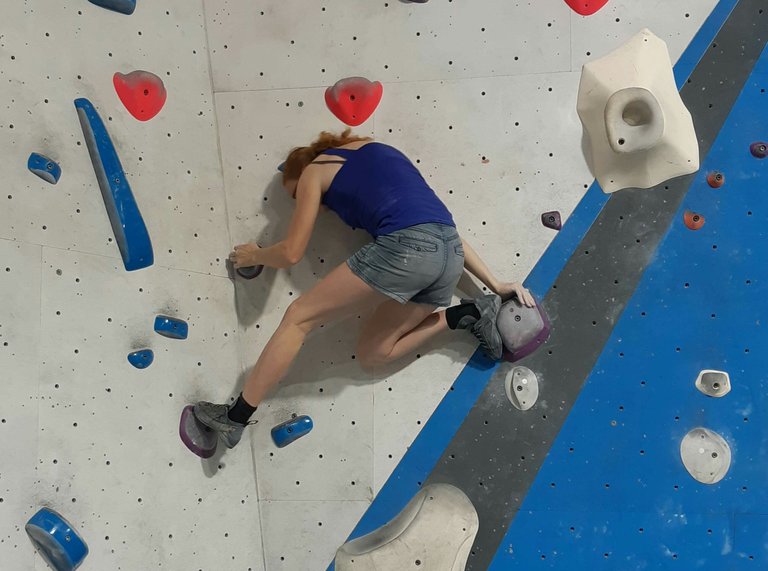 Next comes red at the bottom end of hard and I've only started attempting some of these, so I can't say as much about them. However, I'd say that from this point on you take the skills you've developed in purple and add more strength and flex. White is well and truly up in the hard realm and black is just labelled beyond, as in beyond hard!
You'll notice that all along the walls there are nice, big pink holds, but they are only on the upper half of the wall. These are to help you climb down so you don't have to drop from high up. I once overheard someone asking their friend how you were supposed to start the pink climb, because they couldn't see any on the lower half within reach. Thankfully their friend was listening at the introduction and explained their purpose.
Each Monday a section of the wall is changed to offer new climbs, meaning that approximately every month the entire wall will have changed. There will always be one climb each week which has a multicoloured label and this is the mystery climb, which you can try to guess what colour it should be. They usually range from green to red and when the next section gets changed it will get it's colour. You can suggest on their Facebook page what colour you think it should be.
If you get a multipass or a membership, you can use the workout gym upstairs, as if you don't get enough of a workout on the walls. Generally it's mostly used when it gets so busy downstairs that you just want to escape for a bit. If you want to chill for a bit, there ae tables and chairs in the entrance area and you can get a drink or snack.
The Positive Effects of Climbing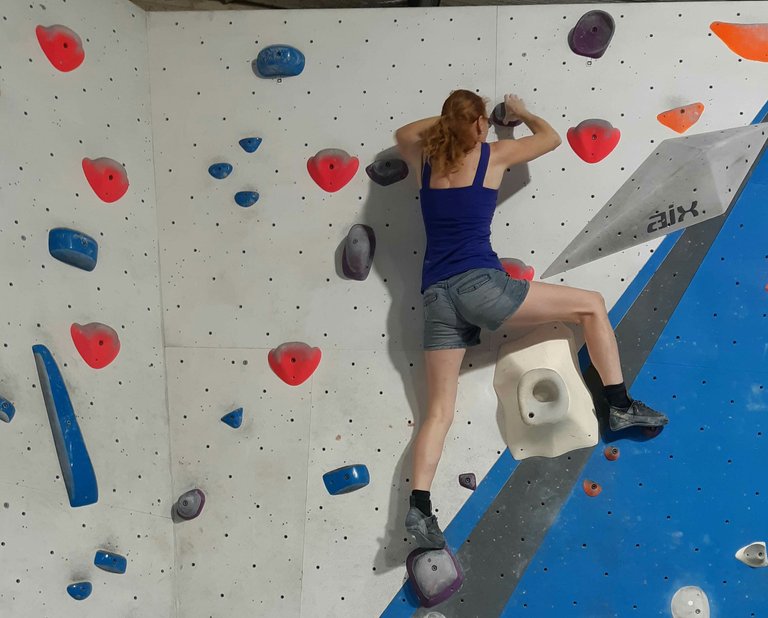 While I'm sure climbing isn't for everyone, I've gained so much from it these last few months, both physically and mentally. It's been a rollercoaster year and I'd been sinking into depression and experiencing anxiety on a level I've never encountered before. Now I'm climbing regularly this has improved and my energy levels have improved too.
I realise I'm not young any more and wasn't surprised to find I had lost a lot of my ability when I first started climbing again. I fully expected it to be a slow build up back to where I was, due to my age. I know that improvement doesn't happen as quick as you get older, but after just a few sessions I was surprised with just how quickly my strength improved. We soon went from barely managing a hour of climbing each visit, to two hours. I graduated through the greens, only struggling on the higher end ones, to doing some of the easier purples. Now greens are a warmup and I'm eyeing up my first reds. Thinking back to where I was all those years ago, I believe I've actually surpassed my original abilities.
I think the rapid improvement has had a lot to do with my approach and possibly also to do with us attending twice a week most weeks. So many who try out climbing see what some of the more experienced climbers are doing, try to do those harder climbs, then get put off because they can't do them. From the start, if I couldn't do a climb, I'd go back to one I could do and repeat it a few more times. If it was easy, then I'd try climbing back down on just that climb, rather than using all holds. This way I built up my strength on achievable climbs, trying the harder ones again when I was fresher. Near the end of the session, when I'm too tired to tackle any more harder climbs I'll go around all of the walls and do every one of the lower level climbs. Recently that has been the green climbs and it is becoming easier each time, so now I try to do them one after the other with less rest between.
I also have a habit of wanting to complete climbs, so once I've decided I want to finish one, I'll keep working at it until I complete it, which might take several sessions. Attempting the climb repeatedly works on the muscles needed to achieve that particular type of climb. Then once you're near the finish line you have all the more incentive to hold on because you may not have the energy to repeat what you've just achieved. They are the climbs where I really feel the burn and have muscle ache for the rest of the week!
As I move forward on the different types of climbs I discover where my weaknesses are and feel new muscles coming into play. Finger grips were surprisingly not as much a problem as I'd expected. They really work the forearms and for me those were the muscles that would get pumped initially, because I was able to do those climbs. However, having run out of these sorts of purple climbs I've had to move on to the ones I really struggle with, which are those with slopers and other broad holds which require a more open palm and friction. This week I confess that I've really been feeling my upper arms, shoulders and pectoral muscles, but it's worth it because I've finally managed to complete two climbs I had started to think I'd never manage.
Climbing For All
There are five of us who regularly climb together. Three of us are in our mid to late 40s, one, my daughter, is 17 and my father is still climbing with us at 71. Admittedly, climbing at my father's age isn't very common and quite a few people have stated how impressive they think it is, but he's a great example that it's really something for all ages. He no longer out climbs me, except for his party trick that no-one else in the group can do, which is going up the big grips on the overhang with hands only, but he still enjoys it and does as much as he can, improving slowly. I also think he enjoys the attention from some of the younger men whenever he does his party trick, even though he claims it's just his exercise.
It really is something just about everyone who is able bodied can enjoy. I even encountered a young man with mental disabilities being chaperoned through the climbs. It was a joy to see his enthusiasm and the enjoyment he got from it.
~○♧◇♡♤♡◇♧○~