Up Chelsea: The Underrated Champions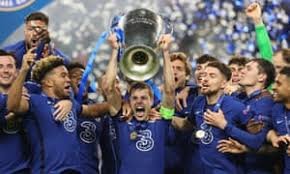 Image source
The long awaited finals have been played and the shockers, though not top regrettable was sent down our spine. Chelsea FC has been the underdogs in this final Champions League finals. The game was played at Estadio do Dragao, the stadium of Porto, in Portugal.
The first 10 minutes saw the two football giants possess the same 50%rate each. At around the 20th minutes into the game, Manchester City begins to dominate the game by 60% possession. It's an all-English Finals. That rings a bell, yeah, it does.

Image
At the 42nd minute,
Mason Mount carves the opponent's defense open with a killer through-ball to Kai Havertz who finds himself in a one on one situation with the keeper.
It's a Gooaall. Kai Havertz broke the jinx. That indeed was the straw that breaks the Camels back.
In the second half, Machester City dominated the game try to carve out a remedy. Despite the many trials, it seemed like Chelsea is just destined to carry the day.
The match went into the 98th minute and Kai Havertz could not clear the ball out of Chelsea's almost cause an equalizer.
The referee closed the day with a final whilst. Both teams could have won but Chelsea FC managed to breeze past Manchester City.
Congratulations to Chelsea. Manchester City got the opportunity to win the Champions League Trophy for the first time but it slipped.
Chelsea are the world champions again.
---
---