Good morning everyone.Everton coach , Carlo Ancelotti , has been named the Premier League's best coach this month. Carlo Ancelotti is officially the September 2020 edition of the Premier League's best coach . The title was won by Ancelotti because of his success in bringing Everton to appear strong until the fourth week of the Premier League . It is known, Everton has played four matches in the Premier League , all of which they have won. In the first match, Everton won a narrow 1-0 victory over Tottenham Hotspur. Then, they shaved West Bromwich Albion with a score of 5-2. Everton returned to reap positive results in the third match, this time winning 2-1 over Crystal Palace. And finally, Everton ended Brighton & Hove Albion's resistance 4-2.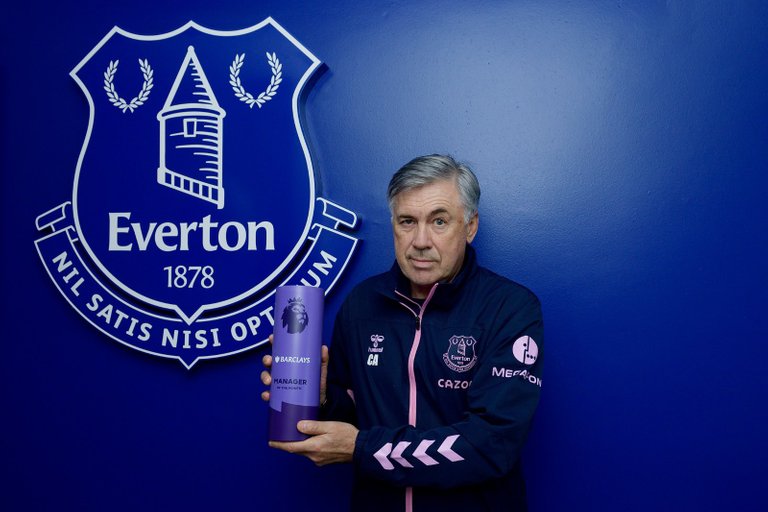 Source
This achievement made The Magpies, nicknamed Everton, temporarily stay at the top of the Premier League standings with 12 points. the title made Ancelotti repeat David Moyes' achievements in March 2013. Moyes at that time also succeeded in delivering Everton to finish in sixth place in the 2012-2013 Premier League standings. He was then recruited by Manchester United the following season
Moyes is trusted to replace the legendary Red Devils coach, Sir Alex Ferguson. However, Moyes failed to bring Man United to positive results in the inaugural season which resulted in him being sacked in April 2014. During his time at Man United, the Scottish coach played 51 matches in all competitions with 26 wins, 10 draws and 15 defeats.