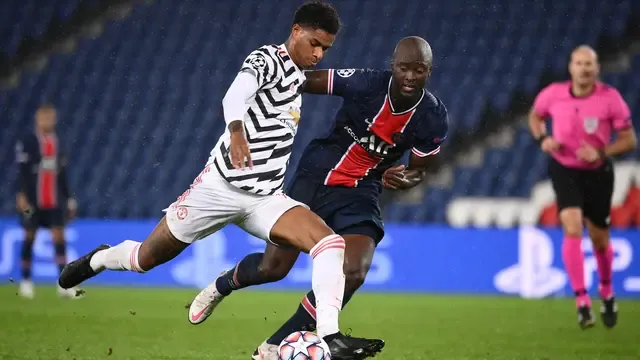 src
Ole Gunnar Solskjær had been clear. The Miracle of Paris from two seasons ago, when his Manchester United team drove to a famous Champions League last-16 win at this stadium, was nothing more than history. Yes, it was glorious and had helped him to get the manager's job on a permanent basis but he wanted a fresh statement against Paris Saint-Germain, a performance to inspire renewed hope. How his players delivered and, once again, it was Marcus Rashford who produced the decisive moment with time ebbing away. In March 2019 it was his 94th-minute penalty that edged United to an away-goals triumph and, in the driving rain at an empty Parc des Princes, it was his precision late drive that served to ignite his team's group phase campaign. United's dreadful start to the Premier League season has been well documented. Every defeat for the club is a crisis and two in the opening three games this time out created a climate of angst and volatility. They ought to have lost all three. But the 4-1 victory at Newcastle on Saturday showed they had not forgotten how to play the slick football from the back end of last season, which returned them to the Champions League, and this was better still. It was better because of the level of the opposition, because of the stage, even if it was a strangely soulless one. United needed David de Gea to be at the peak of his powers and he was. They needed their defenders and screening midfielders to be near perfect in their timing and application and they were. And, above all, they needed to be brave on the ball, to try to stretch a PSG backline that was strangely loose, to assert themselves. They did.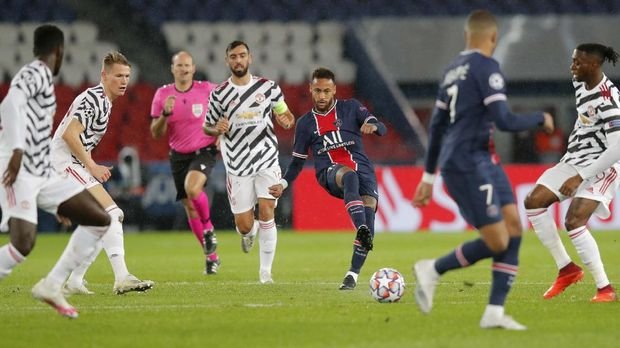 src
United's positivity was the most pleasing thing. They believed a victory was there for the taking even after Anthony Martial's disastrous own goal had cancelled out Bruno Fernandes's first-half penalty. They pushed on the counterattack, with Rashford's pace a persistent threat and he had advertised his goal, going close on a number of occasions. The winner was all about Rashford's dynamism. Taking a pass from Paul Pogba, who Solskjær had played only as a second-half substitute, he blasted around Danilo Pereira, who was not tight enough or quick enough – a theme of PSG's defensive display – and angled a low shot into the far corner. Unlike his penalty in the same goal, he had next to no time to think about it. This was a celebration of predatory instinct. Solskjær could revel in a tactical triumph. His 3-4-1-2 starting system was nicely balanced, allowing for possibility on the break but, as importantly, security against PSG's vaunted front three of Neymar, Kylian Mbappé and Ángel Di María. It was always going to be impossible to stifle them but United got men around them most of the time and measured their progress in tackles.
What a night it was for Axel Tuanzebe. The last time the central defender had been seen in a United shirt was in the League Cup win against Colchester last December. Here he was standing in for the injured Harry Maguire and Eric Bailly and making a pair of perfect penalty box challenges on Mbappé. Aaron Wan-Bissaka also showed why he is developing such a reputation as a one-on-one defender, stretching into a series of fine tackles. Scott McTominay and Fred provided presence in front of the defence and when Solskjær introduced Pogba for Alex Telles, who could reflect on a solid debut, and switched to a back four, it was the prompt for United to build up towards the coup de grace. United had led after Martial spun inside the area and felt Abdou Diallo go into the back of him. Fernandes had his kick saved by Keylor Navas but he was reprieved when VAR noticed that the goalkeeper had both of his feet in front of the line. Fernandes had missed from the spot against Newcastle, so how were his nerves now? Rock solid. He went through the same routine, a leap into the air before the connection, and for the same side, too. This time Navas went the other way. Fernandes, who wore the captain's armband, now has 16 goals in 28 United appearances.
De Gea had saved twice in the early going, first from De María and then from Layvin Kurzawa at close quarters; a magnificent block following Mbappé's cross. But United were comfortable until the interval with Fernandes extending Navas and McTominay seeing a flick from a corner hit Diallo and bobble wide. De Gea kept out Mbappé early in the second half with another fine save – he would deny Neymar later on – and Kurzawa drifted a cross on to the top of the crossbar but it took Martial heading Neymar's corner into his own net to usher PSG back into contention. Rashford refused to settle for the draw. He drew a smart save out of Navas and had another effort blocked before he rolled the clock back with his winner.