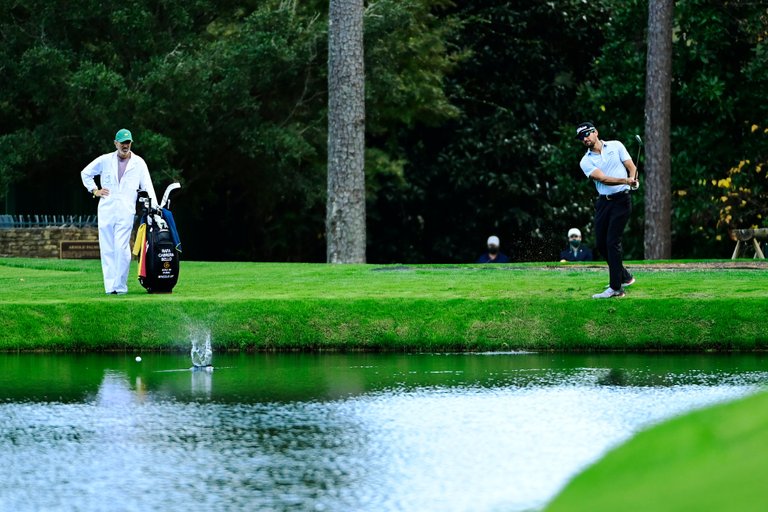 Src
Good morning everyone. Spanish golfer Jon Rahm caused a scene in cyberspace with a sensational hole in one at The Masters 2020 in Augusta, Georgia, United States. Hole in one itself is the designation of inserting the ball into the hole or hole in one stroke.
In The Masters tournament, there is a tradition in which each participant throws a shot across the lake towards the 16th hole which is carried out in a training session. The goal is to see how close the ball is to the pin. Jon Rahm performed the ritual very nicely. Because only in practice, Rahm did not hit the ball from the tee box.
The ball then floated across the lake, landed on the grass, then snaked on the Augusta gridiron, and entered hole 16 for hole in one. Like in an official tournament, Rahm celebrated after the hole in one. He also high fiveed with his caddy and then-partner, Rickie Fowler. This hole in one was not Rahm's first. In the preceding days, the 26-year-old also hole-in-one in practice at Augusta.
And first, more than a decade earlier, golfer Vijay Singh also made a hole in one on hole 16 of The Masters 2009. Vijay Singh made a hole in one almost the same as Jon Rahm. The ball first bounces in the lake water, then hits the grass and moves to the left before entering the hole.
At The Masters 2020, Jon Rahm will compete with other well-known golfers such as Bryson DeChambeau, Dustin Johnson, and of course Tiger Woods.