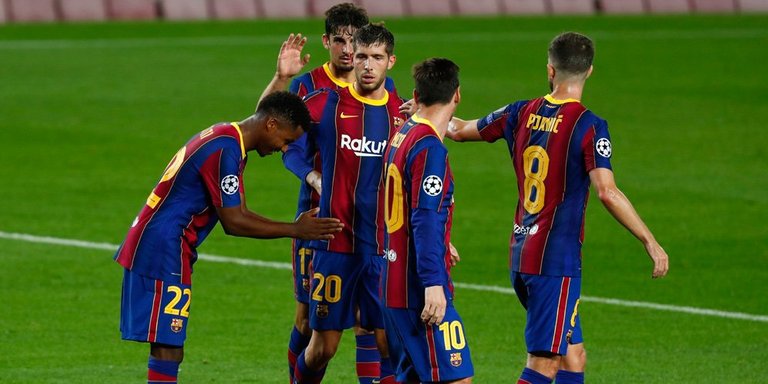 src
Good afternoon all. Barcelona have officially extended their four-player contract with Cristiano Ronaldo's seven-man release clause. Barcelona has officially extended the contracts of Clement Lenglet, Frenkie De Jong, Gerard Pique, and Marc-Andre ter Stegen. Interestingly, Barcelona provided a release clause with an average value of 425 million euros, or around Rp.7.36 trillion. This amount can even be used to buy seven Juventus superstar Cristiano Ronaldo.
According to Transfermarkt data compiled by BolaSport.com, Ronaldo's current market value is 60 million euros (IDR 1.04 trillion). Reported by BolaSport.com from the official Barcelona website, Lenglet extended his contract with the club until June 30, 2026. The defender's release clause. France is estimated to reach 300 million euros or around Rp. 5.20 trillion. This finally answered the speculation that Pique would leave Camp Nou.
The Spanish defender will remain Barcelona for the next four years with a release clause of up to 500 million euros, or around Rp. 8.67 trillion. Ter Stegen also finally extended his contract with Barcelona for the next five years until 30 June 2025. continues to guard the Barcelona crossbar as coach Ronald Koeman's first choice. To date, Ter Stegen has played 236 matches and recorded 100 clean sheets. The last player Barcelona also extended his contract to was Frenkie De Jong.
De Jong will remain loyal to defend the club from Catalonia until June 30, 2026 with a release clause of 400 million euros (Rp. 6.94 trillion). Since being brought in from Ajax Amsterdam last season, De Jong managed to secure a post in Barcelona's midfield. that year managed to become a regular in the midfield and made 47 appearances for Barcelona in all competitions.