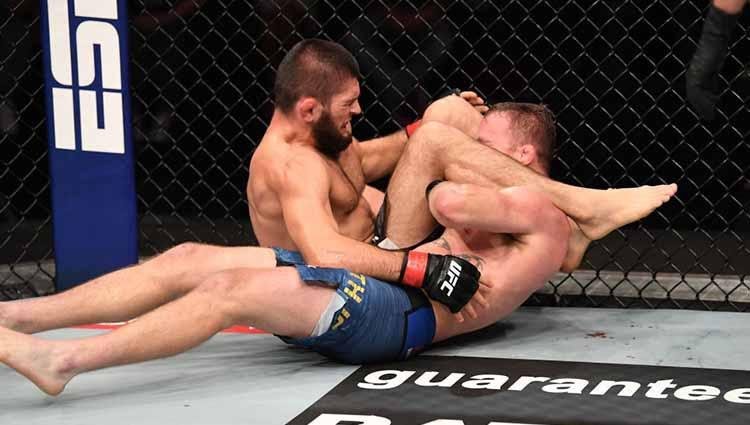 Src
Good afternoon all. Khabib Nurmagomedov made Justin Gaethje lose at UFC 254 through triangle choke. Here's an explanation of the triangle choke. Khabib successfully brought down Gaethje in the last two minutes of the second round. Khabib then got behind Gaethje's back before deciding to turn Gaethje's body so that he faced Gaethje directly.
Khabib is already in a strong position to press Gaethje's body then directs his legs around Gaethje's neck. Khabib did so fast that Gaethje was unable to stop Khabib's right leg from being on his neck. Khabib then pulled Gaethje's right arm while locking his neck by attaching his two legs. When Gaethje's neck was properly locked, Khabib added pressure to the neck by tightening the leg hooks.
Gaethje tried to fight back by trying to lift Khabib's body. One of the actions Gaethje has taken to escape the opponent's lockdown is by lifting and slamming the opponent onto the mat. It was only for a moment when Khabib's body lifted that the two fighters fell back onto the mat. Khabib continues to maintain the lock while Gaethje is seen taping out on Khabib's head.
Khabib had time to turn to the referee to confirm the referee's decision before finally the referee took hold of Gaethje's already limp hand. The referee decided Khabib won the submission. Gaethje limp helplessly and nearly fainted in the face of the lock.