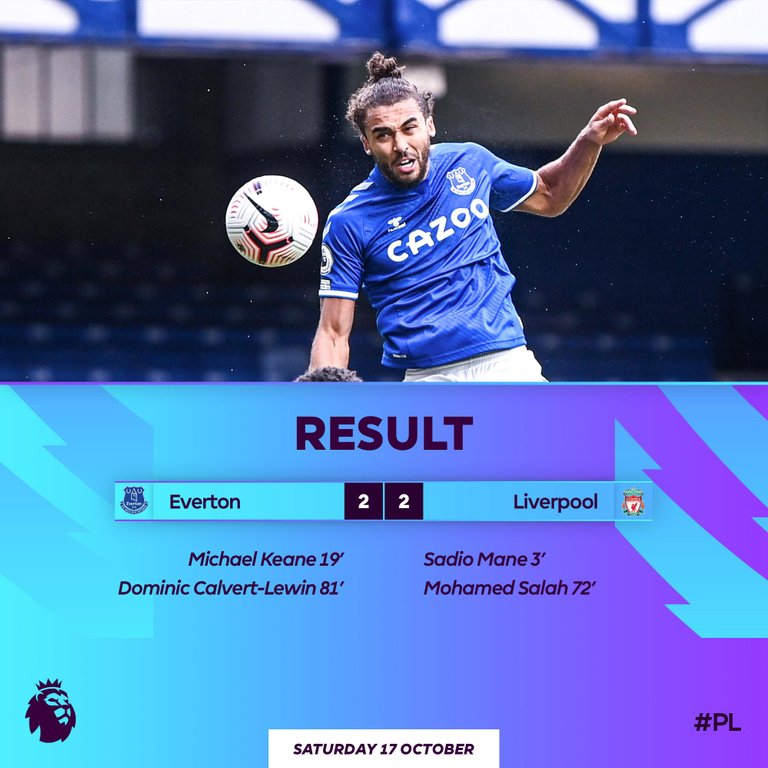 Src
Goodnight everyone. The Merseyside match between Everton and Liverpool in the Premier League at Goodison Park ended in a 2-2 draw. Liverpool stole the points quickly in the third minute through a goal scored by Sadio Mane when receiving a bait from Andrew Robertson. The Reds took a temporary lead with a score of 1-0. However, in the 11th minute, Liverpool had to lose Virgil Van Dijk after receiving a tough tackle from Pickford. Van Dijk was replaced by Joe Gomez. Everton continue to try to dismantle the opponent's defense, with Calvert-Lewin in the middle. However, Lewin's attempt in the 17th minute could only release a weak kick into Adrian's arms.
Everton were finally able to equalize in the 19th minute through a corner kick situation. Michael Keane's header when receiving feedback from James Rodriguez failed to be anticipated by Adrian. Score changed to a 1-1 draw. Until the whistle blew by the referee, no additional goals were scored by both teams. The first half match ended in a draw with a temporary score of 1-1. In the second half, Liverpool did not hesitate to attack Everton's goal. The combination of Liverpool's attacks managed to get Everton into trouble. Luckily the wild ball that Fabinho forwarded soared from the target. In the 48th minute a Henderson volley flew narrowly over the Pickford crossbar.
Two minutes later, Liverpool goalkeeper Adrian makes a vital save by cutting a cross between Digne and Calvert-Lewin. In the 59th minute, Everton almost doubled their lead when Richarlison caught James Rodriguez's cross in front of goal with a flying header. But luck was still on Liverpool's side, the ball hit the goalpost. In the 65th minute, Adrian made another save when James penetrated the Liverpool goal. A kick along the ground that leads to the right of the goal is pushed over by Adrian. Liverpool managed to double the lead through Salah's goal in the 72nd minute. Starting from a combination of attacks between Fabinho and Henderson, Salah fired a volley that led to a corner of the goal that Pickford could not reach. Score changed to 2-1 for Liverpool.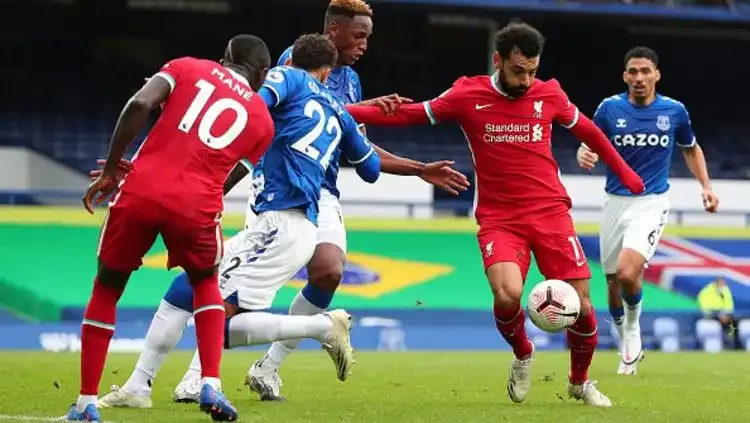 Src
On 77 ', Pickford made a save from Joel Matip's header. Two minutes later, the Everton goalkeeper brushed off Salah's fierce shot from the center. After numerous saves in defense, Everton surprisingly returned to level in the 81st minute through a Calvert-Lewin header. Score changed to 2-2. Without wasting time, Liverpool returned to threatening. However, Pickford made another save from Diogo Jota's shot. Furthermore, Everton midfielder Richarlison was sentenced to a red card for committing a serious foul on Thiago in the 90th minute. Liverpool also benefited in terms of the number of players.
Liverpool finally scored the third when Henderson finished Mane's cross in the 92 minute. However, the referee disallowed the goal through a VAR decision because Mane was deemed to be in an offside position. The final score for the derby remains 2-2