Good morning everyone. When it comes to star players from modern Argentina, most people will mention the names of players in attacking positions. For example Sergio Aguero, Lionel Messi, or most recently Lautaro Martinez. Understandably, Tango Country is known to have an abundant stock of players in the attack line. Not many defenders, who really have a convincing profile, have ended the era of Javier Zanetti and Walter Samuel. One of the few cases was with Pablo Zabaleta. Yes, this player of Basque descent is one of the few quality defenders of the modern era Argentina national team. However, before becoming a full-back, he started his career as a defensive midfielder at the club Dan Lorenzo, which he has strengthened since junior level. Together with Pope Francis' favorite club, he has been able to develop into a talented full-back, with a straightforward, uncompromising style of play. As a result, a call from the U-20 Argentina national team came. With the Argentine youth team, he became the team captain, as well as a key player. At the 2005 edition of the U-20 World Cup, the team which was also strengthened by Lionel Messi and Sergio Aguero was able to win the championship trophy.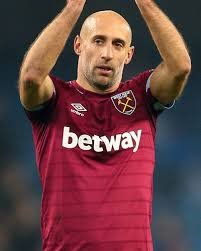 Src
This is the first big stage, which makes Messi and his friends lift their name at the top level. Zabaleta himself then moved to Espanyol, thanks to his impressive performance in the Netherlands. In the early period of his career. Zabaleta was coached by Manuel Pellegrini at club level, and Sergio Batista at the junior national team level. Uniquely, Pellegrini also coached Zabaleta at Manchester City and West Ham United, meanwhile, Sergio Batista became his coach in Argentina's senior national team at the 2011 Copa America. Together with Barcelona's city rivals, Zabaleta is growing. Not only in terms of performance, but also achievement. At Espanyol, Zabaleta won the Copa Del Rey trophy (2005/2006), and reached the final of the UEFA Cup (now Europa League) in the 2006/2007 season, before finally losing on penalties to Sevilla. However, it was his actions in the Argentina national team, which again helped him move clubs. Just like before, Zabaleta again achieved achievements under the command of Sergio Batista, in a team that included Lionel Messi, Sergio Aguero, Sergio Romero and Angel Di Maria.
The success of La Albiceleste in winning the gold medal at the 2008 Olympics, gave Zabaleta the opportunity to move to the Premier League, with Manchester City as the destination team. Uniquely, Zabaleta was the club's last purchase, right before the start of the Sheikh Mansour era of ownership. Together with The Eastlands, this player who also has a Spanish passport is able to become a regular player, both at the club and in the Argentina senior national team. At the club, Zabaleta successfully won 2 Premier League trophies (2011/2012 and 2013/2014), 2 League Cup titles (2013/2014 and 2015/2016), one FA Cup title (2010/2011), and a Community Shield trophy ( 2012). As well as making over 200 appearances for Manchester Blue, Zabaleta has also been involved in a number of important club moments. One of them, when he scored the opener, in a dramatic 3-2 win over QPR, which gave the Premier League trophy in the 2011/2012 season.
In the Argentine national team, this bald defender took part, when Lionel Messi et al reached the finals of the World Cup (2014) and Copa America (2015 and 2016). However, this time he was not as lucky as when he was in the junior team, because he always lost in the final. In total, Zabaleta made 58 appearances in the White-Blue Sky shirt without ever scoring a goal, with his last appearance at the 2016 Copa America Centenario. Zabaleta's work in the city of Manchester ended in 2017, as Pep Guardiola's rejuvenation project began. He was released free of charge to West Ham United, after his contract at the Etihad Stadium was not renewed at the club from the city of London. Zabaleta is still quite productive. Even though he only scored one goal, he was able to make a total of 80 appearances over 3 seasons, before finally leaving after his contract ended, and decided to retire on October 16, 2020, at the age of 35.
Even though it doesn't look "wow" in terms of the number of goals, or the ability to fry the ball, Zabaleta's career is arguably durable at the top level. He is also one of the lucky players, because he did not get the frills "The Next Javier Zanetti" or the like. But, thanks to that he was able to develop, and be himself. Even though it is relatively rarely highlighted, this situation can actually be put to good use. Apart from his playing style which tends to be a classic style, his work is an example for the media, so as not to overdo it, when focusing on young players, so that he can continue to develop and be able to achieve achievements.