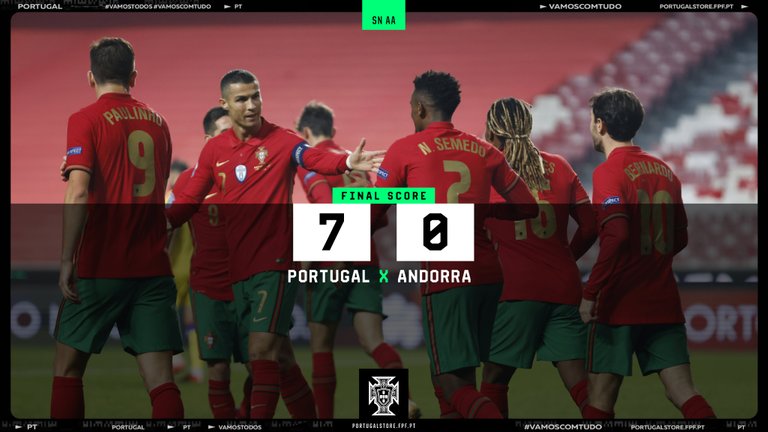 src
Good morning everyone. The captain of the Portugal national team, Cristiano Ronaldo, was finally able to provide a mature feed after two years to bring his team to a 7-0 win in a trial match. The Portuguese national team hosted the Andorra national team in a friendly match at the Estadio da Luz. Portugal national team did appear to be very dominating. Portugal leads possession with 76 percent. In terms of opportunities, Portugal has 25 of which 15 are aiming on target.
As for Andorra, there was absolutely no chance. Pressing from the start of the match, Portugal immediately won 1-0 in the 8th minute. Receiving Sergio Oliveira's mature pass, Pedro Neto grabs the ball with a left footed volley from inside the penalty box.
Fernando Santos' troops changed the score to 2-0 in the 29th minute. Utilizing Nelson Semedo's flat bait from the left side of Andorra's defense, Paulinho calmly released a left-footed cheat.
Paulinho's shot from inside the forbidden box was pushed over by Andorra goalkeeper Josep Gomes, but the ball continued to roll into the goal. Score 2-0 for Portugal lasted until halftime.
In the second half, Fernando Santos lowered Cristiano Ronaldo to replace Pedro Neto. The presence of Ronaldo made the Portugal national team appear even more violent. In the 56th minute, Portugal leads 3-0 with Renato Sanches' right-footed strike from inside the penalty area. Sanches stood free in the forbidden box for the Andorra national team after receiving a through ball from Cristiano Ronaldo.
Ronaldo finally returned to provide assists for Portugal after a hiatus of more than 2 years! The Juventus superstar last provided assists for Portugal against the Algeria national team in a trial match at the Estadio da Luz on July 6, 2018.
Portugal national team winning 4-0 in the 61st minute. Receiving a cross from Mario Rui, Paulinho steadily headed the ball in front of Andorra's goal. Cristiano Ronaldo cs changed the position to 5-0 in the 76th minute. Trying to block Bernardo Silva's left-footed shot from inside the penalty box, Andorra defender Emili Garcia instead sent the ball into his own net.
Portugal winning 6-0 in the 85th minute. Maximizing Mario Rui's brilliant cross, Cristiano Ronaldo headed the ball with a patent from close range. The Portuguese national team moved away 7-0 after Joao Felix threw a hard left-footed shot from inside the penalty box. The 7-0 score for Portugal remained unchanged until the referee from Switzerland, Alain Bieri, blew the final whistle.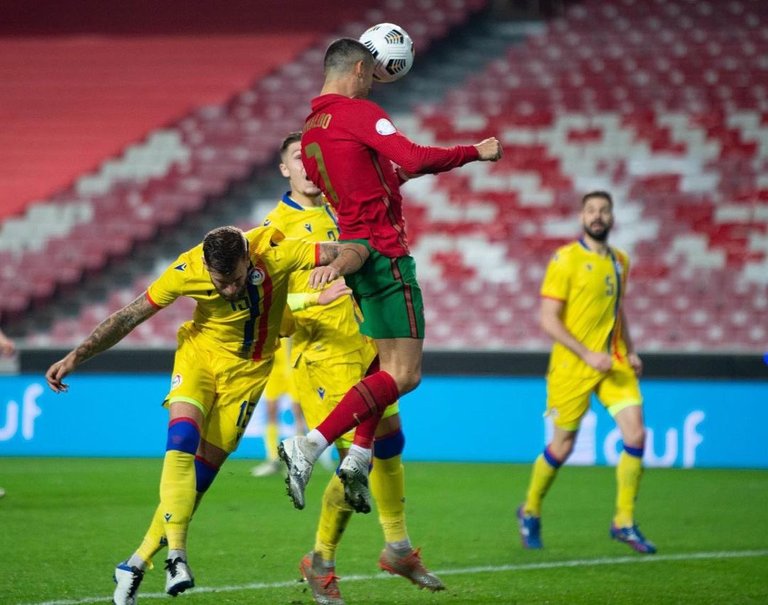 src
Cristiano Ronaldo cetak gol ke-102
Cristiano Ronaldo mencetak gol ke-102 untuk Timnas Portugal. Tambahan satu gol mendekatkannya dengan rekor Ali Daei. Portugal menjamu Andorra di Estadio da Luz pada laga uji coba. Bintang Juventus tersebut sempat mengalami masalah di pergelangan kaki saat melawan Lazio beberapa hari sebelum gabung Timnas Portugal. Sempat ada keraguan apakah Ronaldo bakal tampil, namun akhirnya dia main juga.
Cristiano Ronaldo turun di babak kedua. Dia menyumbang satu gol lewat sundulan. Pemain 35 tahun itu saat ini sudah mengoleksi 102 gol di level internasional. Mantan pemain Manchester United dan Real Madrid tersebut butuh delapan gol lagi agar menjadi yang tersubur di kancah internasional. Saat ini rekor gol terbanyak dipegang Alie Daei dari Iran dengan 109 gol dan tak akan berubah karena sudah pensiun. Cristiano Ronaldo senang bisa menambah pundi-pundi gol untuk Timnas Portugal. Ronaldo bisa saja menambah lagi di dua laga UEFA Nations League melawan Prancis, Minggu (15/11) dan Kroasia Rabu (18/11).
Ronaldo mencapai 100 gol lebih untuk tim nasional terjadi setelah melesakkan dua gol ke gawang Swedia pada September 2020. Kemudian dia gagal mencetak gol saat Portugal bermain imbang 0-0 dengan Spanyol dan Prancis. Ketika kembali menghadapi Swedia pada 14 Oktober, Ronaldo kembali gagal mencetak gol. Hal itu dikarenakan dia absen usai terpapar virus Corona.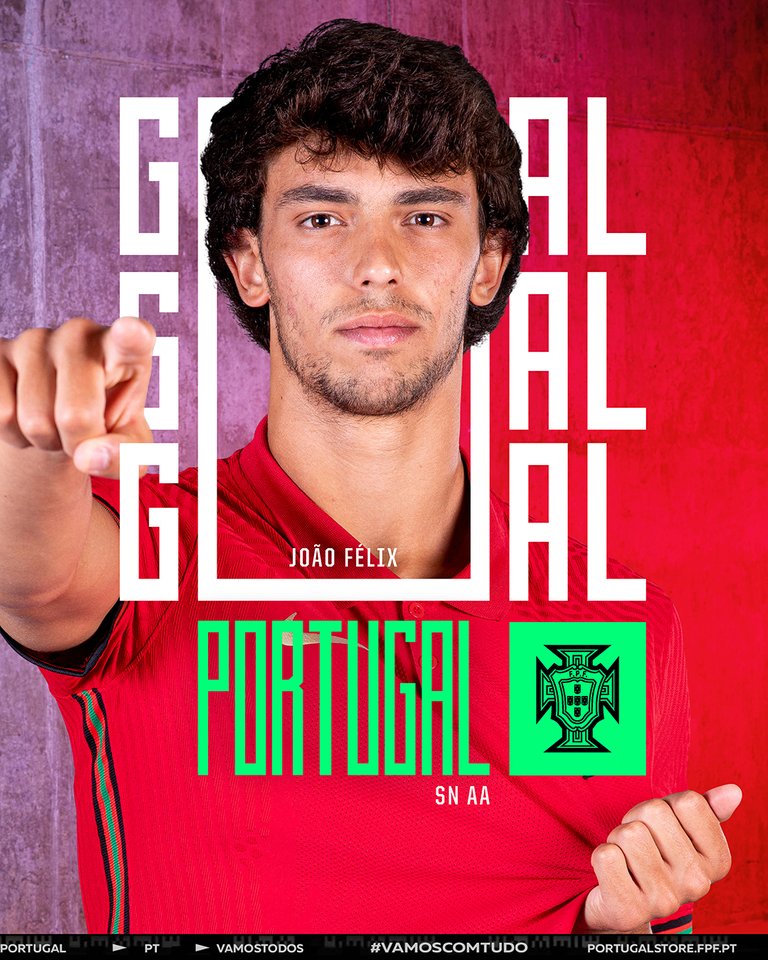 src