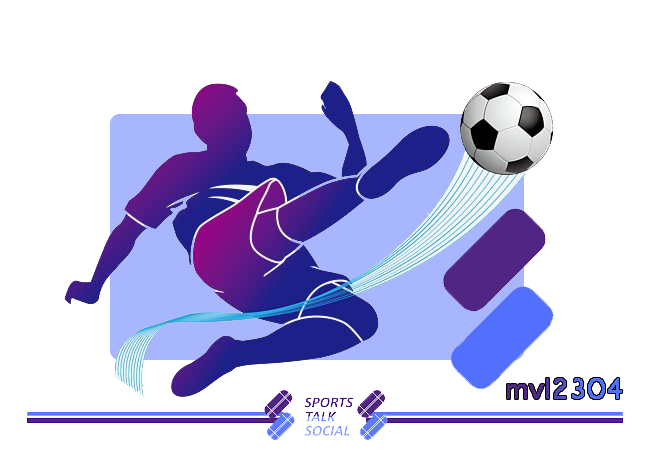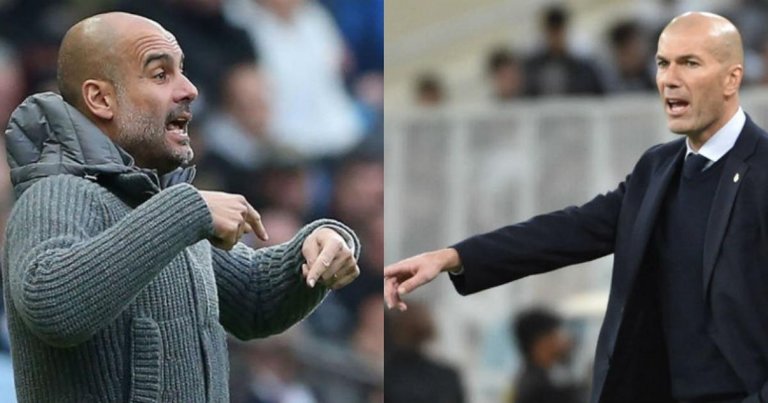 Desde que existe esta competición han sido muchos los técnicos que han terminado ganando el trofeo y muchos mas los jugadores que han hecho lo mismo, pero hacer ambas cosas es algo que no muchos ghan logrado y es de eso de lo que vengo a hablarles en esta publicación.
Esta hazaña solo ha sido conseguida por seis personas en toda la historia del deporte, eso habla muchísimo de lo difícil que es, pero no imposible y estos seis lo dejan claro.
Since this european competition has existed there have been many coaches who have ended up winning the trophy and many more players who have done the same, but doing both is something that not many have achieved and that is what I come to talk about in this publication.
This feat has only been achieved by six people in the history of the sport, that speaks volumes about how difficult it is, but not impossible and these six make it clear.

Miguel Muñoz.

Fuente - Source
El español Miguel Muñoz fue sin duda uno de los jugadores mas recordados en la historia del Real Madrid, fue el primer jugador de la historia en levantar el trofeo de la copa de Europa, tras ganarla siendo el capitán del Real Madrid en el año 1956, cuando se celebró la primera edición del torneo, no conforme con eso ganaría con su equipo las dos siguientes ediciones del año 1957 y 1958, ese mismo año se retiró del fútbol y se convirtió en el director técnico del equipo blanco, con los que ganaría tres ediciones mas seguidas, en el 1959, 1960 y 1966, una bestialidad de rendimiento en la Champions para este señor.
The Spanish Miguel Muñoz was undoubtedly one of the most remembered players in the history of Real Madrid, he was the first player in history to lift the trophy of the European Cup, after winning it being the captain of Real Madrid in 1956, when the first edition of the tournament was held, Not satisfied with that, he would win with his team the following two editions in 1957 and 1958, that same year he retired from soccer and became the technical director of the white team, with which he would win three more editions in a row, in 59, 60 and 66, a beastly performance in the Champions League for this gentleman.

Giovanni Trapattoni.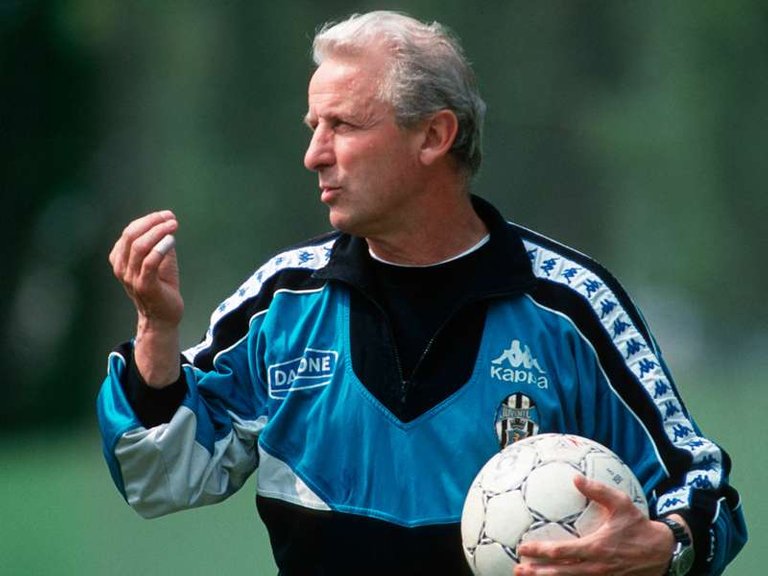 Fuente - Source
Giovanni Trapattoni fue un defensor italiano que jugó casi toda su carrera en el AC Milan, con quienes logró ganar dos títulos de la copa de Europa en el año 1963 y en 1969, fiel practicante del catenaccio, basó esta filosofia para desarrollar su estilo de juego como director tecnico, con el que fue capaz de llevar a la Juventus al titulo en el año 1985, tras ganarle la final al Liverpool en la tristemente recordada tragedia de la final de Heysel.
Giovanni Trapattoni was an Italian defender and midfielder who played almost his entire career with AC Milan, with whom he won two European Cup titles in 1963 and 1969. A faithful practitioner of catenaccio, he based this philosophy to develop his style of play as a manager, with which he was able to lead Juventus to the title in 1985, after winning the final against Liverpool in the sadly remembered tragedy of the Heysel final.

Johan Cruyff.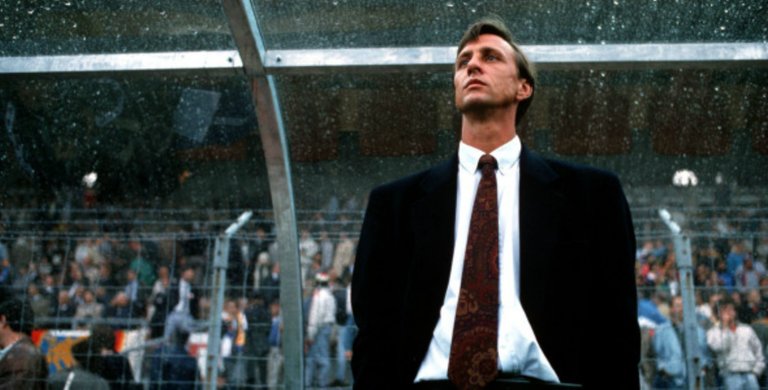 Fuente - Source
Johan fue un futbolista sin igual que llegó a la gloria europea jugando en el Ajax holandés, en el se basó toda la filosofía del fútbol total que el practicaba a la perfección y con su enorme talento fue capaz de llevar a su club a ser campeón de la copa tres veces seguidas como jugador, en los años 1971,1972 y 1973. Luego de eso pasó por el FC Barcelona, equipo al que regresaría después como director técnico en el año 1992 para darles su primer titulo de la todavía llamada copa de Europa, como dato curioso, en el once de aquel equipo campeón se encontraba Ronald Koeman, actual entrenador del Barcelona y quien marcó el gol del triunfo, y también Pep Guardiola, que se convertiría en el sexto en lograr esta hazaña de ser campeón como jugador y técnico.
Johan Cruyff was an unparalleled footballer who reached European glory playing for Dutch club Ajax, in which he based the whole philosophy of total soccer, the famous mechanic orange started at his feets, that he practiced to perfection and with his enormous talent he was able to lead his club to be cup champion three times in a row as a player, in 71, 72 and 73. After that he went to FC Barcelona, a team to which he would return later as manager in 92 to give them their first title of the still called European Cup, as a curious fact, in the eleven of that winning team was Ronald Koeman, current coach of Barcelona and who scored the winning goal, and also Pep Guardiola, who would become the six to achieve this feat of being champion as a player and coach.

Carlo Ancelotti.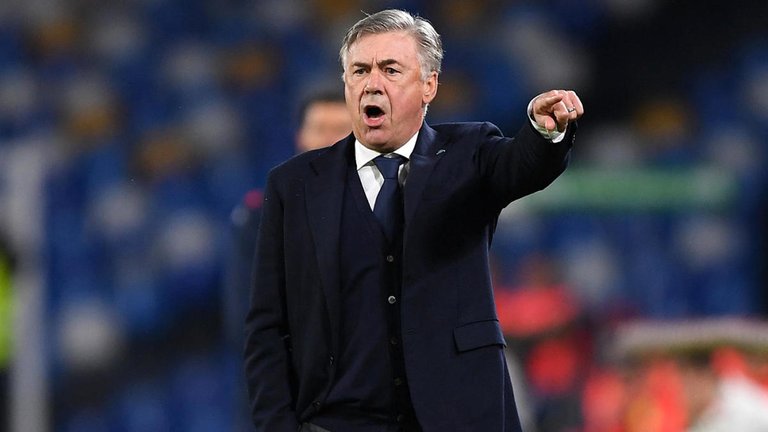 Fuente - Source
Carlo Ancelotti era una de las estrellas indiscutibles del mejor Milan de la historia, el talentoso jugador italiano compartió vestuario en ese entonces con el próximo en esta lista, Frank Rijkaard, y esa poderosa plantilla ganó dos ediciones de la competición en el 89 y en el 90, ya retirado y como director técnico, le dio dos copas mas al Milan, en el 2003 y en el 2007 y siete años mas tarde volvería a ser campeón, esta vez con el Real Madrid a quienes les dio la tan ansiada décima.
Carlo Ancelotti was one of the undisputed stars of the best Milan in history, the talented Italian player shared the locker room at the time with the next on this list, Frank Rijkaard, and that powerful squad won two editions of the competition in 1989 and 1990, already retired and as technical director, he gave Milan two more cups, in 2003 and 2007 and seven years later he would be champion again, this time with Real Madrid to whom he gave the long-awaited ''Decima''.

Frank Rijkaard.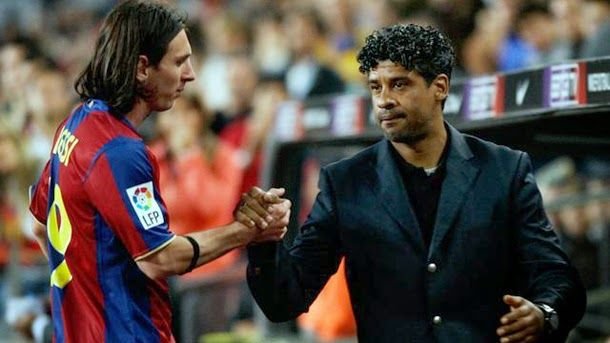 Fuente - Source
El holandes fue un talentoso mediocampista ofensivo o delantero que formó parte del trió holandés del AC Milan de los noventa, ganó las ediciones de la copa de Europa de 1989 y 1990, equipo del que también formaba parte Ancelotti como ya mencione antes, y cinco años mas tarde, volvería a salir campeón pero esta vez con el Ajax de Van Gaal, precisamente en contra del AC Milan, once años después en el año 2006 y ya como entrenador, llevaría al FC Barcelona a su segundo trofeo, esta vez de la UEFA Champions League, con un talentoso equipo liderado por la mejor versión vista de Ronaldinho.
The Dutchman was a talented attacking midfielder or forward who was part of the Dutch trio of AC Milan in the nineties, won the 1989 and 1990 editions of the European Cup, a team that was also part of Ancelotti as I mentioned before, scored the only goal in the 90's final against Benfica, and five years later, He would be champion again but this time with Van Gaal's Ajax, precisely against AC Milan, eleven years later in 2006 and already as coach, he would lead FC Barcelona to its second trophy, this time in the UEFA Champions League, with a talented and very solid team led by the best version of Ronaldinho.

Josep Guardiola.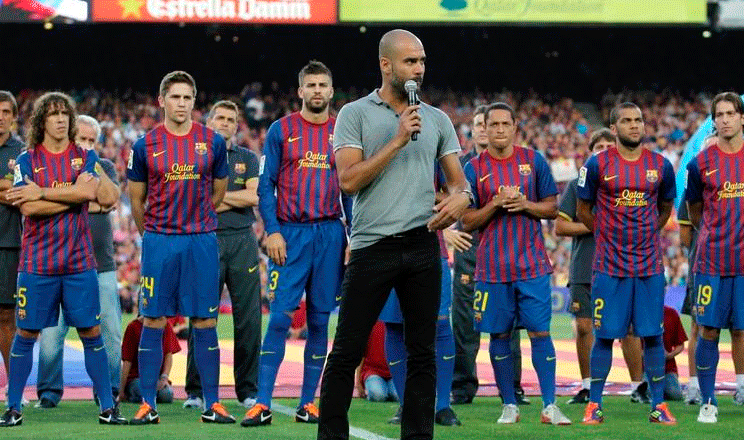 Fuente - Source
El español Pep Guardiola fue un talentoso mediocampista que formó parte del plantel titular que salió campeón por primera vez para el FC Barcelona en 1992, fiel a la filosofía de juego de Cruyff, Guardiola llegó al Barcelona como entrenador en el año 2008 e hizo una revolución en el vestuario, convirtió a Messi en su estandarte y lo rodeo de una generación irrepetible de estrellas en la que destacaban Xavi, Iniesta y Puyol y le dio al equipo una identidad de juego que traspasaría fronteras hasta la selección española ganadora de dos eurocopas y un mundial utilizando el estilo de juego que Guardiola le trajo al Barcelona, con ese equipo volvería a salir campeón en el año 2009 y en el 2011.
The Spaniard Pep Guardiola was a talented midfielder who was part of the starting lineup that won the title for the first time for FC Barcelona in 1992, faithful to Cruyff's playing philosophy, Guardiola arrived at Barcelona as coach in 2008 and made a revolution in the locker room, He made Messi his standard bearer and surrounded him with an unrepeatable generation of stars in which Xavi, Iniesta and Puyol stood out and gave the team an identity of play known as ''tiki-taka'', that would cross borders to the Spanish national team that won two Euro Cups and a World Cup using the style of play that Guardiola brought to Barcelona, with that team he would again become champion in 2009 and 2011.

Zinedine Zidane.

Fuente - Source
Hay muy poco que decir de Zidane como jugador que no se sepa ya, autor del que para muchos es el mejor gol de la historia de la Champions, salió campeón del torneo en su primera temporada con el Madrid, en el año 2002, todo apuntaba a ser una lista de éxitos para el equipo blanco pero al final terminaron fracasando, el francés se retiró en el 2006 después de disputar la final del mundial en Alemania y se convirtió en entrenador pocos años después, en el 2014 fue el asistente técnico de Ancelotti en la décima, y luego rompió un record al ser el primer entrenador en ganar dos ediciones de la actual UEFA Champions League de forma consecutiva y no conforme con eso, una tercera después, en el 2016, 2017 y 2018 con Cristiano Ronaldo como la gran super estrella del equipo.
There is not to much to say about Zinedine Zidane as a player that is not already known, author of what for many is the best goal in the history of the Champions League and for sure a final, he was champion of the tournament in his first season with Real Madrid, in 2002, everything pointed to be a list of successes with the ''Galacticos'' for the white team but in the end, the project don't work up and they ended up failing, the Frenchman retired in 2006 after disputing the World Cup final in Germany and became a coach a few years later, in 2014 he was Ancelotti's assistant coach in the tenth, and then broke a record by being the first coach to win two editions of the current UEFA Champions League in a row and not satisfied with that, a third after, in 2016, 2017 and 2018 with Cristiano Ronaldo as the star of the team.
---