Polémica en el balón de oro. [ESP-ENG] Controversy in the Ballon D'Or.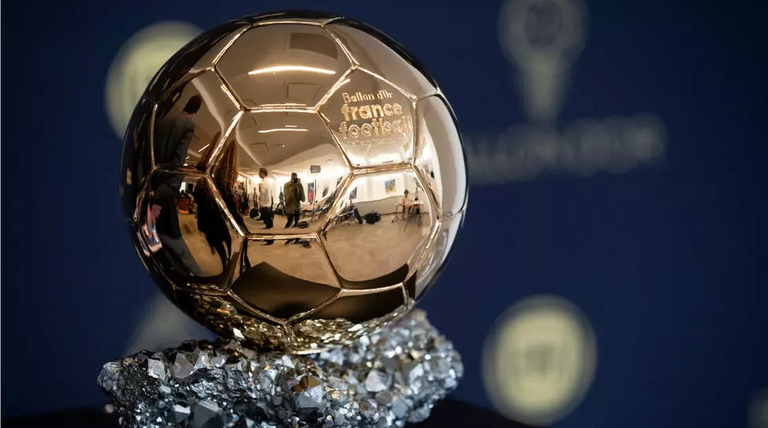 Hola a todos mis queridos lectores, el día de hoy les traigo una nueva publicación sobre fútbol, esta vez decidí hablar acerca del balón de oro, ese trofeo que anualmente se entrega al jugador considerado por la mayoría como el mejor del año, dicho premio es entregado por la revista France Football y es considerado como el máximo galardón individual para un futbolista. El primer balón de oro fue entregado en el año 1956 al ingles Stanley Matthews y el mismo se siguió entregando de forma ininterrumpida cada año hasta el actual 2020, que fue cancelada la entrega del premio debido a la pandemia por Covid-19, dejando así como a su ultimo ganador al argentino Lionel Messi, quien es también el que mas veces ha ganado el trofeo. Durante mucho tiempo, exactamente desde que empezó a entregarse hasta el año 1995, al trofeo solo podían optar jugadores europeos que jugaran en algún club de Europa, por ello nunca vimos nombres como el de Pelé o el de Maradona en la lista de ganadores. Muchas veces ha existido controversia por el nombre del ganador de dicho trofeo y es justo de eso de lo que vengo a hablar hoy en esta publicación, donde les voy a mencionar lo que a mi parecer fueron los 5 premios mas injustos y las razones del por qué pienso de esa manera. Comencemos.
Hello to all my dear readers, today I bring you a new publication about football, this time I decided to talk about the golden ball, that trophy that is given annually to the player considered by most as the best of the year, said award is awarded by France Football magazine and is considered the highest individual award for a footballer. The first golden ball was delivered in 1956 to the Englishman Stanley Matthews and it continued to be delivered uninterruptedly every year until the current 2020, when the award ceremony was canceled due to the Covid-19 pandemic, thus leaving its last winner to the Argentine Lionel Messi, who is also the one who has won the trophy the most times. For a long time, exactly since it began to be awarded until 1995, only European players who played for a club in Europe were eligible for the trophy, which is why we never saw names like Pelé or Maradona on the winners list. Many times there has been controversy over the name of the winner of said trophy and that is exactly what I am here to talk about today in this publication, where I am going to mention what in my opinion were the 5 most unfair awards and the reasons why what I think that way. Let's get started.

5. Lev Yashin, 1963.
La leyenda de la portería rusa jugaba para el Dinamo de Moscú cuando ganó el trofeo en el año 1963, convirtiéndose hasta el día de hoy en el único portero que ha ganado el trofeo, y esto por mostrar un talento espectacular en su posición, pero irónicamente, Lev ganó el balón de oro en uno de sus peores años, su equipo no llego a instancias importantes de la copa de Europa y ese año no hubieron competiciones de selección, y aunque su nivel individual estuvo muy a la altura del premio que obtuvo, da la sensación de que Gianni Rivera, campeón de Europa con el Milan siendo la estrella indiscutible del club, había dado méritos mayores para obtener el galardón, a pesar de ello, el ruso supero al italiano por bastante diferencia en las votaciones y a todo esto se le suma la ya mas que injusta regla que impedía que futbolistas como Pelé, que tuvo un 1963 en modo dios, pudiera competir para ganar el trofeo, de hecho, la revista reconoció años después que el brasileño hubiese sido el ganador por encima de los dos jugadores europeos mencionados aquí, si hubiese podido participar en las votaciones.
The legend of the Russian goalkeeper was playing for Dinamo Moscow when he won the trophy in 1963, becoming to this day the only goalkeeper to have won the trophy, and this for showing spectacular talent in his position, but ironically , Lev won the golden ball in one of his worst years, his team did not reach important instances of the European Cup and that year there were no selection competitions, and although his individual level was very close to the award he obtained, It seems that Gianni Rivera, European champion with Milan being the undisputed star of the club, had given greater merits to obtain the award, despite this, the Russian surpassed the Italian by quite a difference in the votes and all this was It adds the already more than unfair rule that prevented footballers like Pelé, who had a 1963 in god mode, from competing to win the trophy, in fact, the magazine recognized years later that the Brazilian had been the winner by above the two European players mentioned here, if he could have participated in the voting.

4. Alan Simmonsen, 1977.
Simmonsen era un jugador de Dinamarca que se desempeñaba como extremo, jugaba en el Borussia Dortmund en el año 1977, cuando llegó con ellos a la final de la copa de Europa. En aquella final el danés marcó el único gol de su equipo, pero aquello no fue suficiente para que su equipo saliera campeón, pues terminó perdiendo aquel partido por 3-1 frente a un enorme Liverpool donde jugaba el otro candidato a Balón de Oro y quien, a opinión de mucha gente, debía ser el ganador del trofeo, Kevin Keegan, quien si salió campeón de la copa y ademas era la mayor estrella del equipo ingles en aquel momento. Su elección como ganador sorprendió mucho a propios y extraños y cuales fueron sus meritos para ser elegido ganador fue un tema de debate por un largo tiempo, sea como sea, Simmonsen no logró hacer gloria a su titulo individual de mejor jugador del mundo y a partir de ese punto, fue decayendo en lo deportivo hasta terminar su carrera de una forma muy discreta.
Simmonsen was a player from Denmark who worked as a winger, he played for Borussia Dortmund in 1977, when he reached the final of the European Cup with them. In that final, the Danish scored the only goal for his team, but that was not enough for his team to become champion, as he ended up losing that match 3-1 against a huge Liverpool where the other candidate for the Ballon d'Or was playing and who In the opinion of many people, it should have been the winner of the trophy, Kevin Keegan, who was champion of the cup and was also the biggest star of the English team at that time. His choice as a winner surprised locals and strangers a lot and what were his merits to be chosen winner was a subject of debate for a long time, be that as it may, Simmonsen failed to make glory to his individual title of best player in the world and from That point, he was declining in sports until he finished his career in a very discreet way.

3. Lionel Messi, 2010.
En el año 2010 se dio uno de las ceremonias mas injustas que pude ver en la entrega del balón de oro, aquel año, Xavi e Iniesta habían sido los artífices de que España se hiciera campeona del mundo, Andres Iniesta había marcado el gol en la final y le había dado a España su primer titulo mundial y todo apuntaba a que seria el quien ganaría el trofeo, seguido por Xavi y Sneijder, que acabo subcampeon del mundo y ademas ganó el triplete con el Inter, pero para la sorpresa de todos, incluso del propio Lionel Messi, su nombre fue el que apareció como ganador y el argentino subió a recoger un premio cuyo único merito fue el de ganar la liga de España y de tener un rendimiento muy bueno durante toda la campaña, algo que también habían hecho sus compañeros españoles y que ademas, tuvieron el plus de ganar nada mas y nada menos que el mundial.
In 2010 there was one of the most unfair ceremonies that I could see in the delivery of the golden ball, that year, Xavi and Iniesta had been the architects of Spain becoming world champion, Andres Iniesta had scored the goal in the final and had given Spain its first world title and everything indicated that it would be the one who would win the trophy, followed by Xavi and Sneijder, who finished second in the world cup and also won the Serie A, the italian cup and the UEFA Champions League with Inter, but to everyone's surprise, even Lionel Messi himself, his name was the one that appeared as the winner and the Argentine went up to collect an award whose only merit was to win the Spanish league and to have a very good performance throughout the campaign, something they had also done his Spanish colleagues and who also had the plus of winning nothing more and nothing less than the World Cup.

2. Andriy Shevchenko, 2004.
Poner en duda la calidad del ucraniano es una tontería, Shevchenko es por muchísimo, el mejor jugador de la historia de su país y uno de los mejores delanteros de la historia, durante muchos años deslumbró con su fútbol, sobre todo en el Milan, equipo con el que jugaba cuando ganó el Balón de oro, ya había dado méritos para ganar el trofeo pero curiosamente, Andriy Shevchenko salió ganador del trofeo en uno de sus años mas discretos como profesional, esa temporada, aunque ganó la Serie A con el Milan, el ucraniano solo logró marcar 14 goles y se quedó fuera de la Champions a manos del Deportivo La Coruña, y por rendimiento y titulos todo apuntaba a que el ganador del trofeo iba a ser el portugues Deco, que ese año había sido un total espectáculo, había ganado la liga portuguesa, la supercopa de Portugal, la copa intercontinental y la UEFA Champions League, ademas de ser subcampeon de Europa con Portugal y totalmente determinante en todos y cada uno de esos títulos y competencias.
Doubting the quality of the Ukrainian is silly, Shevchenko is by far the best player in the history of his country and one of the best strikers in history, for many years he dazzled with his football, especially in Milan, team With whom he played when he won the Ballon d'Or, he had already given merits to win the trophy but curiously, Andriy Shevchenko won the trophy in one of his most discreet years as a professional, that season, although he won Serie A with Milan, The Ukrainian only managed to score 14 goals and was left out of the Champions League at the hands of Deportivo La Coruña, and by performance and titles everything pointed to the fact that the winner of the trophy was going to be the Portuguese Deco, which that year had been a total spectacle, He had won the Portuguese league, the Portuguese Super Cup, the Intercontinental Cup and the UEFA Champions League, in addition to being runner-up in Europe with Portugal and totally decisive in each and every one of those titles and competitions.

1. Igor Belanov, 1986.
Para empezar, si hablamos de merecimientos al balón de oro, el año 1986 tiene un solo nombre, Diego Armando Maradona, pero el argentino no podía participar por la regla que delimitaba a los participantes por su nacionalidad y con el sudamericano fuera de la ecuación, todo parecía apuntar a que el ganador del trofeo se iba a disputar entre dos enormes jugadores de aquel entonces; Gary Lineker, que resultó como el máximo goleador del mundial, y Emilio Butragueño, que fue campeon de liga y copa de la UEFA con el Real Madrid. Pues ni uno, ni otro, todos se sorprendieron cuando se anunció ganador a Igor Belanov, cuyo único merito reconocible fue haber ganado la recopa de Europa con el Dinamo Kiev y haber sido uno de los mejores del mundial, hecho que fue superado ampliamente, tanto por Lineker como por Butragueño, que tuvieron mejores actuaciones que el ruso, y llegaron infinitamente mas lejos en las competiciones que jugaron. A mi parecer, fue este el premio mas criminal de la historia, teniendo al menos a dos claros oponentes que merecían muchísimo mas el galardón.
To begin with, if we talk about the merits of the golden ball, the year 1986 has only one name, Diego Armando Maradona, but the Argentine could not participate due to the rule that delimited the participants by their nationality and with the South American out of the equation, everything seemed to indicate that the winner of the trophy was going to be disputed between two enormous players of that time; Gary Lineker, who was the top scorer in the World Cup, and Emilio Butragueño, who was league and UEFA cup champions with Real Madrid. Well, neither one nor the other was surprised when Igor Belanov was announced the winner, whose only recognizable merit was having won the European Cup Winners' Cup with Dinamo Kiev and having been one of the best in the world championship, a fact that was widely surpassed, both for Lineker and Butragueño, who had better performances than the Russian, and they went infinitely further in the competitions they played. In my opinion, this was the most criminal award in history, having at least two clear opponents who deserved the award much more.

Esto ha sido todo por hoy, espero que hayan disfrutado esta publicación tanto como yo, recuerda compartirla y darle upvote si te ha gustado y te invito a dejar en los comentarios tu opinión si piensas que hay algún otro que debió aparecer en esta lista, los espero en una próxima publicación, me despido.
This has been all for today, I hope you have enjoyed this publication as much as I did, remember to share it and give it an upvote if you liked it and I invite you to leave your opinion in the comments if you think there is someone else that should appear on this list, the I hope in a next post, I say goodbye.

---
---