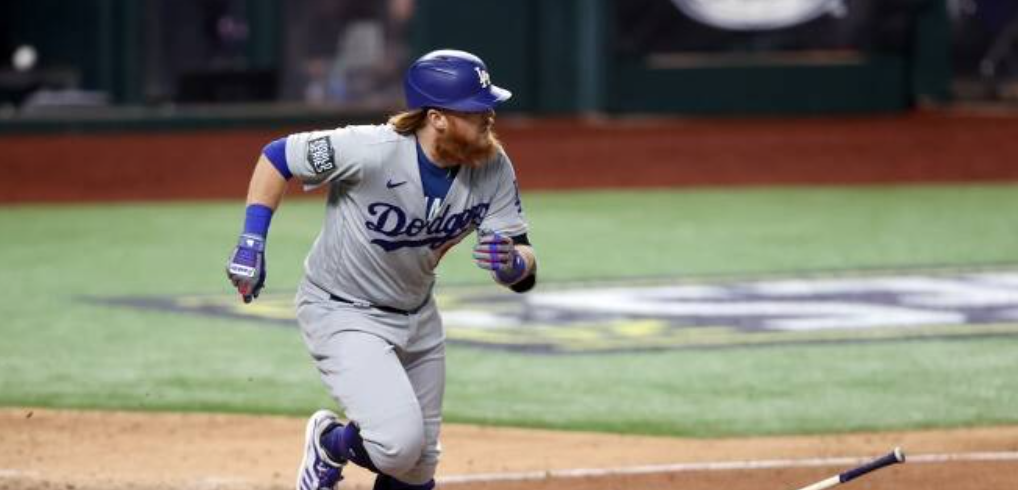 Justin Turner (36, LA Dodgers) was a pearl in the dirt that will remain in the history of Major League Baseball (MLB). The Los Angeles Dodgers signed a minor league contract with Turner, who was a former emitter, ahead of the 2014 season. Turner spent his heyday with the Dodgers, making a turnaround in his life.
Turner has played for the Dodgers for seven years from 2014 to this year, recording a batting average of 0.292, 124 home runs, 495 RBIs and an OPS (on-base plus slugging percentage) of 0.838 in 1114 games. He kept the Dodgers' hot corner solid for seven years. Turner was more impressive because he flew in the postseason. The decisive in It was a new word 'Turner's time' over him.
Turner was a big hit, winning the 2017 Championship Series MVP. In 70 postseason games, he recorded a batting average of 0.303, 12 home runs, 41 RBIs and an OPS of 0.922 in his career. The 79 hits are the most in the Dodgers' franchise history in the postseason. In this year's World Series, he is continuing his reputation by making impressive performances in both ball and water.
However, it remains to be seen whether Turner Time will be available for the Dodgers next year. Because the contract ends this year. Turner's ahead of the 2017 season.He signed a four-year, $56 million contract with Jus. This year's annual salary is $20 million, and the contract ends this year. If you don't renew your contract, Game 6 of the World Series on the 28th could be your last game.
He will be eligible for the FA again after this season, but it remains uncertain whether he will remain with the Dodgers. Turner will turn 37 next year. He is still showing off his good skills, but age is a stumbling block. However, some predict that a short-term contract will be possible, given that there is no perfect alternative yet to third base. The share of the clubhouse cannot be ignored.
In addition to Turner, five of the players included in the upcoming World Series roster will be eligible for FA. They are Blat Tranen, Zach Pederson, Kike Hernandez, Pedro Baez and Alex Wood. They have been a big and small part of the team's performance this season. Attention is also being paid to how many players will remain on the team.
At the end of the 2021 season, bigger names qualify for FA. Ace Clayton Kershaw, closer Kenley Janson, starting shortstop Corey Seager, and high-profile Chris Taylor as multi-players will all be free agents. It is not known whether the Dodgers will be able to catch all of them, and there may be players who give up renewing their contracts. The Dodgers' power structure could also be much different in two years from now.