Now this is the way that a league is meant to be. It should never be decided at January like last year or in some European countries. Where is the fun in that?
What we as fans are looking for is a roller coaster of excitement, emotions, shocks and tragedy.
Look at the table now.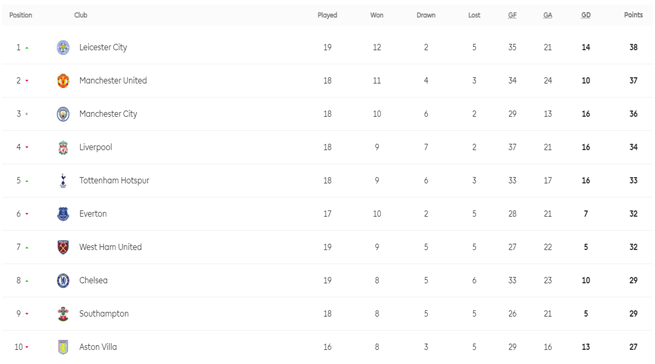 Leicester City are sitting pretty in 1st place somehow.
Man United could overtake them tonight with a win over Fulham.
Man City have regained form over the past few weeks and are charging towards the summit.
For all of their recent bad form, Liverpool are still right in the mix and if they get a central defense back in place then it would free up their attacking players to get back into form and make a late burst for the title.
I don't think that spurs or everton will make much of a run as they don't have the squad or the history to overtake the bigger teams ahead of them. While they are only a few points off the leaders it would take a huge effort to overtake all four and they would need to beat them in the head to heads.
6-1 against United or not. They have always had a mental weakness in the big moments and it's hard to see them doing that on a regular basis. In a season of crazy results, that was truly a crazy result.
For all the big numbers that have been thrown around the fixtures this year. The title usually goes to the team that can win those 1-0 battles and keep a clean sheet. Even if you don't get the points it's important not to give them away either.
I'm looking forward to the rest of the season as it is so close and the lead will switch hands many times before this is over. I don't see Man United holding out until the end of the season and my bet would be City for the title. They have a strong squad, winning mentality and an experienced manager for the tough moments.
I will predict,
1st Man City
2nd Liverpool
3rd Man United
4th Leicester
with Spurs set for another year of the Europa league.
Now to sit back with a nice Guinness and watch United on my dodgy streaming service.