I don't wear a sport watch when I am running and therefore unless I am constantly looking at my phone I don' really have any idea how fast I am going when I go on my runs. I am slowly starting to figure this out and YES, I realize having a Garmin or something that like would help me immensely but in the meantime I think that most runners just need to have an internal clock of sorts to help out with this.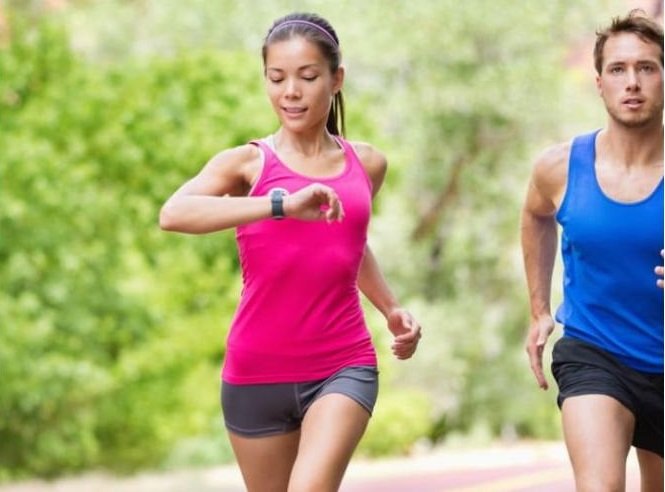 src
I also want to point out that I am not a particularly fast runner, nor am I trying to be at this point int time. At the moment I am far more interested in getting my ability to run distance higher and the speed will come with time.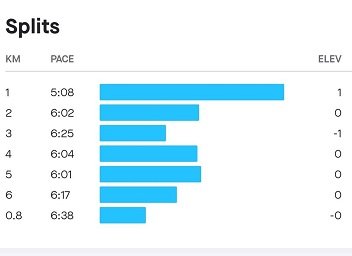 You can see here that I started out with way too much enthusiasm, because I am NOT a 5 min per kilometer type of person, despite the fact that i wish i was. I don't recall exactly why this happened but i suspect my musical choices might have played a factor. This resulted in my second km being far slower and the 3rd being even worse. It wasn't until I got to around halfway past km 3 that i found my rhythm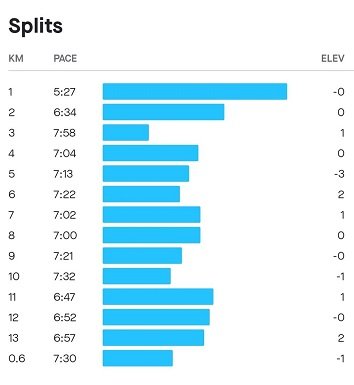 I made the same mistake on a 10k I did recently in that I started out with gusto, only to get winded a bit and you can see in km 3 that I seriously slowed down and while I can't say for certain, I probably considered giving up at that point but since I am a stubborn bastard, I carried on anyway. On a 10K I am more like a 7 min / km runner and i was able to maintain that pace once I finally found my rhythym in km number 4.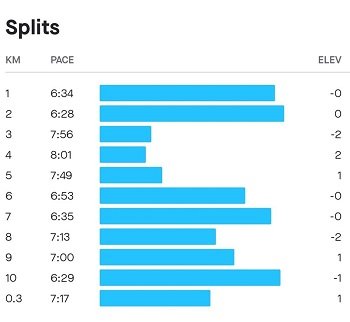 Again, you can see in this one that I was having a really tough time with my pacing even though my start time was slightly more reasonable, i started out too quickly for a planned 10k and suffered badly for it on km 3 and 4. The rest was a lot more consistent, but I am slowly starting to learn that pacing is very important from the very start.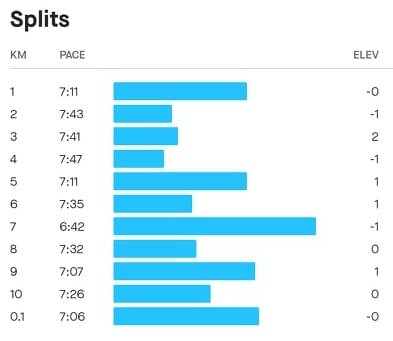 This last one is the first 10k that i have done where I had pacing in mind from the very start and you can see that my splits are far more consistent and this is exactly what i was hoping for. Km 6 and 8 are a little wonky, but they aren't minutes off from those around them and during km 7 a favorite song must have happened to inspire me to get a burst of speed that you can see I regretted in km number 8.
---
So the moral of the story is this: If you want to have any sort of progress in distance running you NEED to understand that the pace that you have at the start should be the pace that you know you can maintain even if you feel at that point as though you can go faster, which you probably can. I'm learning as I go along but even though I am not a running expert by any means I realize that you NEED to know or remember how fast you were going at the END of your last run for when you start your next one. This is the only way that you are ever going to see any progress.
Do it not, and you will burn yourself out and probably never be able to extend to greater distances. I've only been doing this since February and back then I found a 5k without stopping to rest to be something that was impossible. Here we are now in November and I am able to complete 10k's with relative ease and this is all due to me slowly but surely beginning to understand that my pace is far more important that trying to impress the looky-loos with how fast I am. It isn't about the spectators because I can assure you that they really don't give a rip that you are running at all.
By the way I am using Strava for all of this and it is a magnificent and free app that I highly recommend to anyone out there with fitness goals.