There was absolutely no doubt about Manchester United's qualification to the UEL finals but it's must for second or return leg of the UEL Semifinals to take place.
It's quite known that AS Roma would need more than just a miracle in Rome to qualify to the finals after a huge defeat of 6 - 2 at Old Trafford. Nonetheless, they came out really strong in the second leg but huge damage has been done in the first leg already.
---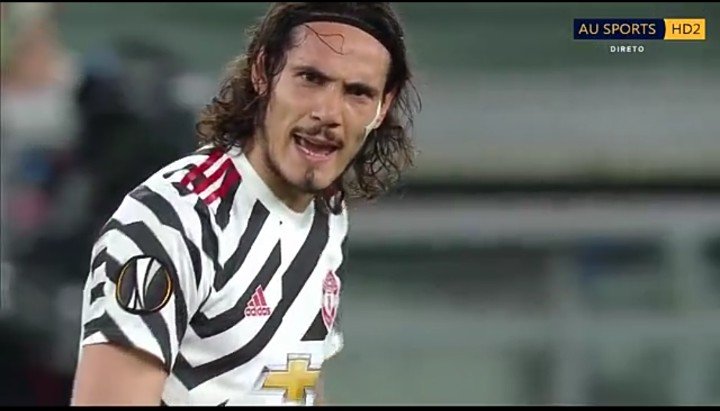 Cavani had a beautiful brace in the first leg of the Semifinals at Old Trafford, he had a great combine effort with Bruno Fernandes and that brought about a huge solidity in United's attack.
One thing still baffles me whenever I watch Cavani, he's 34 years of age already and his agility and responsiveness makes me easily find fault in some young attacks. The way positions himself and run to claim some aerial balls makes me wonder if he is truly 34 and not 24. What he does in this current Manchester United's teams has been something I'd been waiting to see in Martial but perhaps, due to the fact that Martial isn't really a striker, he won't be able to deliver such sensational displays.
Though United lost at Rome (Stadio Olimpico) but Cavani had the best of the night. I was privileged to stream the match and I watched him play with so much energy like United was to take the UEL trophy home that night. I personally think Cavani would still play more than a year at Old Trafford and perhaps if he doesn't get to war with injuries, he could get to see more sunlights at Manchester United.
---
MANCHESTER UNITED AT ROME!
For the match at Rome yesterday, I even thought Ole (Manchester United's Manager) would play more of United's feeders team players but to a very large extent, he took the match quite serious but it seemed Roma came with the hope of winning the match anyways.
The match was absolutely fantastic on Roma's side but unluckily for them, getting 4 goals without United scoring at all isn't an easy thing to achieve or obtain but they played and impressed even myself a United fan.
---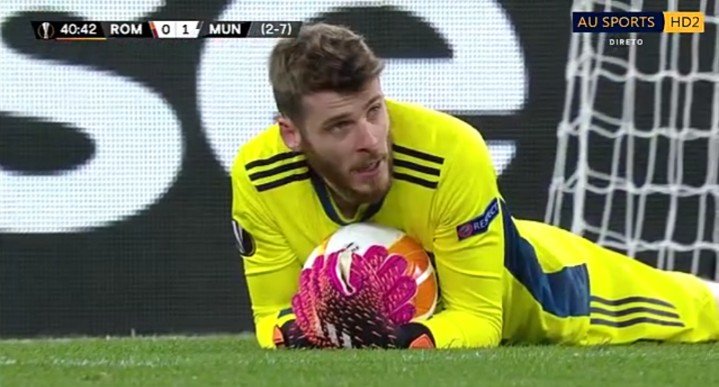 Manchester United scoring the first goal of the match made it seem at first like United were playing that much but it didn't take me much time to realize that just few United players were actually playing the match like it meant something. On the other hand, Roma were playing all in and all attacks like they just had to keep scoring and that brought the might United under some sort of pressure as De Gea kept making crucial saves and Roma kept earning corner kicks.
The match was that tense that Roma had 12 shots on goal while United had just 5 which isn't up to half. Roma also had 7 whopping corner kicks while United had just 1! With Roma's 12 shots on goal, De Gea had 9 massive and crucial saves for United that evening and then, I asked myself, what if 4 out of that very 9 had been goals?
United's defense that evening was so sloppy, aside from Billy's performance, I wasn't really impressed by any one else in United's defense. Just Bruno, Cavani and De Gea, to me, played the match for United like it meant something.
---
MATURED ROMAS!
Roma is currently a team with so many matured and experienced players especially in their attacks. The likes of Pedro, Dzeko, and Mkhitaryan are players who are experienced in both the UCL and the UEL, they actually had and have what it takes to play fine in such competitions even though they're now old, and just like Cavani, they are old by age but their responsiveness on pitch doesn't tell so far about their ages.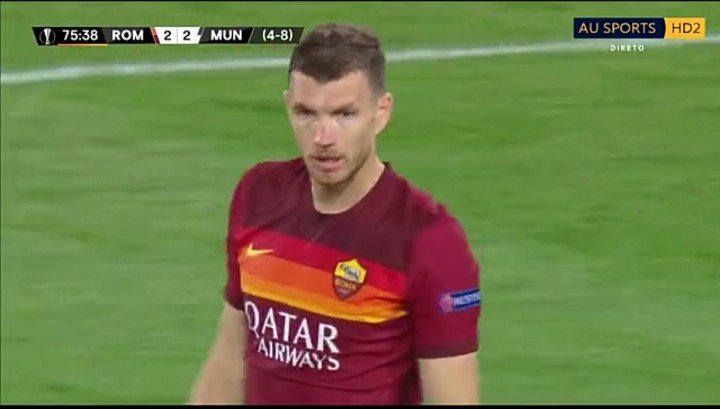 Dzeko's performance last night even without his goal was really impressive and like that of Mkhitaryan and Pedro also, they played well just to feast in United's goal post buy they just couldn't get enough.
At first, I thought what happened in the UCL could and would also repeat itself in the UEL, whereby the finals would be played by English teams alone but unfortunately for Arsenal, they just could get a goal for themselves at the Emirates and that sees Villarreal to the final against Manchester United in Poland!
---
All pictures are screenshots I took while streaming the live match.
---
Cc. @cryptoandcoffee
---
Thanks for Reading!