Well, people say the pre-season matches does not really count but I feel sometimes it shows the Coaches strengths and weaknesses.
I took sometime to analyze personally how Manchester united's pre-season matches has been going and how I feel it would or could affect their league performances. Dating back to their recent performances in the pre-season, United took on Brentford and just the same mistake I highlighted from the match against Queen Park Rangers.
So far so good in this pre-season, United's defensive performances has been quite disappointing for me. The combination of Alex Tuanzebe and Teden Mengi as 5 and 6 in the defense line is really a bad move for United at any point of action.
---
Manchester United's Strength and Deficiency.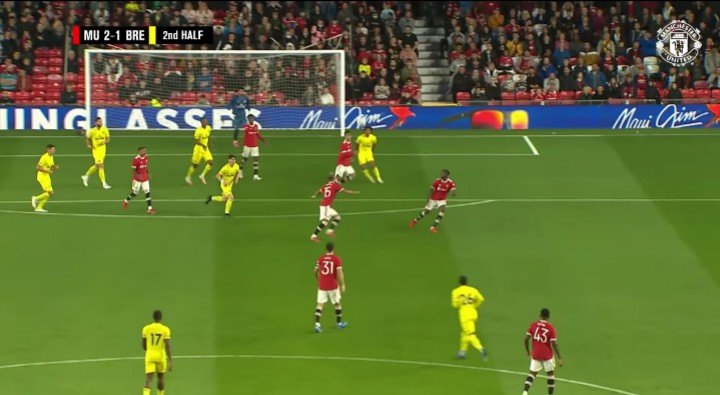 During the course of the match against Brentford, the attacking strength from both Manchester United and Brentford was quite delightful and interesting to watch. And for the fact that United is the bigger club, they had the privilege to keep the ball to themselves most of the time. Keeping the ball or keep possession is something good though but I don't see much need in that from a team like United and that actually affected the team so much last season even in the UEL final.
If at all United was to still win the ball possession, they could have lunched more attacks and pull outs in order to secure more goals or perhaps earn more corner kicks but the first half was too relaxing for United.
United had just 2 corner kicks in the first half, same as Brentford and I felt it would have been more applauding if United had made the attacks more physical. The likes of Lingard, Greenwood, and Elanga actually tried but they could have made the attacks more physical.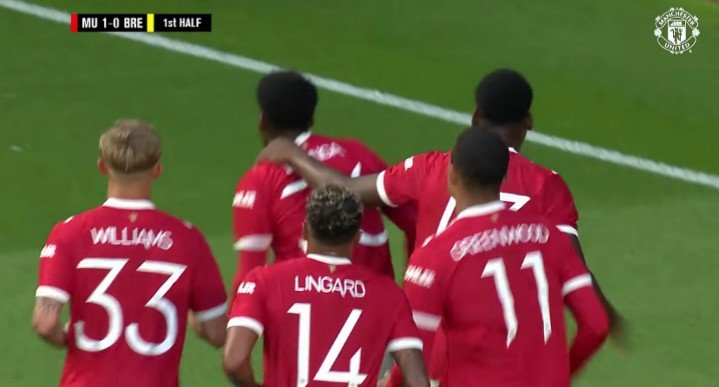 As far as I am concerned, United's line up so far in the pre - season has been quite fair on the front line. It would be quite difficult to have the likes of Lingard and Greenwood facing these underdogs and not having to score goals but the fault has always been in the defense line so far.
These pre-season matches has finally helped me to confirm and conclude that Alex Tuanzebe isn't a player United should try nurture. He might get to be that good maybe in an underdog team but having him perform in a big team such has United seems like giving me less reasons to be a good player.
For the fact that Tuanzebe was paired with Mengi, I expected him to be the coordinator of the the defense line but he's not just good enough for the race. It's a similar issue with Maguire, he seemed to be more of the person playing the 5 and at the same time the 6. Victor Lindelof isn't totally a bad player but just like Tuanzebe in the lower team, they both don't have what it takes to be United's first choice.
I'm glad United now has Varane. That would help a lot in the league and pairing Maguire and Varane would be a solid decision to making in the team for quite a long time but another problem still lingers on the fact that if any of them peradventure secures an injury, it would be a very difficult time for Manchester United.
United's first team is with no doubt a strong team now but it is very important to take to heart that United doesn't have much healthy depths in the squad yet. Right from the defense line, both Maguire and Varane do not have a solid replacement nor any form of competition and that's quite a dangerous thing for a big team such as United.
It's not just about United's defense line now. Well, the attacking forces are quite cool with Rashford, Sancho, Cavani, Greenwood, Lingard, Martial, and James. There are more and many players to work with and same as the midfield too to some extent but the defense is something really giving me a huge concern and I hope it doesn't weigh the team down in this new season.
---
What signing do you think would create a good depth in United's defense?
---
I don't think United would sign anymore defender but I would be glad to see them have at least one more even if it's going to be a loan deal.
---
All pictures are screenshots from Manchester United vs Brentford highlights.
---
---
Thanks For Reading My Sport Report!