Game Week 31 of the English Premier league started about an hour ago, and I felt it's going to be quite a tough one this weekend. Considering the fixtures and the availability of players, it could be one funny week for gamblers and many unexpected could spring up. Aside the gamblers having much to worry about, even some of us who operate a FPL account like myself, we might be finding it painful this weekend as some of our picks (players) might be featured in any any matches for their teams this weekend.
---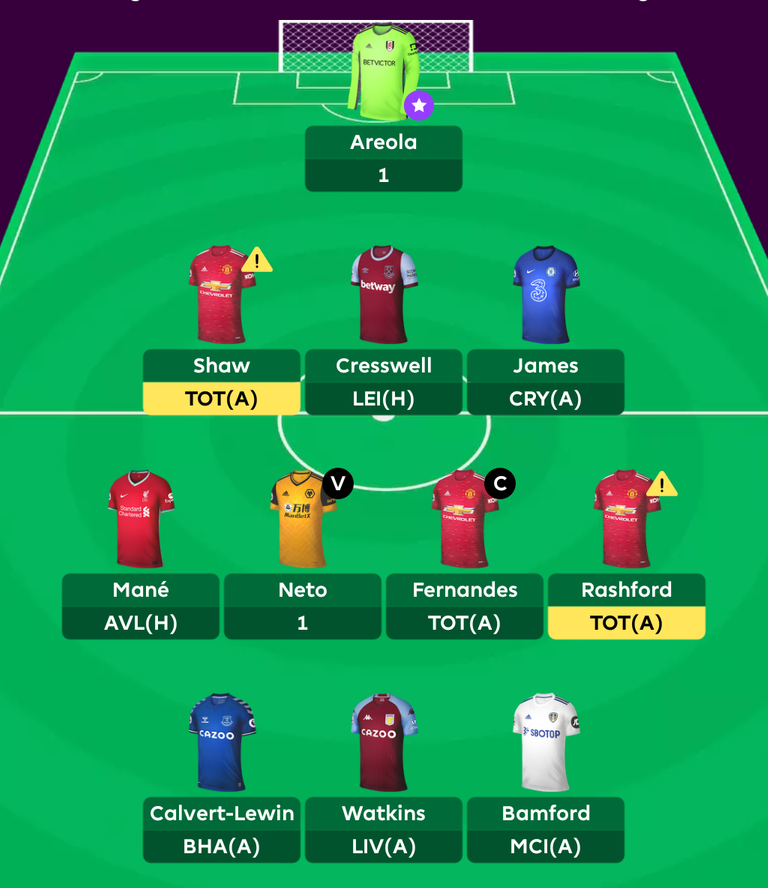 For the first time in a long time this season, I benched Martinez for Areola to be my goalkeeper. Martinez would be facing the big side (Liverpool) which could be difficult in terms of having Martinez (Aston Villa) securing a clean sheet, I only see the match having Liverpool with even more then two goals in the match. Aside changing Martinez for good, I also have problems with my picks from Manchester united (Rashford and Shaw) who are likely not to feature for United this weekend or perhaps not play full time due to some minor injuries. Rashford sustained a leg injury in the match yesterday in Spain likewise Shaw who also sustained a Knock. My whole defense line this week, I'm not really expecting much from them but then, I could be surprise!
---
I can't even invest much of my trust in my midfield also knowing Neto (Wolves player) sustained an injury some minutes ago in an ongoing match against Fulham, and Rashford might not be on Manchester United's starting list for this weekend game. I only have Mane and Bruno Fernandes to trust, though it's just the two of them but they can also earn me even more if only Mane would be on a better form this weekend or perhaps be lucky this weekend!
My attacking force for this weekend is quite lame. I've got three average attackers, though they are great but two (Watkins and Bamford) of the three would be playing against bigger teams, Liverpool and Manchester City respectively, and having these guys score against this big teams could be quite difficult but it's definitely possible!
---

Now I wish I had Raphinha on instead of Neto who picked up an injury in just 34 minutes into the match and couldn't earn more points for me but just one. Aside that, I don't see much coming from my bench but I never can tell, I could be shocked and surprised at the end of the weekend but I don't think to regret would be necessary, let's just watch!
---
All pictures are screenshots on and from my mobile phone.
---
Thanks for Reading!