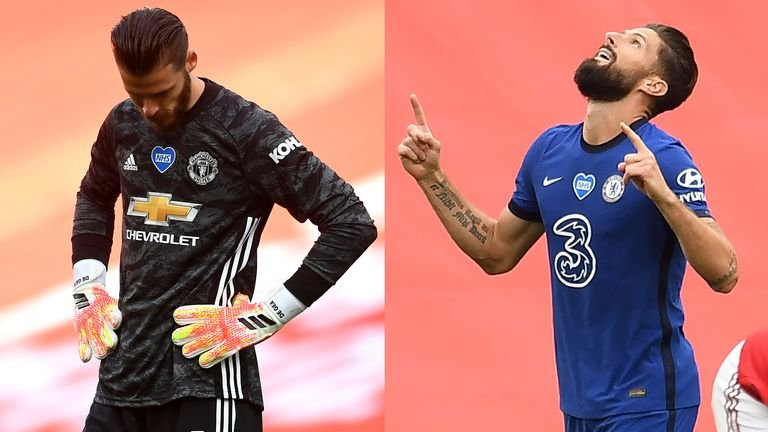 source
Hello my dear friends in the sportstalksocial community and all lovers of sports, it's another new week am glad to be part of, am also wishing you guys a happy new month may this month be the month laughter for you. You will agree with me that the match between Manchester United and Chelsea was the toughest this season so far. I refused predicting the score until the start of the match.
I immediately knew that it will eventually end 0-0, but mhen... the guys where all at their best nobody wants to be the reason for their team losing so they were all very careful with every pass they made, but for me I think Manchester United did not do too well they missed too much of chances they got by luck. At the first half it was as if Chelsea was going to win, they were dominating the pitch giving Manchester United little chances.
Even though they was no winning, I give the man of the match to Bruno Fernandez, why because this dude really worked he made sure he tried his best to put Manchester United in the wining front. But no doubt Manchester United narrowly escaped from losing the game.
I now saw reasons Tuchel refused to start Werner against Manchester United. When he is given little things to do but he fail to do it well, how then would expect to be given opportunity on big things?
Werner to me is the worst of all that Chelsea spent on...
Avoid Havertz yet, he's a midfielder... Tomorrow that spirit might leave him and he starts doing his magic... But you see a center forward? It's either you start being good when you're young or you end up playing your best at your 29s and 30s maybe with another small club... He needs to improve... As simple as that.
About the penalty that was supposed to be awarded to Manchester United, I think the referee has bet the game that was why he didn't give the penalty.
Well Penalty or no penalty both teams played real good... But Rashford and Shaw where messing around. Chelsea on their part brought nothing to the table. All in all one of the toughest match this season.