Game week4 brings up strength in my fpl journey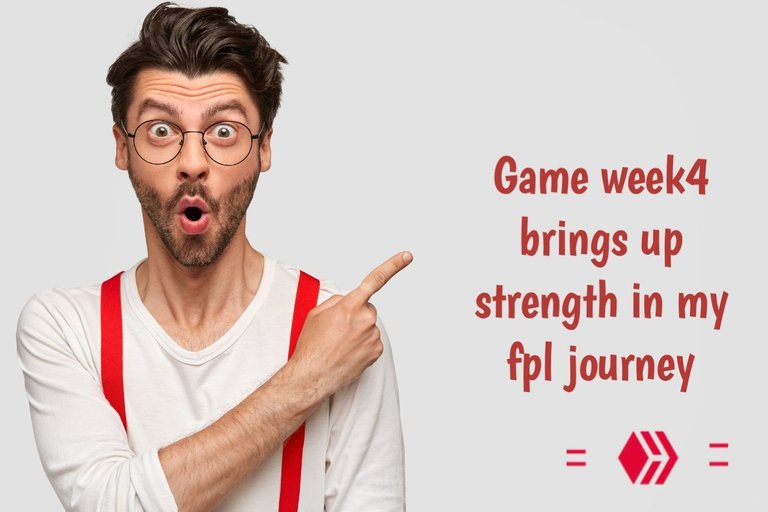 Starting my fpl journey last year was kinda tough for me to get to the top, @happyboy1 and @pvmihalache made me to create a fpl account joining there team the Club1BCH fpl was full of fun with different scenes, lot of prizes where shared to the top 1-20 or below. The journey was hard for me cause am not a fan of football so i hardly choose the best player, one thing that makes me keep on moving high to get to the top is that i usually choose player that are famous and that are with more points like Salah and many more.
I lost interest in fpl this year cause it looks kinda boring for me , cause am not a football fan it looks hard to select the best player, thanks to the group which i joined on whatsapp where they share different update about different players, that supported me in choosing a best player for my team, i haven't get to the top 20 before ever seen i started my fpl journey but this last week season happens to be a shocking one for me, the game week4 bring us strength in my fpl journey.
The progress are all moving up for me in game week4 and am looking up to game week5 if i can extend my progress with my team in this new season, the clips of last week season which happens to be game week4 was a season that was different from all the season i engaged in, am always in number 50 or 60 or 40 but last season i moved to 18 and 14 and 7 in other league that was great for me all thanks to the choosen players for trying there best to give me the best and thanks to @hivefpl for establishing the hive fpl league happy to be one of them.
To join the league you can sign up with your email, hive username and team name and then you will get the link to the league and link to there discord channel where you will get information about the league and there teams. Join Here

My Fpl Team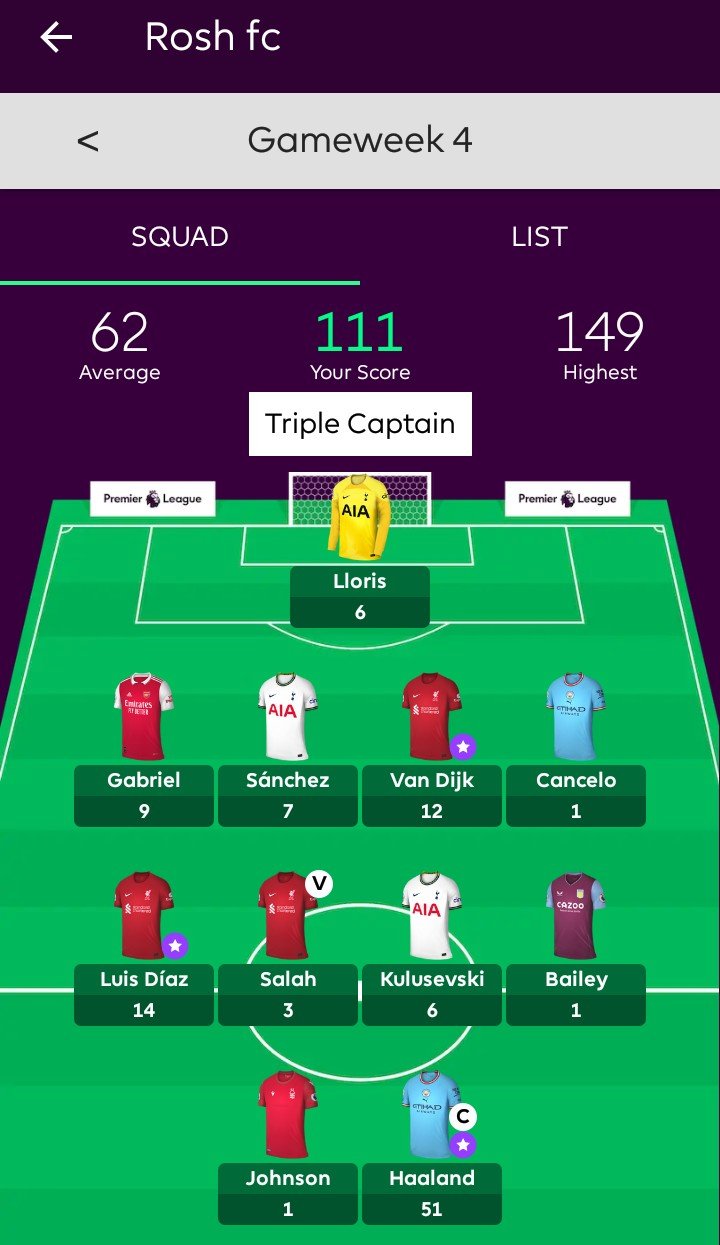 Rosh fc my team name, the name is from my nickname MaxRosh i attached the name Rosh FC as my fpl team name. I did the triple captain mode last week season and i stayed offline from fpl coming back to check my team i get to realised that my progress are extending that builds in strength in my fpl journey.
Haaland was good for me as a captain with 51 point from one player made ma overwhelmed in happiness rejoicing, Haaland plays well yes he those so grateful to his strategies in building my team.
Salah was no regret for me using him as the vice captain, although it bit annoying to see salah my best footballer player to come up with 3 point last season well i hope he do better this season.
LIoris as my keeper (GK) made me kinda worried cause he gave me 6 point what if i used other keepers i who have get 10 points but still remain grateful for this point from Lirois looking up to see what will become of him in the next season.
Luis Diaz came up with 14 points which made my point bumped up and Van Dijk with 12 points give me the chance to go higher to the top and with the combination of Sanchez with 7 points and Gabriel with 9 points made me super up, so painful to see Cancelo with 1 point what the f**k is wrong with him, he is one of my favorite players he broke my heart last week season, if he make me happy this season i will forgive him 🤣, Bialey and Johnson teamed up in getting one point i will be ready to make changes.

The Progress

Am surprised to see i made it too number 18 at the hive fpl league, i used be at 40 something or below but last week season was totally different in all the fpl league i engaged in starting from the day i started my fpl journey, am so happy.

Am sharing number with MasterG fc wondering what is going to be the defense this season may be he will be ready to send me out or get me in, i keep on wondering in all we both are ready to defend ourselves let see what come out next season or this season.

once again if you haven't join the league, although it may look like it not the best time to join but remember the quicker the better
Join here

Thanks so much for reading
---
---