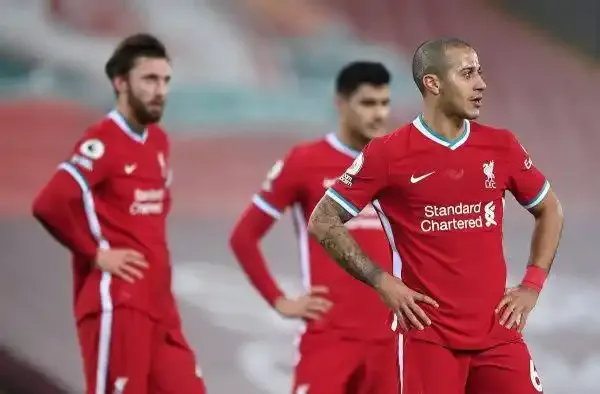 Image source
What could possibly be liverpool's problem, the Anfield boys are now walking alone, liverpool's good records are shattered and battered.
I access the klopp's team to see what could be wrong.
---
Firstly, inability to invest in the right players, mind you i say players, is Jota and thiago alcantara not the right ones? I feel liverpool needed more than that, they'd probably went for them because they see the price so cheap, i will say there are better options they could went for, while teams like Manchester city,chelsea are busy in the summer strengthening their squad, klopp would probably be saying there is no need for him to buy as as far no first team player is leaving the club. That should not be the case, as EPL is a very demanding league with so much cup competitions, meaning a strong squad depth will be an advantage. When you take out liverpool front 3 of sallah,firmino and mane, which other player can fit in perfectly in that front? You'd say jota,origi or shaqiri or probably some academy boys, with all dies respect to these guys the league is far more than that, you need world class players to compete as a champion,defending the league is even worse because you are a target of other teams, whereby they sit and analyze your tactics.
---
Secondly, the injury crisis, like liverpool are just so unfortunate this season with injuries, from their backline to midfield, are their doctors not doing enough or they've over used and stress from last season?
While matip,gomez,van dijk are still out injured, klop has tried 17 pairings at the central defense and have to drag Henderson and fabinho to the defence, now Henderson is out injured in what looks like a groin problem. I must say Liverpool have been so unlucky with injuries this season.
---
Is klopp tactics now failing or outdated? While liverpool forward line are struggling to score goals, their defense are shipping in goals like water, liverpool will go on to dominate the possession but can't grind out the results,
for me i feel klopp's tactics has been exposed, liverpool plays a long football with counter attacking with Robertson and alex arnold central to the counter attacking, i think now teams don't give them that space again to run, and playing from the middle, it seems Thiago cant still cope with liverpool's rhythm
Sallah looks more hungrier to get the ball and make runs but its like his moves are well predictable.
I think klopp should come up with a plan B, another tactics entirely, injury or no injuries they are a big team, a champion and find a way to motivate and ginger his boys
Liverpool have now lost 4 consecutive home matches, losing 6 matches alone this calender year