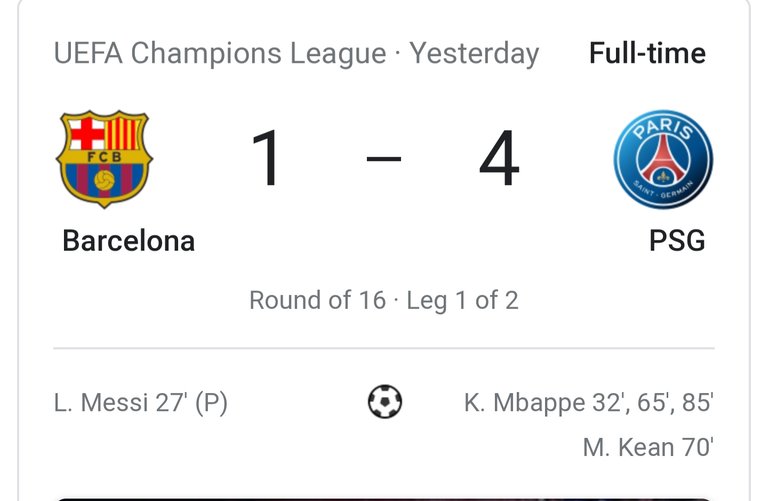 Source;
https://www.google.com/m?q=barca+vs+psg&client=ms-opera-mobile&channel=new&espv=1#scso=_vyEtYNLiFpHDlwTbkYXYCQ17:484.75
---
For me it looks as though Barcelona good old days has passed. In one of my recent blogs i talked about how barca could suffer after messi lives or retired, now messi is even part of the team and things ain't going well.
The board over the years have not done with handling of some senior players, the coaches hires & the recruitment process among other issues.
Since 2015 barca have not been able to replicate that feet by wining the champions league again.
There is no doubt lionel messi wanted this trophy back. But its like that wont be happening at barcelona maybe if he moves he can realise that and win it in another club just like christiano ronaldo did.
---
Like i previewed the match yesterday, i pointed out that whoever wants the match more will win and that PSG are on a revenge mission, and thats what actually happened perhaps the young lads assembled by barca are still miles away from laying their hands on the champions league,
To be a champion you need champions in your team, maybe Ronald koeman will need ample time and to be backed financially to assemble warriors who can fight who are hungry and barca can have the good old days back but for now i see no hunger in that barca team and don't pose threat to their opposing team, take out messi from the team, nothing else.
---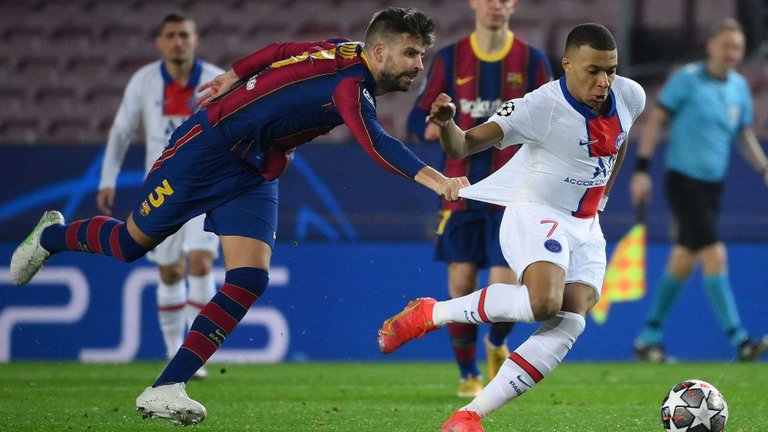 Source:
https://www.google.com/m?q=barca+vs+psg&client=ms-opera-mobile&channel=new&espv=1#scso=_vyEtYNLiFpHDlwTbkYXYCQ17:725.25
---
Looking at the match proper, mbappe was everywhere running down the barca defense, pique seriously had a night to forget as he cannot cope with mbappe's pace.
Without Neymar, mbappe rose to the occasions scoring 3 against almight Barcelona, for the lad it seems the future is now, i think the boy is ready to take the whole world by storm. Yesterday performance would properly increase his market value.
Barca will certainly be looking at him perhaps to succeed messi, dont forget real madrid are also favorites as they've shown interest in him over the years.