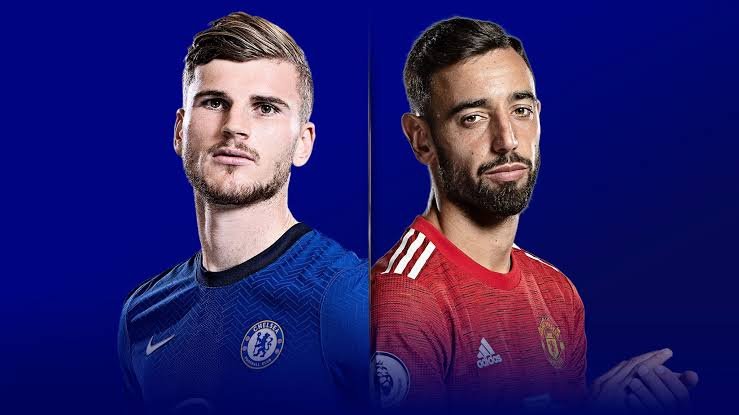 Source
Fasten your seat belts, Brace up yourself for one of the epic matches this weekend, chelsea versus Manchester united. Its the reds versus blues.
A great matchup for the two teams who are currently in form. Manchester united currently occupying the 2nd position while resurgent chelsea under tuchel sits 5th position.
The rivalry between the two clubs became heated when jose Mourinho signed for chelsea in 2004/05 season and end United's dominance in English league.
Paul scholes versus lampard, Drogba vs vidic, terry vs rooney is one of the headlines dominating this fixture back then.
Nevertheless, we're surely up for an intriguing match, a cracker and definitely a match that will go a long way into determining the top 4. A loss for chelsea can see them go down to 6th or 7th while united can just forget about winning the league if they lose this match.
---
A win for either of the two teams will go a long way into boosting their confidence, and further push them closer to the league leaders Manchester city.
---
So on sunday the 28th of February chelsea will host Manchester united at stamford bridge.
What should we expect?
looking at the match proper! I expect a tight match, a cagey one where the two teams will be looking to contain each other.
Manchester united have proven that they mean business this season by winning some difficult matches, infact they were able to hold in form Manchester city to a draw and beat PSG in the champions league group stage. They started the season slowly but along the line they pick up and move straight into 2nd place, even though they lost where they suppose to win, against Sheffield united and west Bromwich Albion.
---
Chelsea on the other hand, looks reborn and gradually finding their rhythm and the swagger back under new manager Tuchel, their excellent performance against athletico madrid on tuesday will be enough motivation for them going into this match, still unbeaten under the new manager.
---
while Manchester united will rely on Bruno Fernandez to come to their rescue, since his arrival at united
He has a better goal records, scoring 15 goals in the league and assisting 10.

chelsea are on the rise and no main man per say has been given them the goals, While werner runs and pace has been given defenders alot of problem, hudson odoi has been a regular starter under the new manager and his runs are quite superb.
---
Man united are expected to line up 4-2-3-1 while pogba is still out injured, i feel cavani will lead the attack while Rashord will play from the flanks, Tuchel is still trying out different formations with chelsea so no one could really say if it will be a 3-5-2 OR 4-3-3 formations. I feel jorginho, kovacic and mount will start at the midfied while werner and hodson odoi will be upfront but don't know if giroud will be prefered over tammy Abraham to lead the attack come this sunday.
I don't expect alot of goals in this match.