Brilliant Comeback.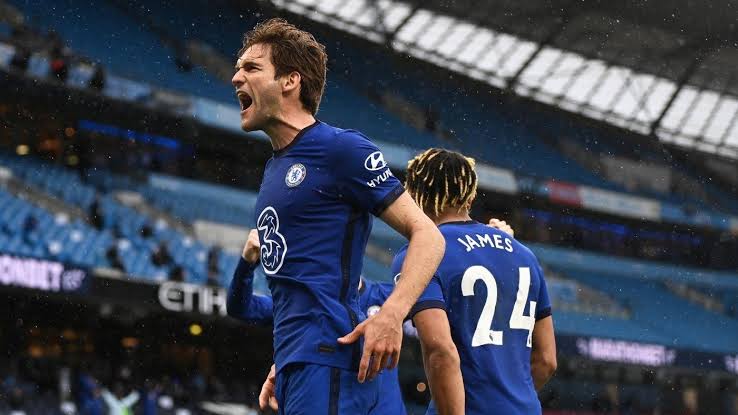 [Source]
---
Chelsea came back from being a goal down to win their match against Manchester City. Manchester City hosted Chelsea, hoping a win would help them clinch the title but the Blues, who have been having a resurgent season under Thomas Tuchel proved to be more than a match for City.
City took the lead shortly before half time when Gabriel Jesus displaced Christensen. He managed to find Aguero in the box - who took a touch too much before Sterling pounced in and scored. A perfect effort from City in the 44th minute.
3 minutes after, Gabriel Jesus was at the heart of it again as he won a penalty for City. Aguero was tasked with the responsibility of taking it and he went for a Panenka that was comfortably saved by Mendy, much to the frustration of Pep Guardiola. That should have been 2-0.
The half time whistle went and City went ahead on the break.
Chelsea came back in the second half and they got themselves level in the 63rd minute when Azpilicueta found Ziyech just on the line. His strike - low bottom right corner, managed to find the back of the net to make it 1-1.
Sterling's penalty appeal was waved away by the referee when Zouma clattered with Sterling from the back, just inside the box. The referee didn't bother to check the VAR neither was their any review much to the annoyance of Guardiola. Werner scored in the 79th minute but he knew it was off and the referee correctly blew for the offside.
Just when everyone thought the game was destined for a draw, Hudson Odoi found Timo Werner at the side of the box. His brilliant cut back into the box came for both Odoi and Alonso but Alonso managed to stick a foot in and his effort found the back of the net in the 2nd minute of added time to give Chelsea the lead and the win.
Chelsea have staked their claim for a top 4 as they have now moved to 3rd thereby displacing Leicester City who lost their match against Newcastle United.
Manchester City would feel angered with the penalty decisions as Chelsea would feel justified for winning after having 3 offside calls in the match too, 2 for Timo Werner and the other for Odoi.
Manchester City's champagne would have to be on the ice for another day or two after this match provided they didn't lose their next match again. What a resurgent Chelsea we have here and both would slug it out again for the Champions League final match. It should be another interesting match.
---
Thank you for your time.
---
My pen doesn't bleed, it speaks, with speed and ease.
Still me,
My tongue is like the pen of a ready writer.
Olawalium; (Love's chemical content, in human form). Take a dose today: doctor's order.
---
---