[Esp] El Club del KNOCKOUT... Boxeo Retro [Eng] The KNOCKOUT Club... Retro Boxing
Bienvenidos, nuevamente a su casa #hive y @sportstalksocial; el día de hoy volvemos al pasado del #boxeo reviviendo #knockouts históricos, en esta onda retro de nuestra fantástica pasión, el #deporte de las narices chatas; pero ya todos sabemos o no, lo que significa un #nocaut o simplemente un fuera de combate; y no es más, cuando un boxeador es derribado y no puede reincorporarse a la pelea, ya sea por agotamiento o por la recepción de un poderoso estacazo. Entonces, podemos decir que éste sería el final del partido entre dos gladiadores que se han dado con todo sobre el #ring, donde el perdedor, luego de la tunda de golpes, no ha podido continuar pasados los 10 segundos contados por el árbitro, donde este perdedor, pudo haber experimentado conmoción cerebral, mareos, que lo desorientaron y cae inevitablemente al suelo como todo un costal de papas; ay Dios mio, ya no hay nada que hacer, es la gloria para el que lo proporciona, y en la otra cara de la moneda, es la humillación para quien lo recibe. Ahora, de donde proviene esa famosa cuenta de 10 segundos, que al principio no era tal; bueno amigos, antes se caían a puñetazos hasta morir sin conteos, ni tiempo definido, ni limite de asaltos; entonces, como se ha dicho Jack Broughton fue el campeón que venció a George Stevenson, quien días después de la pelea fallece a causa de los mamonazos recibidos; por ello, Broughton se aleja del boxeo, y es en 1743, en aras de proteger a los peleadores crea las reglas Broughton, destacando entre ellas el conteo de 30 segundos, para que un gladiador caído pueda ponerse en pié; y me parece, que esta gente cree que recibir un poderoso golpe en cualquier parte del cuerpo es algo muy bonito, porque en 1867, John Sholto Douglas, noveno Marqués de Queensberry, propuso otras reglas, rebajando el conteo de 30 segundos a 10; este tipo dijo, no vale, le estamos dando mucho tiempo; que loco, al final es el conteo actual. ¿Paramos?, no, ¿seguimos?, sí; bueno vamos.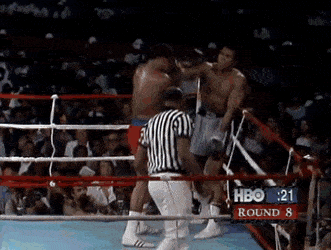 Alí Vs Foreman
Welcome back to your home #hive and @sportstalksocial; today we return to the past of #boxing reliving historical #knockouts, in this retro wave of our fantastic passion, the #sport of flat noses; But we all know or not what a #nocaut or simply a knockout means; and it is no more, when a boxer is knocked down and cannot rejoin the fight, either due to exhaustion or by receiving a powerful blow. So, we can say that this would be the end of the match between two gladiators who have found everything about the #ring, where the loser, after the thrashing of blows, has not been able to continue after the 10 seconds counted by the referee, where This loser may have experienced a concussion, dizziness, which disoriented him and inevitably falls to the ground like a whole sack of potatoes; Oh my God, there is nothing to do, it is the glory for the one who provides it, and on the other side of the coin, it is the humiliation for the one who receives it. Now, where does that famous 10-second count come from, which at first was not such; good friends, before they fell with their fists until they died without counts, or a defined time, or a limit of rounds; then, as has been said, Jack Broughton was the champion who defeated George Stevenson, who days after the fight died because of the suckers he received; For this reason, Broughton moves away from boxing, and it is in 1743, in order to protect the fighters, he created the Broughton rules, highlighting among them the 30-second count, so that a fallen gladiator can stand up; And it seems to me that these people believe that receiving a powerful blow to any part of the body is a very nice thing, because in 1867, John Sholto Douglas, ninth Marquis of Queensberry, proposed other rules, lowering the count from 30 seconds to 10; this guy said, no good, we're giving him a lot of time; how crazy, in the end is the current count. Do we stop?, no, do we continue?, yes; Ok let's go.

Y como se genera el nocaut; ¿ustedes lo saben?, bueno, generalmente, producto de un estacazo que produce traumatismo encefalocraneal menor en el cerebro, cuando la cabeza se mueve muy rápidamente debido a un golpe recibido. Bueno mis panas, lo cierto es que definitivamente es producto de ese poder que se da en cualquier parte del cuerpo, ¿y qué necesitas para ello?, bueno, además de formación, requieres de talento y entrenamiento para convertirte en un verdadero campeón. Pero aquí te dejo algunos componentes para que derribes a tu oponente; fuerza, con ella concentramos el poder de las piernas, el torso y los brazos al mismo tiempo que damos el golpe. puño apretado; debes tener el puño tan cerrado como sea posible al momento de impactar a tu oponente. el disfraz, aquí mi amigo, el mismo nombre lo indica, no importa lo fuerte que sea tu oponente, debes tener la capacidad de ocultar el golpe certero para eliminarlo. contraataque, en este aspecto, la fuerza del golpe se incrementa, ya que el movimiento en el avance del boxeador que ataca, así lo permite. Y no puede faltar la psicología; que implica prepararte, no sólo físicamente, sino mentalmente antes de cada pelea.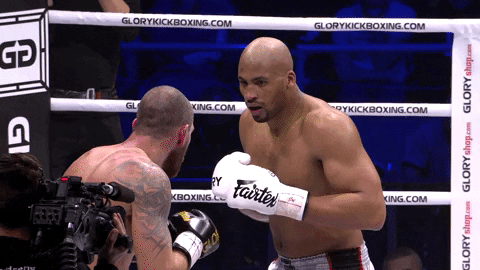 Fuente-Source
And how the knockout is generated; Do you know? Well, generally, the product of a blow that produces minor encephalo-cranial trauma to the brain, when the head moves very quickly due to a blow received. Well my friends, the truth is that it is definitely the product of that power that occurs in any part of the body, and what do you need for it? Well, in addition to training, you require talent and training to become a true champion. But here are some components for you to take down your opponent; strength, with it we concentrate the power of the legs, torso and arms at the same time as we strike. clenched fist; you must keep your fist as closed as possible when hitting your opponent. the disguise, here my friend, the very name indicates it, no matter how strong your opponent is, you must have the ability to hide the right hit to eliminate it. counterattack, in this aspect, the force of the blow is increased, since the movement in the advance of the attacking boxer allows it. And you cannot miss psychology; Which involves preparing, not just physically, but mentally before each fight.

Siguiendo esta onda, vamos a conocer las partes mas vulnerables que tenemos al momento de recibir un estacazo y caer; por ello, desde mi punto de vista, la parte más débil es la mandíbula inferior, ya que ésta al recibir el impacto se mueve, cuya fuerza de inercia se traslada al cerebro, desplazándose al cráneo, perdiéndonos en el espacio y perdiendo el conocimiento. Otro zona debilucha es la parte del plexo solar, la cual al recibir impacto ocasiona dificultad respiratoria, y por ende sientes que te asfixias; otras zonas donde los puñetazos impactan y hacen daño son el hígado, la aorta izquierda y golpes en el tronco. Ahora, estos golpes son tan mortíferos, porque hasta la física y las leyes del pana Newton intervenenen; ¿por qué?, me imagino que muchos fueron al liceo, y vieron aquello de fuerza es igual a masa por aceleración; bueno, la fuerza del puñetazo es producto del tamaño o masa del guante, multiplicado por la velocidad del brazo (F=mxa); sin embargo, de igual forma se aprecia el principio de acción y reacción, es decir, dos cuerpos en movimiento deben considerar, que la fuerza del guante sobre la cabeza, es igual y directamente opuesta a la fuerza de la cabeza contra el guante. Coloquialmente hermano, sin fórmula ni nada, te dan un puñetazo con tanta fuerza que te mandan de viaje a la lona, más nada, a cuidarse pues. Pero bueno, ya hemos dicho de todo, ahora vamos al cumplimiento de la teoría a la práctica, porque a continuación si vamos a ver como es que se mueve el chocolate.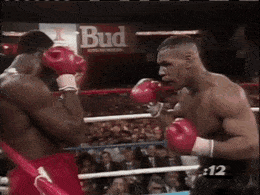 Fuente-Source
Following this wave, we are going to know the most vulnerable parts that we have at the moment of receiving a blow and falling; For this reason, from my point of view, the weakest part is the lower jaw, since when it receives the impact it moves, whose inertial force is transferred to the brain, moving to the skull, losing ourselves in space and losing consciousness. Another weak area is the part of the solar plexus, which when impacted causes respiratory distress, and therefore you feel that you are suffocating; other areas where punches impact and damage are the liver, the left aorta, and blows to the trunk. Now, these blows are so deadly, because even physics and the laws of pana Newton intervene; Why? I imagine that many went to high school and saw that force equals mass times acceleration; well, the force of the punch is a product of the size or mass of the glove, multiplied by the speed of the arm (F = mxa); However, in the same way, the principle of action and reaction is appreciated, that is, two bodies in motion must consider that the force of the glove on the head is equal and directly opposite to the force of the head against the glove. Colloquially brother, without formula or anything, they punch you with such force that they send you on a trip to the canvas, more than anything, to take care of yourself. But hey, we have already said everything, now we go to the fulfillment of the theory to the practice, because then if we are going to see how the chocolate moves.

Para todo púgilista el mayor logro es ganar su pelea y avanzar hasta ser campeón en cualquier división, pero también no sólo desean ganar, sino hacerlo de una manera tan contundente que lo haga un gladiador de temer, dejando marcas y récord que lo plasmen en la historia de este #deporte; y que más que ser reconocido como un noqueador de primera, por tener una mano demoledora, o simplemente ser invencible; solo quiere ser el mejor de todos y el más grande, así como lo fue y sigue siendo Muhammad Alí, que aún recibiendo 5 derrotas, siempre impuso su ritmo y control sobre el ring. Dicho esto panas míos, vamos a adentrarnos en la historia de este fabuloso deporte, vamos a lo prometido y disfruten de estos maravillosos encuentros.

For every fighter the greatest achievement is to win his fight and advance to be champion in any division, but they also not only want to win, but to do so in such a forceful way that it makes him a gladiator to fear, leaving marks and records that reflect it in the history of this #sport; And what more than being recognized as a top knockout, for having a devastating hand, or simply being invincible; He just wants to be the best of all and the greatest, just as Muhammad Ali was and still is, who even receiving 5 defeats, always imposed his rhythm and control over the ring. Having said that, my friends, we are going to delve into the history of this fabulous sport, let's do what we promised and enjoy these wonderful encounters.

Joe Louis Vs Max Schmeling
Nos vamos al 22 de junio de 1938, en el estadio de los Yankees de Nueva York; Louis con una guardia y técnica casi perfectas que indican la calidad de un noqueador, el puño derecho en alto y su izquierda más baja, sin desproteger la mandíbula, así es el bombardero de Detroit, que aprendió de aquella derrota donde el mismo Max dos años antes, lo noqueó en el round 12. Esta vez sería diferente, era la revancha; inicia el combate, el plan era tomar el centro del cuadrilátero, anticipar la izquierda, esperar que Max saliera hacia su izquierda, contenerlo y luego mandar sus bombazos de derecha. Max va con todo y cree que esta pelea sería igual a la primera; esto me hace recordar a #Rocky cuando perdió con #Clubber la primera pelea, y luego para la segunda tenía su propio plan; así mismo fue; bueno amigos, Joe lo espera, están cuerpo a cuerpo, Joe está decidido y lanza una tunda de seis poderosos ganchos, pegando casi todos, es una tromba, señores de esos golpes un gancho mirtífero a la zona intercostal, el alemán no puede respirar, Joe aprovecha sale un jab de izquierda, ahora amigos un cruzado de derecha, pum, mi gente Schmeling se fue de viaje al suelo, el árbitro inicia el conteo, llegó el 8, mi amigo quédese en el suelo; que terco, Max se levanta, ay Dios santo, Joe manda un puñetazo de derecha conectando la mandíbula de Max; esto me huele a #knockout amigos, Max cae, no puede ser se levanta, que masacre, Joe no tiene piedad, que coraje, Joe está decidido, y pum, otro derechazo en gancho, Max nuevamente al suelo, el pupilo de Hitler estaba acabado, todo esto en el primer asalto, la esquina de Schmeling interviene y detuvo la carnicería, Joe gana por knocaout. Señoras y señores, fue increíble, un show pocas veces visto, Schmeling aún está en la lona, su esquina lo auxilia, parece un muñeco de trapo, le cuesta respirar, Joe llora, lo abrazan, el referí le levanta el brazo, ha defendido su corona con honor, se ha vengado de Schmeling, esto es fantástico, porque Hitler, con esta pelea quería tener la supremacía sobre Estados Unidos, le salió el tiro por la culata; el plan que estaba previsto para no pasar del tercer asalto, salió mejor, se ganó la pelea en el primero.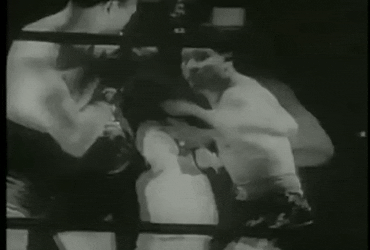 Louis Vs Max
We go to June 22, 1938, at the Yankee Stadium in New York; Louis with an almost perfect guard and technique that indicate the quality of a knockout, his right fist raised and his left lower, without unprotecting his jaw, this is the Detroit bomber, who learned from that defeat where Max himself two years before, he knocked him out in round 12. This time it would be different, it was the rematch; The combat begins, the plan was to take the center of the ring, anticipate the left, wait for Max to come out to his left, contain him and then send his right-wing bombs. Max goes with everything and believes that this fight would be the same as the first; This reminds me of #Rocky when he lost with #Clubber the first fight, and then for the second he had his own plan; so it was; Well friends, Joe is waiting for you, they are melee, Joe is determined and throws a thrashing of six powerful hooks, hitting almost all of them, it is a whirlwind, gentlemen of those blows a myrtiferous hook to the intercostal zone, the German cannot breathe, Joe takes advantage of a left jab, now friends a right cross, boom, my people Schmeling went on a trip to the ground, the referee starts the count, the 8 arrived, my friend stay on the ground; How stubborn, Max gets up, oh my God, Joe sends a right punch connecting Max's jaw; This smells like #knockout friends to me, Max falls, he can't be gets up, what a massacre, Joe has no mercy, what courage, Joe is determined, and bang, another right hook, Max back to the ground, Hitler's pupil was finished, all this in the first round, Schmeling's corner stepped in and stopped the carnage, Joe wins by knocaout. Ladies and gentlemen, it was incredible, a show rarely seen, Schmeling is still on the canvas, his corner helps him, he looks like a rag doll, he has trouble breathing, Joe cries, they hug him, the referee raises his arm, he defended his crown with honor, he has taken revenge on Schmeling, this is fantastic, because Hitler, with this fight, wanted to have supremacy over the United States, he backfired; the plan that was planned not to pass the third round, went better, the fight was won in the first.

Rocky Marciano Vs Joe Louis
Y regresamos al pasado, estamos en el 26 de octubre de 1951, pelea en el Madison Square Garden, Nueva York la catedral del boxeo; Rocco Francis Marchegiano, mejor conocido como Rocky Marciano, es una máquina, un tanque que avanza en cada pelea sin importar los estacazos recibidos, los cuales parecen no hacer mella en su humanidad, tiene una fortaleza invencible, avanza siempre con la cara descubierta. Damas y caballeros, la pelea estelar es aquí en el Garden, en esta esquina el campeón Rocky Marciano, con 37 peleas, cero derrotas y 32 #KO; en la otra Joe Louis, 68 peleas, 2 derrotas y 52 #KO; dos leyendas se baten a golpes. Pin pin, inicia el combate; señores, Rocky avanza como una locomotora, el tanque no tiene piedad, aquí no vale ídolo, y lanza tundas poderosas, ¡oh!, viene un volado de derecha, Marciano estremece la cabeza de Louis, esto es la locura en el Garden; termina el asalto, Joe no lo puede creer. Vamos al segundo, es la misma tónica, Joe no sabe lo que pasa, recibe combinaciones arrolladoras de uppercuts, volados, ganchos al hígado, la masacre es fenomenal, Joe siempre entre las cuerdas, se siente asfixiado de tantos mamonazos, como puede soportar esta carnicería. Así transcurre el combate en una sola línea, esto es un toma y nada de dame. Llegamos al round 7, nada ha cambiado, eso es golpe y golpe, el bombardero está apagado, que poder, Dios mío, otro estacazo sacude la cabeza de Joe, me parece que deben hacerle una radiografia cerebral, ayuden a ese muchacho, lo salvó la campana, pero creo que ya Joe no tiene nada que buscar. Nos vamos al octavo, la locomotora continúa la masacre, hermanitos míos, luego de varias combinaciones, Joe intenta alejarse, pero cuando intenta ir a su izquierda, pum, se encuentra con la poderosa derecha de Marciano, ahora si mi gente Joe de cae, viene la cuenta, no te levantes mi hijo; Joe se levanta, grave error, sigue la locura, no hay piedad; ay papá, otra bomba de derecha directa como concreto a la cabeza de Louis que lo pone de rodillas, casi lo saca de ring, toda la parte superior quedó fuera de él; no hay nada que hacer, Joe está noqueado, Marciano retiene su titulo y le da jubilación a Louis, esta fue su última pelea, lágrimas en el Garden, Rocky llora al derrotar a su ídolo; Rocky seguía su carrera, la cual culminó con 49 peleas y 43 #KO, se retiró invicto. Magnífica pelea ¿disfrutaron amigos?.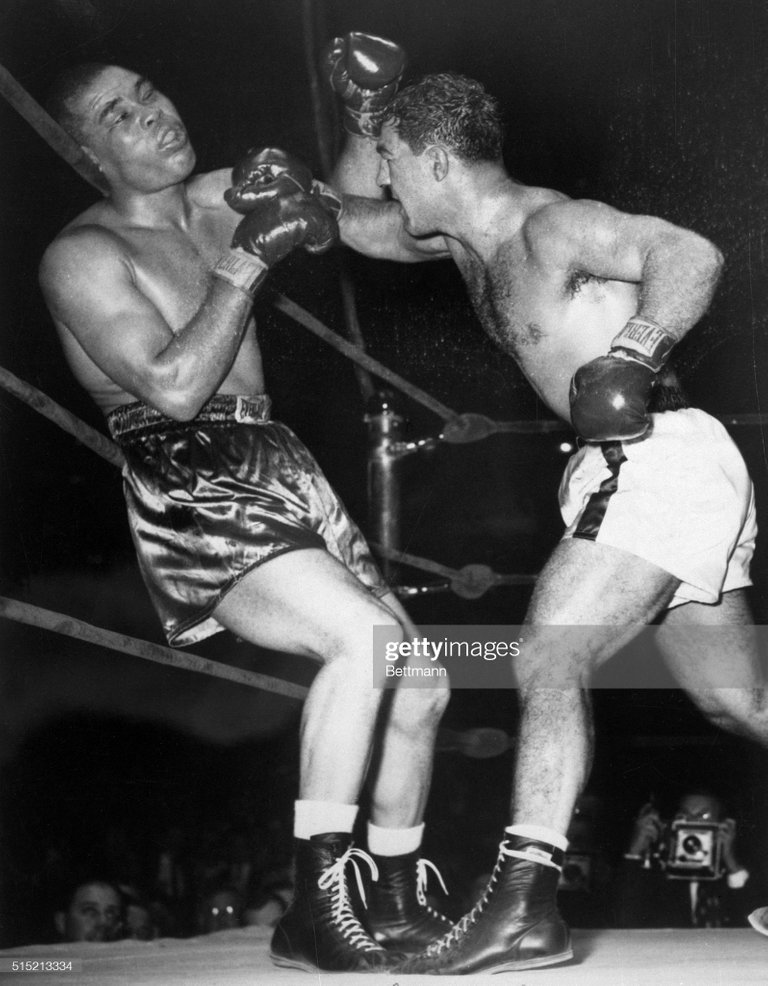 Marciano Vs Joe
And we return to the past, we are in October 26, 1951, fight in Madison Square Garden, New York the cathedral of boxing; Rocco Francis Marchegiano, better known as Rocky Marciano, is a machine, a tank that advances in each fight regardless of the blows received, which seem not to make a dent in his humanity, he has an invincible strength, he always advances with his face uncovered. Ladies and gentlemen, the main fight is here in the Garden, in this corner the champion Rocky Marciano, with 37 fights, zero losses and 32 #KO; in the other Joe Louis, 68 fights, 2 losses and 52 #KO; two legends beat each other. Pin pin, start the fight; Gentlemen, Rocky advances like a locomotive, the tank has no mercy, here it is no idol, and throws powerful tundas, oh, a right wing is coming, Marciano shakes Louis's head, this is madness in the Garden; the assault ends, Joe can't believe it. Let's go to the second one, it's the same tonic, Joe doesn't know what's going on, he receives overwhelming combinations of uppercuts, flies, hooks to the liver, the massacre is phenomenal, Joe always between the ropes, he feels suffocated from so many suckers, how can he bear this Butcher shop. This is how the combat goes on in a single line, this is a take and no give me. We reached round 7, nothing has changed, that is blow and blow, the bomber is off, what power, my God, another blow shakes Joe's head, I think they should do a brain x-ray, help that boy, he saved him the bell, but I think Joe has nothing to look for anymore. We are going to the eighth, the locomotive continues the massacre, my brothers, after several combinations, Joe tries to move away, but when he tries to go to his left, boom, he meets the powerful right of Marciano, now if my people Joe falls, the bill comes, don't get up my son; Joe gets up, serious mistake, madness continues, there is no mercy; oh dad, another direct right pump like concrete to Louis's head that brings him to his knees, almost knocks him out of the ring, the entire upper part was out of him; there is nothing to do, Joe is knocked out, Marciano retains his title and gives Louis retirement, this was his last fight, tears in the Garden, Rocky cries when he defeated his idol; Rocky continued his career, which culminated with 49 fights and 43 #KOs, he retired undefeated. Magnificent fight, did you enjoy friends?

Sugar Ray Robinson Vs Gene Fullmer
1 de mayo de 1957, estamos en el estadio de Chicago, es la revancha entre Robinson y Fullmer, ya que meses antes, Sugar había perdido su título ante este rival, el plan era recuperarlo. Vamos a la pelea amigos míos, Fullmer sale con todo, Sugar lo que hace es recibir castigo y corretear al rededor del ring, esto sucede en los dos primeros asaltos, golpe y golpe, Fullmer es fuerte, agresivo, un toro; pero poco a poco Ray va agarrando vuelo, se recupera; y en el tercer asalto inicia su ascenso, vamos con jab y una buena combinación de golpes, Fullmer se siente desconcertado, Sugar propina ráfagas quirúrgicas de golpes a la humanidad de Gene, que es esto dice Gene, si yo estaba dominado, ay Dios mío. Nos vamos al asalto 4, Ray sigue en ascenso e inicia la debacle de Fullmer, sigue recibiendo golpes, pero el tipo es duro, aunque se nota que en cualquier momento puede caer, es la locura en Chicago, Sugar está decidido a decirle a Gene, dame lo mío papá. Llega el round 5, continúa la tónica, Gene se negaba a caer, pero Sugar es el peleador de todos los tiempos, y el toro no lo iba a parar, pues ya se había convertido en torero; señores, Fullmer parece que reacciona, lanza una derecha mortífera, ¡uff!, falla, Robinson esquiva, Dios mío, alli va Robinson, potente gancho izquierdo a la mandíbula de Gene, amigos el toro cae de viaje al piso, inicia el conteo, parece que Gene se va a levantar, ¡oh no!, de nuevo cae, hermanos #KO, Robinson es campeón del mundo del peso medio por cuarta vez; dame lo mío abusador, que te di mi golpe perfecto.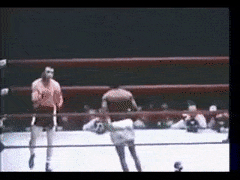 Robinson Vs Gene
May 1, 1957, we are at the Chicago stadium, it is the rematch between Robinson and Fullmer, since months before, Sugar had lost his title to this rival, the plan was to recover it. Let's go to the fight my friends, Fullmer goes out with everything, Sugar what he does is receive punishment and run around the ring, this happens in the first two rounds, blow and blow, Fullmer is strong, aggressive, a bull; but little by little Ray is taking flight, he recovers; and in the third round he begins his ascent, we go with jab and a good combination of punches, Fullmer feels confused, Sugar delivers surgical bursts of blows to Gene's humanity, which is this Gene says, if I was dominated, oh my God . We're going to round 4, Ray is still on the rise and starts the Fullmer debacle, he continues to receive blows, but the guy is tough, although you can see that at any moment he can fall, it is the madness in Chicago, Sugar is determined to tell Gene , give me mine dad. Round 5 arrives, the tonic continues, Gene refused to fall, but Sugar is the fighter of all time, and the bull was not going to stop him, since he had already become a bullfighter; Gentlemen, Fullmer seems to react, throws a deadly right, uff !, fail, Robinson dodges, my God, there goes Robinson, powerful left hook to Gene's jaw, folks the bull falls on a trip to the floor, starts the count, It looks like Gene is going to get up, oh no, again falls, brothers #KO, Robinson is world middleweight champion for the fourth time; give me my abuser, I gave you my perfect blow.

Carlos Monzón Vs Nino Benvenuti
Regresamos al 7 de noviembre de 1970, viajamos a Roma, Italia, la pelea es en el Palazzo Dello Sport; Carlos Monzón frente al campeón Nino Benvenuti; Monzón con una sola misión, ser paciente, inteligente y actuar de forma determinada para obtener el título. Pin pin, Inicia la pelea, los cuatro primeros asaltos son de estudio, de paciencia, se agarran, se dan cabezazos, lanzan golpes, ambos mueven sus cinturas y esquivan los golpes, Carlos firme, Nino baila en el ring, Nino mantiene distancia, Monzón se ha dado cuenta que los golpes de italiano parecen espagueti cocinado, debiluchos, Monzón aprovecha y conecta golpes duros, ya se está cocinando el asado. Ya para el quinto asalto Nino ha comprobado que los mazazos del rival son bien duros, y sigue peleando a distancia. Ay papá, round 6, la película avanza e inicia la fase de destrucción, Carlos dispara bombas combinadas, ganchos al cuerpo, cruzados de derecha que estremecen al italiano, ya inicia la tortura y la debacle del campeón. Entonces para los rounds 7 al 10, el dominio de Carlos es impresionante, lanza bombas mortíferas, ganchos, cruzados a la humanidad de Nino, que busca deseperamente alejarse de Monzón, en momentos el italiano parece reaccionar, pero cuando golpea, Carlos retrocede golpeando, más bien el italiano es quien recibe golpes. Ahora Monzón lanza unos jabs, que precisamente no son para mantener distancia, sino que se han convertido en misiles poderosos, ya Nino no puede más, golpe y golpe, donde una izquierda demoledora impacta sobre Nino, quien ya sabe lo que le espera si continúa. En el asalto 11, la carnicería es fenomenal, parece que el italiano quiere que lo maten, par de jabs, uno-dos; un uno-dos-tres, otro par de jabs, Monzón es demoledor, que es esto señores, derecha cruzada, Benvenuti es salvado por la campana, ya es Benvechao. Yo estoy mas cansado que los peleadores; round 12; Carlos piensa lo que le dijo su entrenador, vaya y túmbelo, masacre total, acorrala a Nino y con una derecha cruzada de lujo Nino queda loquito, se tambalea, Carlos lo sigue, ¡ay!, la estocada final, un mamonazo descendente de derecha impacta a la mandíbula del italiano; y eso es todo, Nino cae, acaba su suplicio, #KO, pobre criatura; Carlos es el nuevo campeón de los pesos medios, inicia la gloria.
Monzón Vs Nino
We go back to November 7, 1970, we travel to Rome, Italy, the fight is at the Palazzo Dello Sport; Carlos Monzón against the champion Nino Benvenuti; Monsoon with a single mission, be patient, smart and act determined to get the title. Pin pin, Start the fight, the first four rounds are study, patience, they hold on, head butt, throw blows, both move their waists and dodge the blows, Carlos firm, Nino dances in the ring, Nino keeps distance, Monzón has realized that Italian blows seem like cooked spaghetti, weaklings, Monzón takes advantage and connects hard blows, the roast is already cooking. By the fifth round, Nino has verified that the opponent's blows are very hard, and he continues to fight at a distance. Ay papa, round 6, the film advances and the destruction phase begins, Carlos shoots combined bombs, hooks to the body, right-wing crossers that shake the Italian, and the torture and debacle of the champion begins. So for rounds 7 to 10, Carlos's dominance is impressive, he throws deadly bombs, hooks, crossed at the humanity of Nino, who desperately seeks to get away from Monzón, at times the Italian seems to react, but when he hits, Carlos goes back hitting, rather, the Italian is the one who receives blows. Now Monzón throws some jabs, which are not precisely to keep distance, but have become powerful missiles, and Nino cannot take it anymore, blow and blow, where a devastating left hits Nino, who already knows what awaits him if he continues . In round 11, the carnage is phenomenal, it seems that the Italian wants to be killed, pair of jabs, one-two; a one-two-three, another pair of jabs, Monzón is devastating, what is this gentlemen, right crusade, Benvenuti is saved by the bell, it is already Benvechao. I am more tired than the fighters; round 12; Carlos thinks about what his coach told him, go and lay it down, total massacre, corner Nino and with a luxurious right cross Nino is crazy, he staggers, Carlos follows him, oh, the final thrust, a right downward suckling hits the Italian's jaw; and that's all, Nino falls, his torture ends, #KO, poor creature; Carlos is the new middleweight champion, glory begins.

Muhammad Alí Vs George Foreman
Seguimos amigos, 30 de octubre de 1974, Kinsasha, Zaire; se enfrentan Alí y Foreman, es la pelea en la jungla, la pelea del siglo; vamos todos al centro del ring, inicia la guerra; Foreman golpea, está activo, Alí no parece el mismo, no baila mucho, la mariposa parece tener las alas rotas; George sigue lanzando poderosos golpes aunque no son tan concretos; esta es la tónica durante los primero cinco round; parece que el nocaut hacia Alí es inminente. Foreman piensa en el #KO, pero no señor, eso no es así, y en los asaltos quinto, sexto y séptimo, Alí invita a Foreman al ataque, Alí se recupera, Foreman se desgasta, y cuando tiene oportunidad, Alí se lanza al ataque con golpes contundentes, el campeón se debilita, señores, los papeles se invierten, el campeón se ve derrotado, Alí golpea, ahí vamos al round 8, no es diferente a los demás, Alí sigue el plan y parece ganador, faltan 20 segundos del final del asalto, Alí está decidido a acabar con esto, Dios mío, una tunda de izquierdas y derechas a la humanidad de Foreman, éste no puede más, y es uno de esos estacazos de derecha el que impacta en la sien; por amor a Cristo, Foreman va de viaje a la lona, el réferi Zach Clayton cuenta, llega a 8 porque nota que no se levantará, #KO, Alí recupera su título de pesos pesados, y se consagra como el mejor del mundo. Que grande, que emoción.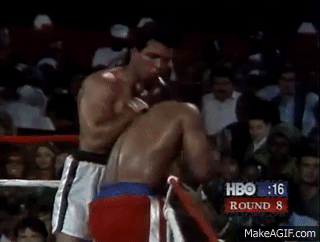 Alí Vs George
We are still friends, October 30, 1974, Kinsasha, Zaire; Ali and Foreman face each other, it is the fight in the jungle, the fight of the century; We all go to the center of the ring, start the war; Foreman hits, he is active, Ali does not seem the same, he does not dance much, the butterfly seems to have broken wings; George continues to deliver powerful blows even though they are not as concrete; this is the tonic during the first five rounds; It seems that the knockout of Ali is imminent. Foreman thinks about the #KO, but no sir, that's not the case, and in the fifth, sixth and seventh rounds, Ali invites Foreman to attack, Ali recovers, Foreman wears out, and when he has a chance, Ali goes into the attack attack with forceful blows, the champion weakens, gentlemen, the roles are reversed, the champion is defeated, Ali hits, there we go to round 8, he is not different from the others, Ali follows the plan and seems a winner, 20 seconds left At the end of the assault, Ali is determined to put an end to this, my God, a beating of the left and right of Foreman's humanity, he cannot take it anymore, and it is one of those blows from the right that hits the temple; For Christ's sake, Foreman goes on a trip to the canvas, referee Zach Clayton counts, reaches 8 because he notices that he will not get up, #KO, Ali regains his heavyweight title, and is consecrated as the best in the world. How great, what emotion.

El #boxeo es un #deporte fantástico que requiere gran #resistencia, #forma física, inteligencia, y un profundo entrenamiento, donde cada púgil sube al ring para dar lo mejor sí, batiéndose a golpes con el fin de ganar su pelea, una pelea que si es por #knockout es lo mejor para él, sin embargo, el #KO no es una fruta que se agarra del árbol y está listo; no señor, es algo que debe ser tomado con mucha inteligencia, dar el golpe preciso y en el momento indicado, y es así que, pum, tu rival cae a la lona. Bueno amigos, este tema reafirma mi pasión por este deporte, pasión que se las transmito a ustedes para hacerlas suyas, sigan disfrutando día a día así como lo hago yo. Saludos y hasta pronto, no se pierdan de este canal.
#Boxing is a fantastic #sport that requires great #resistance, #physical form, intelligence, and deep training, where each fighter steps into the ring to do their best, beating each other in order to win their fight, a fight that if it is because of #knockout it is the best for him, however, the #KO is not a fruit that grabs onto the tree and is ready; no sir, it is something that must be taken with great intelligence, give the right blow and at the right time, and that's how, boom, your opponent falls to the canvas. Well friends, this topic reaffirms my passion for this sport, passion that I transmit to you to make it yours, continue enjoying day by day as I do. Greetings and see you soon, do not miss this channel.
...Gracias Por Visitar...

...Thanks for visiting...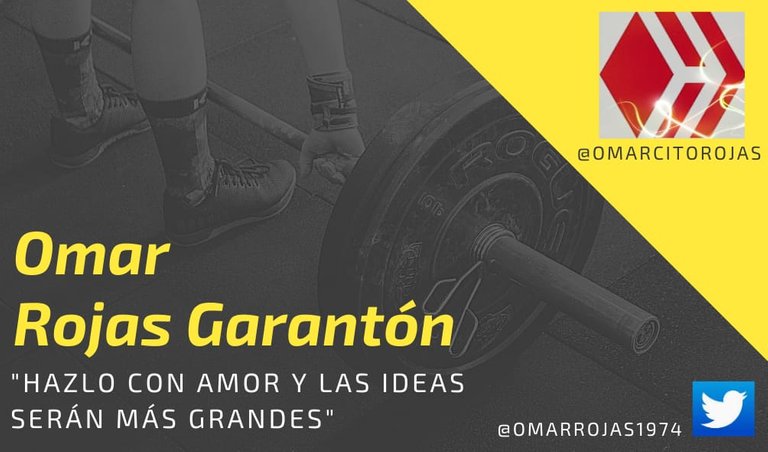 Separador propiedad de @sportstalksocial
Separator owned by @sportstalksocial
Sorry. English is not our native language. Therefore, a web translator is used for texts in English. (Spanishdict)
---
---