En las #grandesligas o en la #GranCarpa como muchas veces nos referimos a ella; han ocurrido una serie de jugadas, hazañas históricas o eventos que hemos visto a través de la pantalla, y muchos de ustedes han presenciado en carne viva; tales como jugadores que han conectado #homerun en su primer turno; homerun en el campo, un fabuloso #tripleplay; cumplir un ciclo o la llamada escalera, batear de 7-7; es decir, son infinidades de jugadas que han perdurado en el tiempo y cada día se van sumando a la historia de la #MLB.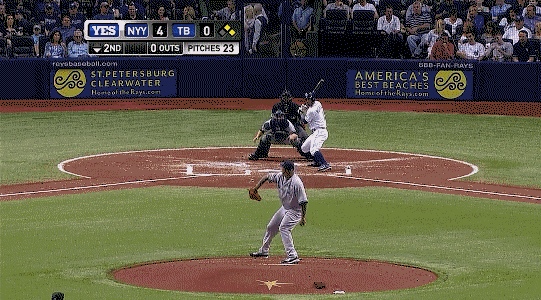 Triple Play
In the #bigleagues or in the #BigTop as we often refer to it; There have been a series of plays, historical feats or events that we have seen through the screen, and many of you have witnessed raw; such as players who have connected #homerun on their first turn; homerun in the field, a fabulous #tripleplay; complete a cycle or the so-called straight, hit 7-7; that is to say, there are infinities of plays that have lasted over time and every day they are added to the history of the #MLB.

Otros de esos hechos históricos, los presenciaron los lanzadores; quien no ha estado a la espectativa, cuando picheo a picheo, inning a inning, ese jugador va avanzando, y alguno de nosotros deseando que logre su cometido, otros ansiosos y pensando cuando vendrá el bateador que le quite el juego perfecto; sin embargo, el lanzador llega al final y obtiene su juego perfecto. Por el contrario, existen otros, que después de recorrer todo el camino, llega el último out, y pum, viene el hit y se derrumban. También ocurre, cuando por una apreciación errónea del umpire, se canta quieto siendo out; así como le sucedió a nuestro lanzador venezolano Armando Galagarraga, cuando el árbitro emitió tal apreciación, reconociendo luego su error, pero el daño ya estaba hecho.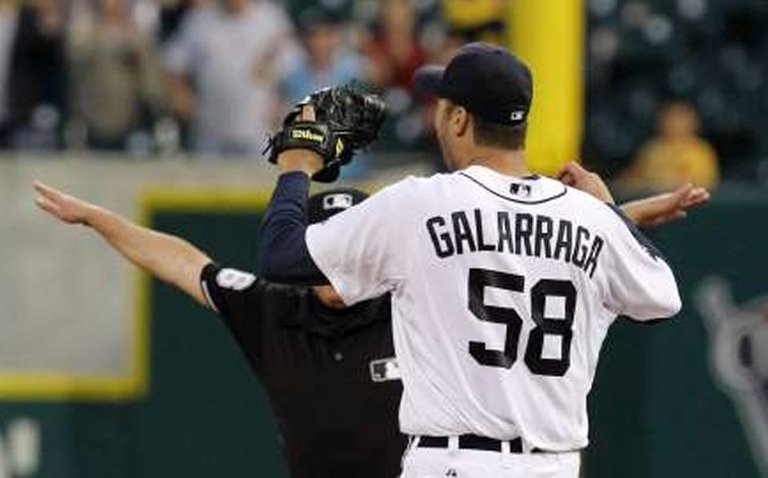 Armando Galarraga
Other of those historical facts, the pitchers witnessed them; Who has not been waiting, when pitching by pitching, inning by inning, that player is advancing, and some of us wanting him to achieve his mission, others anxious and thinking when the batter will come to take away the perfect game; however, the pitcher reaches the end and gets his perfect game. On the contrary, there are others, who after going all the way, the last out arrives, and bang, the hit comes and they collapse. It also happens when, due to an erroneous appreciation of the umpire, one sings still while being out; as happened to our Venezuelan pitcher Armando Galagarraga, when the referee made such an assessment, later acknowledging his mistake, but the damage had already been done.

Siguiendo el tema, y como siempre los venezolanos dando de que hablar; el 26 de julio de 2020, se pudo observar a través de las pantallas de tv, un evento histórico, cuando en un mismo turno entre Bravos y Mets estuvieron presentes 4 paisanos; es decir, el pitcher, catcher, bateador y umpire, eran venezolanos; otro evento que ocurrió y ha ocurrido en la gran carpa en otras ocasiones; y como ya se ha dicho, son eventos que si pasaron.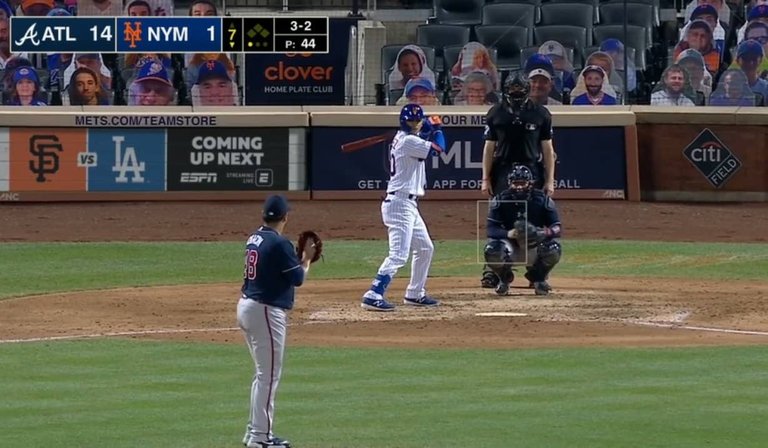 Fuente-Source
Following the theme, and as always the Venezuelans giving what to talk about; On July 26, 2020, a historical event could be observed through the tv screens, when in the same shift between Bravos and Mets 4 countrymen were present; In other words, the pitcher, catcher, batter and umpire were Venezuelans; another event that occurred and has occurred in the big top on other occasions; and as has already been said, they are events that did happen.

De acuerdo a todo lo anterior, existen muchos analistas deportivos, comentaristas, narradores, reporteros y escritores, que se encargan de desarrollar y plasmar los datos de todas esas jugadas que suceden y que han sucedido; pero, alguno de ustedes o de nosotros, nos hemos puesto a pensar, cuales son las cosas que no han ocurrido en la #MLB, que jugadas no han pasado aun; porque se han dado homerun dentro del parque, pero ha sucedido que un mismo jugador lo ha logrado?; bueno amigos míos, a medida que avancemos nos enteraremos de algunas de estas cosas, así que, síganme los pasos y vamos a la acción.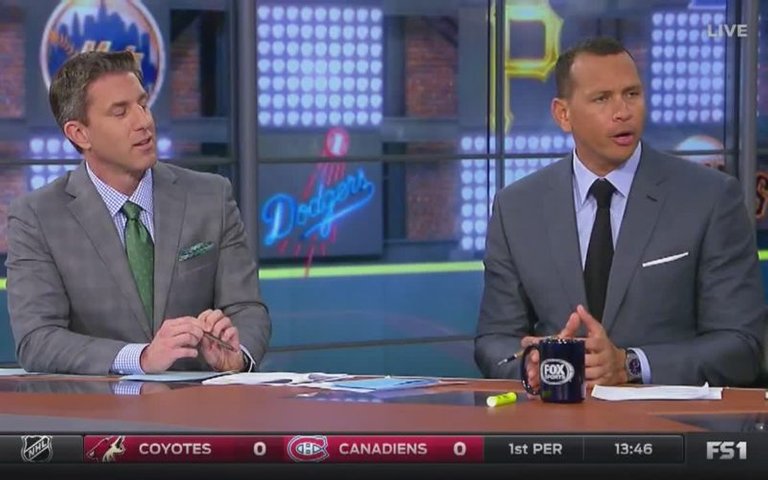 Fuente-Source
According to all the above, there are many sports analysts, commentators, storytellers, reporters and writers, who are in charge of developing and recording the data of all those plays that happen and that have happened; But, some of you or us, we have started to think, what are the things that have not happened in the #MLB, what plays have not happened yet; because they have given homerun inside the park, but has it happened that the same player has achieved it ?; well my friends, as we go along we will find out about some of these things, so follow in my footsteps and let's take action.

Lo Que No Ha Pasado En La MLB
What Has Not Happened In MLB
En este apartado, nos adentramos en los eventos que no han ocurrido, y aunque por más descabellados que sean, la pelota es redonda, y en ocasiones estuvieron cerca de suceder, pero nos quedamos con las ganas, aunque esperamos que si ocurran y lo más importante, vivir para contarlo.
In this section, we delve into the events that have not occurred, and although crazy as they are, the ball is round, and sometimes they were close to happening, but we are left with the desire, although we hope that if they do happen and the most important, live to tell.
2 Homerun dentro del Campo Mismo Juego-
Mismo Jugador
2 Homerun on the Field Same Game -
Same Player
Si ya de por si conectar un #homerun es un evento emocionante, imagínense pegar dos o más de dos. Sin embargo, para mi es mas emocionante ejecutar un #cuadrangular dentro del campo, situación que ha sucedido muchas veces, y que amerita la combinación de gran velocidad, y en ocasiones, de cierta ayuda de los jugadores contrarios. Pero, que el mismo jugador y en mismo juego lo haga, estamos a la espera de ello.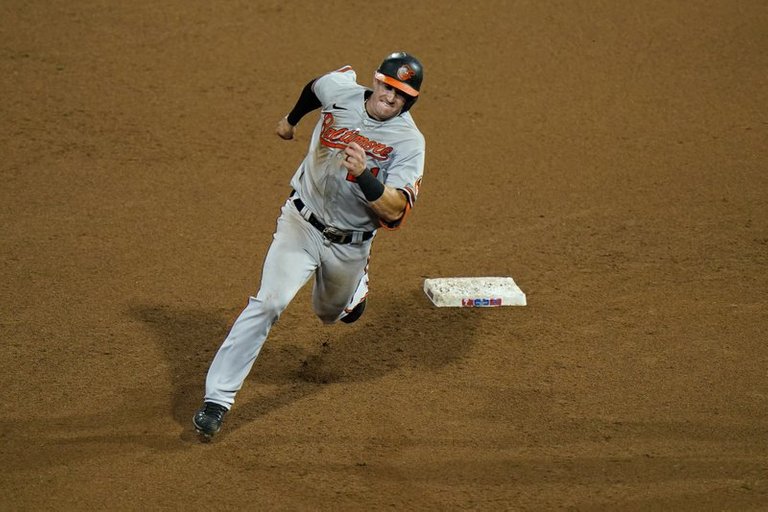 Austin Hays
If connecting a #homerun is already an exciting event, imagine hitting two or more than two. However, for me it is more exciting to execute a #quadrangular on the field, a situation that has happened many times, and that deserves the combination of great speed, and sometimes, some help from opposing players. But, that the same player and in the same game do it, we are waiting for it.
Haciendo referencia a lo anterior, cabe destacar el #homerun en el campo de Roberto Clemente, y aunque fue solo uno en ese juego; tubo la particularidad de ser un #granslam; jugada ocurrida el 25 de julio de 1956, en la casa de los Piratas de Pittsburgh; dejando en el terreno a los Cachorros 9-8. Fuente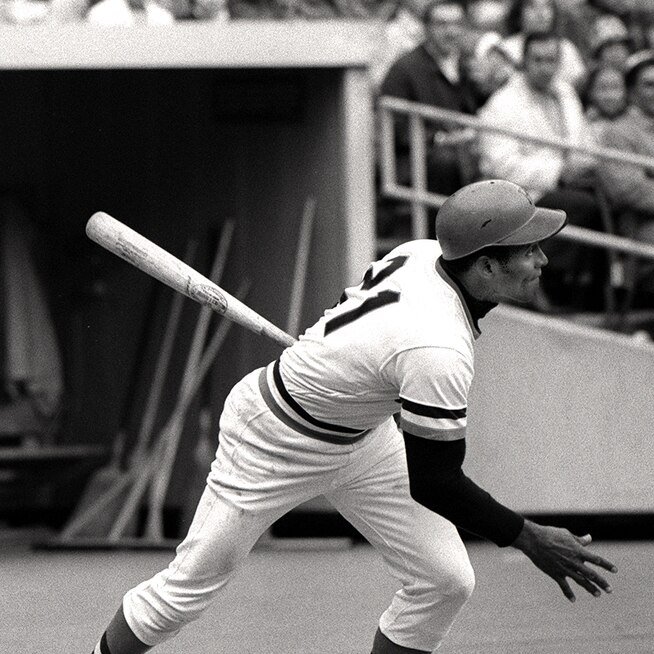 Roberto Clemente
Referring to the above, it is worth highlighting the #homerun in the Roberto Clemente field, and although it was only one in that game; He had the peculiarity of being a #granslam; play that occurred on July 25, 1956, at the home of the Pittsburgh Pirates; leaving the Cubs 9-8 on the ground. Source

Completar 2 Veces el Ciclo o La Escalera, Mismo Juego-Mismo Jugador
Complete the Cycle or Ladder 2 Times, Same Game - Same Player
El ciclo o la escalera es una jugada complicada, donde un jugador por lo menos debe tener mínimo 4 turnos al plato, el cual debe conectar sencillo, doble, triple y cuadrangular, esto se ha dado sin importar el orden, y como saben es bastante complicado; pero por si no lo sabían; más complicado, y también ha ocurrido, es ejecutar la escalera en ese mismo orden, sencillo, doble, triple y cuadrangular, lo que se llama ciclo natural. Sin embargo, hasta el momento no se ha conocido que jugador alguno haya conectado 2 ciclos en un mismo juego; lo que implica que ese jugador deba tener mínimo 8 turnos al bate sin fallar, que tampoco ha ocurrido.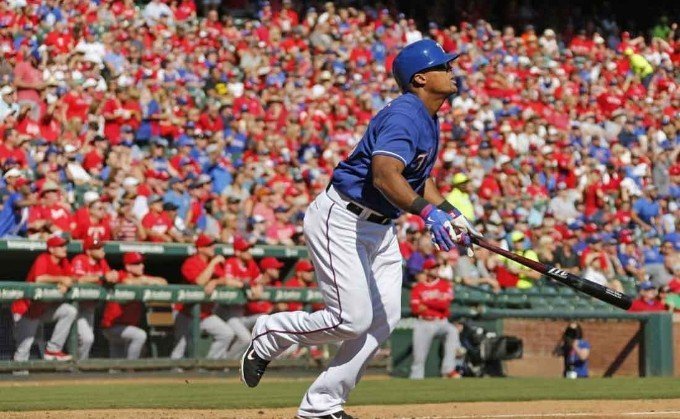 Fuente-Source
The cycle or the ladder is a complicated play, where a player must have at least 4 turns at the plate, which must connect single, double, triple and home run, this has occurred regardless of the order, and as you know it is quite complicated; but in case you didn't know; more complicated, and it has also happened, is to execute the ladder in the same order, single, double, triple and quadrangular, which is called the natural cycle. However, until now it has not been known that any player has connected 2 cycles in the same game; which implies that that player must have a minimum of 8 at-bats without failing, which has not happened either.

8 Imparables en 8 Turnos
8 Unstoppable in 8 Turns
Que un jugador tenga mínimo 8 oportunidades al bate y que no falle parece como una locura, sin embargo, como ya se indicó en mi publicación anterior, y otra vez, los venezolanos haciendo historia en la #MLB, nuestro compatriota Cesar Gutierrez estuvo cerca, en esa oportunidad se fue de 7-7; entonces, no es descabellado que alguien conecte de 8-8; pero aun no sucede, igualmente esperamos la ocurrencia de tal hecho.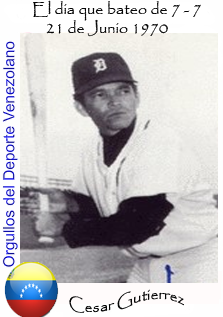 César Gutiérrez
For a player to have at least 8 chances at bat and not fail seems crazy, however, as indicated in my previous post, and again, Venezuelans making history in the #MLB, our compatriot Cesar Gutierrez It was close, on that occasion it was 7-7; So it's not unreasonable for someone to hit 8-8; but it has not happened yet, we also await the occurrence of such an event.
En el encuentro entre Marlins y Gigantes en la temporada 2016, mas cerca estuvo Brandon Crawford de lograr tal hecho, cuando bateó un doble, un triple y cinco sencillos en ocho turnos, es decir, se fue de 8-7, casi obviamos este punto como lo no sucedido en la MLB, esperemos verlo pronto. Fuente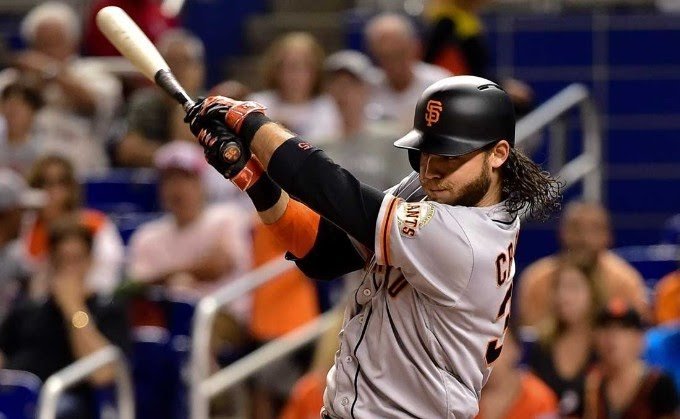 Brandon Crawford
In the meeting between the Marlins and the Giants in the 2016 season, Brandon Crawford was closer to achieving such a feat, when he hit a double, a triple and five singles in eight at-bats, that is, he went 8-7, we almost missed this point like what didn't happen in MLB, we hope to see him soon. Source

Como es sabido; existe una lista histórica de 18 jugadores que han ejecutado 4 cuadrangulares en un mismo juego; primera hazaña ocurrida en 1984 por Bobby Lowe, y los dos últimos jugadores que lo lograron fueron Scooter Gennett y J.D.Martínez ambos en la temporada 2017; pero todavía ningún jugador ha perpetuado su nombre en la historia, como el ejecutor de 5 homerun en un mismo juego; también espero vivir para contarlo.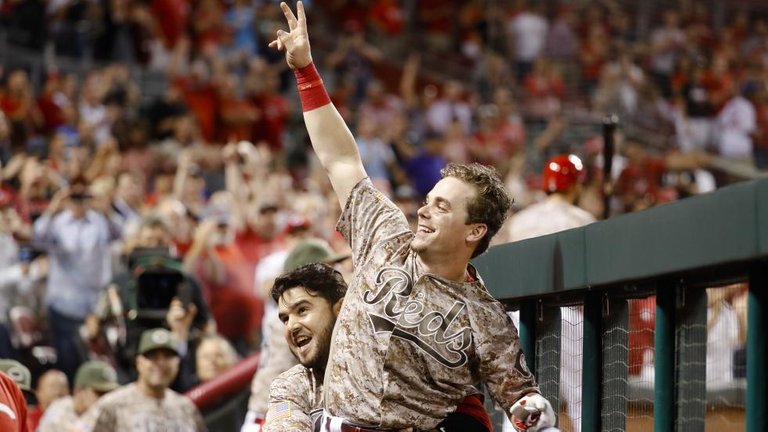 Scooter Gennett
As is known; there is a historical list of 18 players who have executed 4 home runs in the same game; first feat occurred in 1984 by Bobby Lowe, and the last two players to achieve it were Scooter Gennett and J.D. Martinez both in the 2017 season; but still no player has perpetuated his name in history, like the executor of 5 homeruns in the same game; I also hope to live to tell about it.

Un no hit no run de Padres de San Diego
San Diego Padres no hit no run
Por si no lo sabías los Padres de San Diego, desde su llegada a la #GranCarpa en 1969, no han tenido ningún pitcher capaz de lograr tal hazaña. Casi lo obtienen en 1972 y en el último out quebraron al pitcher Steve Arlin y en 2011 se perdió el esfuerzo combinado de cinco pitchers. Fuente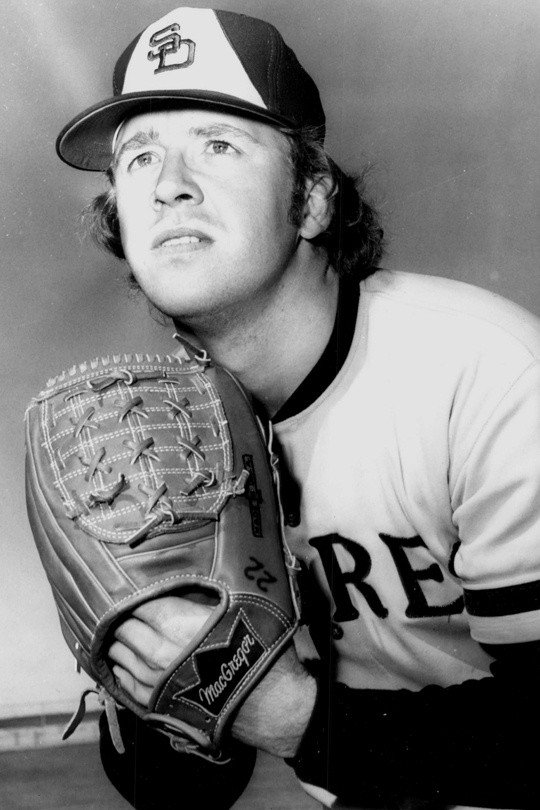 Steve Arlin
In case you did not know, the San Diego Padres, since their arrival in the #bigtent in 1969, they have not had a pitcher capable of achieving such a feat. They almost got it in 1972 and in the last out they broke pitcher Steve Arlin and in 2011 the combined effort of five pitchers was lost. Source
Ser el único equipo en no alcanzar este logro, evidencia en ciertas ocasiones la limitaciones que tiene un club de adquirir buenos lanzadores; sin embargo, estuvieron a punto de conseguirlo, y como se mencionó anteriormente en el último out ocurre el desplome, que factores intervienen en esto, tal vez la ansiedad, en ocasiones la falta de concentración y en otras la mala praxis de los umpire. Lo cierto es que no lo hemos visto aún.
Being the only team not to achieve this achievement, shows on certain occasions the limitations that a club has in acquiring good pitchers; However, they were on the verge of achieving it, and as mentioned earlier in the last out the crash occurs, what factors intervene in this, perhaps anxiety, sometimes lack of concentration and in others the malpractice of the umpires. The truth is that we have not seen it yet.

Estimada familia #hive, el #beisbol siempre nos da sospresas donde tenemos la dicha de observar grandes jugadas y desenlaces inesperados, como ganar o perder un juego faltando un out, incluso a falta de un strike ocurre la gloria o la victoria; lo cierto del caso, es que deseamos ver y disfrutar jugadas que aún no ha sucedido, y aunque estuvieron cerca de darse; lamentablemente no ha sido asi, esperamos pronto vivirlas y verlas plasmadas en la historia. Ha sido un placer escribir para ustedes, esperando que hayan disfrutado como lo hice yo. Saludos y estamos en contacto.
Dear #hive family, #baseball always gives us surprises where we have the joy of observing great plays and unexpected outcomes, such as winning or losing a game with one out missing, glory or victory occurs even in the absence of a strike; The truth of the case is that we want to see and enjoy plays that have not yet happened, and although they were close to happening; Unfortunately this has not been the case, we hope to experience them soon and see them reflected in history. It has been a pleasure to write for you, hoping that you have enjoyed as I did. Greetings and we are in touch.
...Gracias Por Visitar...

...Thanks for visiting...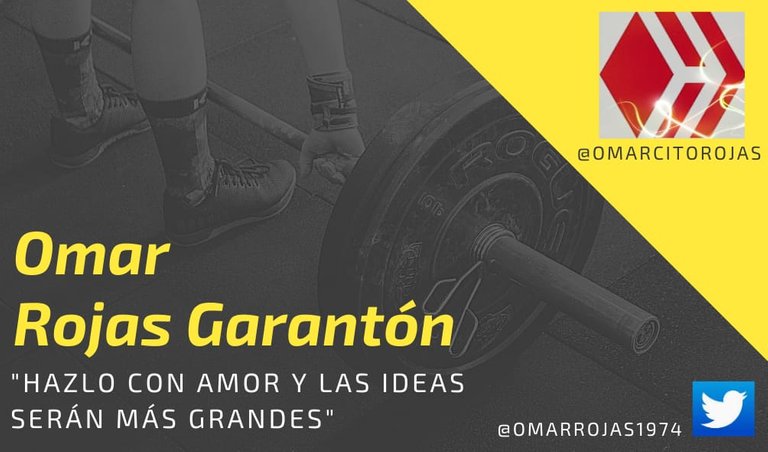 Sorry. English is not our native language. Therefore, a web translator is used for texts in English. (Spanishdict)