Nuevamente amigos de @sportstalksocial junto a todos ustedes para entablar una tertulia sobre el más grande del baloncesto de la #NBA, y les hablo de su Mejastad el fabuloso #MichaelJordan, el amo del aire y de los tableros, el hombre que muchos no pudieron parar, un tipo con una capacidad de flote increíble lo que permitía clavar el balón, hacer piruetas y soltar el mismo cuando sus rivales estaban en descenso. Quien no vivió las fabulosas jugadas que eran una locura y que todavía perduran en el tiempo. Acrobacias inigualables que todos, por lo menos yo, traté de hacerlas en reiteradas ocasiones. Claro no clavar la bola desde el tiro libre porque no estuviera aquí, también fuera un famoso jugador jajaja. Ahora dime tú si no lo intentaste, sino lo conociste y si hoy en día hay jugadores de ese calibre; yo pienso que hay jugadores muy buenos, pero ninguno como Jordan. Pero bueno sigamos adelante para conocer los inicios, logros, estadísticas y curiosidades del #AirJordan, no cambien de canal.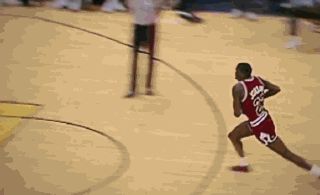 Air Jordan
Again friends of @sportstalksocial together with all of you to start a gathering about the greatest of basketball in the #NBA, and I tell you about his Mejastad the fabulous #MichaelJordan, the master of the air and the boards, the man that many could not stop, a guy with an incredible ability to float, which allowed him to nail the ball, do pirouettes and release the same when his rivals were in descent. Who did not live the fabulous plays that were crazy and that still endure in time. Unrivaled stunts that everyone, at least I, tried to do repeatedly. Of course not to nail the ball from the free kick because he was not here, he was also a famous player hahaha. Now tell me if you didn't try it, but you met him and if there are players of that caliber today; I think there are very good players, but none like Jordan. But hey, let's move on to find out the beginnings, achievements, statistics and curiosities of #AirJordan, do not change the channel.

Hablar de Jordan es recordar su punto de partida; porque Michael Jeffrey Jordan vino al mundo en la ciudad de Nueva York el 17 de febrero de 1963. Yo creo que ya dentro de la barriga de su mamá jugaba #baloncesto. Sin embargo, aunque nació en Brooklyn se desarrolló en Wilmington Carolina del Norte. Sus padres Deloris Jordan y James R. Jordan. El Air es el cuarto de cinco hermanos. En el ámbito deportivo Jordan practicó varios deportes, pero se inclinaba por el baloncesto y su padre viendo la cuestión dijo, mi hermano aquí voy a ser pila, le construyo una canchita aquí mismo en la casa y lo pongo a valer. Y así fue, a los 13 años, el papá de Jordan me leyó la mente y le construye una cancha de básquet en el patio trasero de su hogar donde pasaba todas las tardes jugando con su principal ídolo, su hermano Larry.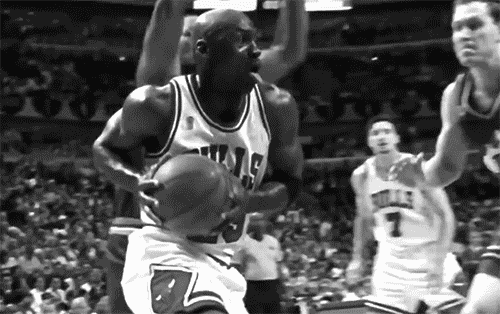 Fuente-Source
To talk about Jordan is to remember his starting point; because Michael Jeffrey Jordan came into the world in New York City on February 17, 1963. I believe that already inside his mother's belly he played #basketball. However, although he was born in Brooklyn, he grew up in Wilmington North Carolina. His parents Deloris Jordan and James R. Jordan. The Air is the fourth of five siblings. In the sports field, Jordan practiced several sports, but he leaned towards basketball and his father seeing the question said, my brother here I am going to be a pile, I build him a field right here in the house and I put it to value. And so it was, at age 13, Jordan's dad read my mind and built him a basketball court in the backyard of his home where he spent every afternoon playing with his main idol, his brother Larry.

En 1977 Michael se destacaba en #baloncesto y #football por lo que este maestro ganó el certificado de Outstanding Athlete en esas dos disciplinas; ya comienza el tipito a ganar premios y méritos. A raíz de ello muchos cazatalentos de las grandes escuelas se mataban para que Jordan fuera a alguna de esas instituciones; pero quedaron como la guayabera por fuera, porque su familia decidió por Emsey A. Laney. El bichito no se quedaba tranquilo porque en esa escuela jugó futbol americano, béisbol y baloncesto. Pero se llevó un chasquito porque debido a su enanismo no fue seleccionado en baloncesto. Esto lo llevó a una depresión total que hasta llorón se volvió, sin embargo entró en razón y se propuso lograr su objetivo, y como se dice de gota en gota se reboza el vaso Jordan lo logró y fue contratado por los equipos McDonald's All-American Team, imagínense tal magnitud de hecho. Y nos vamos a la universidad donde iniciaría el ascenso de esta fabulosa estrella. Sí mis amigos porque en 1982 representando a la Universidad de North Carolina se dio el juego final de la NCAA contra Georgetown liderado por Pat Edwing. Y aquí vamos porque faltan 18 segundos Carolina pierde 61-62, faltan 15 segundos le dieron el balón a Jordan, intentan bloquearlo que hiciste papaito llegaste tarde, se suspende lanza y encesta locura en el Superdome 63-62 en la cara. Georgetown baja el balón muy rápido lo lleva Frad Brown, Dios mío error James Worthy roba el balón esto se va a acabar que nervios le comenten falta. Vamos a la línea de tiro libre Worthy falla pero no hay nada que hacer Carolina del Norte es Campeón NCAA 1982. Se fijaron quienes estaban jugando, aquel Worthy de aquellos Lakers, y le dieron el balón al novato, que más se puede pedir.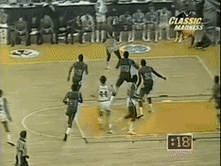 NCAA Final 1982
In 1977 Michael excelled in #basketball and #football, so this teacher won the Outstanding Athlete certificate in those two disciplines; the little guy is already beginning to win prizes and merits. As a result, many high school talent scouts killed themselves so that Jordan would go to one of those institutions; but they were like the guayabera on the outside, because his family decided on Emsey A. Laney. The bug was not quiet because at that school he played football, baseball and basketball. But he was disappointed because due to his dwarfism he was not selected in basketball. This led him to a total depression that even a crying man became, however he came to his senses and set out to achieve his goal, and as they say drop by drop the glass is dripping, Jordan succeeded and was hired by the McDonald's All-American teams. Team, imagine such a magnitude indeed. And we go to the university where the rise of this fabulous star would begin. Yes my friends because in 1982 representing the University of North Carolina was the final game of the NCAA against Georgetown led by Pat Edwing. And here we go because there are 18 seconds left Carolina loses 61-62, there are 15 seconds left they gave the ball to Jordan, they try to block it that you did daddy you arrived late, throwing is suspended and he hits madness in the Superdome 63-62 in the face. Georgetown lowers the ball very fast, Frad Brown takes it, my God mistake James Worthy steals the ball this is going to end that nerves make him foul. We go to the free throw line Worthy fails but there is nothing to do North Carolina is the 1982 NCAA Champion. They looked at who was playing, that Worthy of those Lakers, and they gave the ball to the rookie, what more could you ask for.

Desde allí todo fue éxito tras éxito, fue nominado como Mejor Jugador de primer año, lo eligieron para el All American de la NCAA en el 82, 83 y 84, donde también ganó premios de Mejor jugador del año y Jhon R. Wooden. Ya en el 84 tenía el sobrenombre he can do it all ( puédelo todo). Y no es nada para los Juegos Olímpicos de Los Ángeles del mismo año, participó en el equipo que ganó la medalla de oro; pero amigos míos esto no se queda así porque ahora es que viene lo bueno.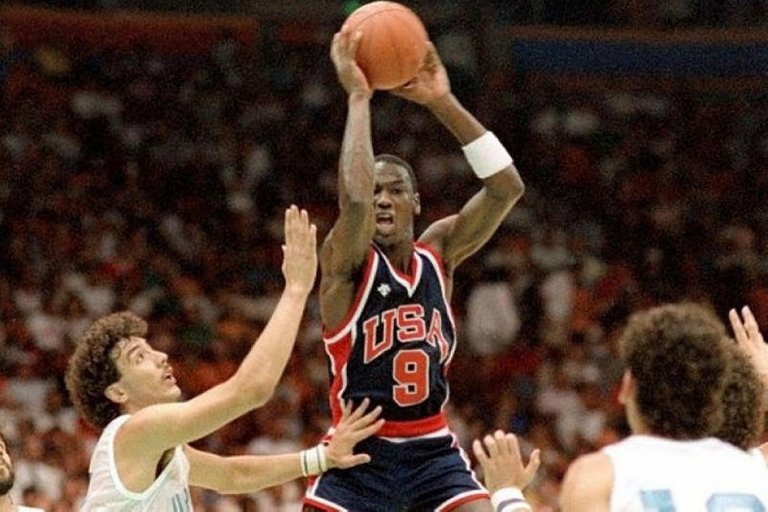 Los Angeles-The Angels 1984
From there everything was success after success, he was nominated as Best First-year Player, he was chosen for the NCAA All American in '82, 83 and 84, where he also won Best Player of the Year and Jhon R. Wooden awards. Already in 84 he had the nickname he can do it all (you can do it all). And it is nothing for the Olympic Games in Los Angeles of the same year, he participated in the team that won the gold medal; but my friends this does not stay that way because now the good thing is coming.

Pura NBA
Su inicio en la NBA fue el 19 de junio de 1984 cuando es elegido en tercera ronda por los Chicago Bulls, y por qué no en primera; bueno porque también por alli había otro fenómeno llamado Hakeem Olajuwon quien fue la primera elección de los Rockets de Huston. Pero eso no importaba porque demostraría que tenía que ser él el primero, la calidad se veía por encimita llevando al equipo a los playoffs y elevando la moral ya que los bulls venían en decadencia. El tipo dejó un promedio de 28.2 puntos por partido en esa temporada. Más premios mis panas, recibió el Novato del Año, fue elegido como titular para el Juego de las Estrellas de la NBA, que tal.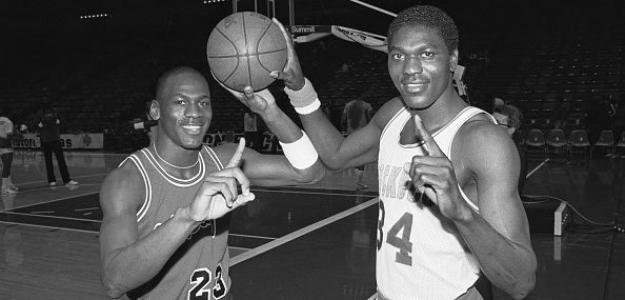 Fuente-Source
Pure NBA


His start in the NBA was on June 19, 1984 when he was chosen in the third round by the Chicago Bulls, and why not in the first; good because there was also another phenomenon there called Hakeem Olajuwon who was the first choice of the Huston Rockets. But that did not matter because it would show that he had to be the first, the quality was seen over the top taking the team to the playoffs and raising morale as the bulls were in decline. The guy averaged 28.2 points per game that season. More awards my panas, he received the Rookie of the Year, he was chosen as a starter for the NBA All-Star Game, how are you?

Y nos vamos a la 86-87 donde la bazuca logró anotar más de tres mil puntos siendo para ese momento el segundo detrás de Wilt Chamberlain. Otra vez Michael y sus Bulls van a los playoffs, pero no avanzaban porque fueron derrotados por los Celtics de Bird, no sin antes anotarle en su cara y en su casa 63 puntitos. Siguiendo a 1988 Jordan ganó el premio Más Valioso de la NBA, y ese no era el único porque también se lo dieron en 1991, 1992, 1996, 1998. Como que no jugaba más nadie, a bueno, también le dieron el premio al Mejor Defensor, otro manos de seda.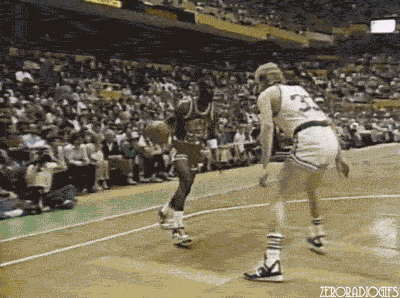 Jordan Vs Bird
And we go to 86-87 where the bazooka managed to score more than three thousand points, being for that moment the second behind Wilt Chamberlain. Again Michael and his Bulls go to the playoffs, but they did not advance because they were defeated by Bird's Celtics, not before scoring 63 points on his face and at home. Following 1988, Jordan won the NBA Most Valuable Award, and that was not the only one because they also gave it to him in 1991, 1992, 1996, 1998. Since no one else played, well, they also gave him the Best award. Defender, another silken hands.

Para la temporada de 1988-1989 los Bulls obtuvieron un total de 47 victorias. Estos lograron llegar a las finales de la Conferencia del Este tras acabar a los Cleveland Cavaliers 3 juegos a 2; posteriormente se enfrentrían a los New York Knicks a quienes eliminaron 4 juegos a 2 en las semifinales y como cosa rara su Majestad fue quien hizo el tiro que los mató antes de sonar la chicharra. Sin embargo, caerían en la final de conferencia del este ante los Pistones de Detroit 4 juegos a 2. Como dicen tanto nadar para morir en la orilla. Entramos en la temporada 1989-1990 los Chicagos Bulls encabezados por su Majestad aunado a los nuevos galácticos Scottie Pippen y Horace Grant, dirigidos por el fabuloso Phil Jackson el equipo se veía demoledor. El Air logró promediar 33,6 puntos por juego uy papá. Ahora para la siguiente 90-91, el extraterrestre obtuvo por segunda vez el título de Jugador Más Valioso, además de lograr un record de 61 victorias, quedaron campeones luego de 16 años se sequía.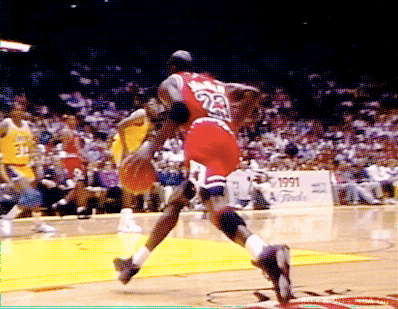 Final 1991
For the 1988-1989 season the Bulls had a total of 47 victories. They made it to the Eastern Conference finals after finishing the Cleveland Cavaliers 3 games to 2; later they faced the New York Knicks whom they eliminated 4 games to 2 in the semifinals and as a strange thing his Majesty was the one who made the shot that killed them before sounding the buzzer. However, they would fall in the eastern conference final against the Detroit Pistons 4 games to 2. As they say so much swim to die on shore. We entered the 1989-1990 season, the Chicago Bulls led by His Majesty, together with the new galactics Scottie Pippen and Horace Grant, led by the fabulous Phil Jackson, the team looked devastating. The Air managed to average 33.6 points per game uy papa. Now for the following 90-91, the alien won the title of Most Valuable Player for the second time, in addition to achieving a record of 61 victories, they remained champions after a 16-year drought.

Por otra parte, de los 6 anillos obtenidos por Jordan los primeros 3 fueron en las temporadas de 1991-1992-1993. Los Chicago Bulls lograron su primer Three-peat sometiendo a los Lakers en el primero, a Portland en segundo, y en seis fuertes encuentros a los Phoenix Suns. En el último encuentro el 20 de junio de 1993 faltando 14 segundos Chicago va perdiendo 96-98, Phil diseña la última jugada todos piensan que Jordan será el matador, el Air saca el balón en la línea lateral y los Bulls bajan el balón, el tiempo se acaba la defensa es férrea mueven la esférica, balón adentro a Grant no puede Paxson espera solito en la línea de 3 puntos, recibe el balón faltan 5 segundos dispara oh mi Dios el matador Paxson anota Chicago arriba 99-98 pero quedan 3.9 segundos tiempo suficiente para dar vuelta al partido. Defensa, defensa, balón para Kevin Johnson quien en intento desesperado penetra pero se encuentra con Horace Grant tapón en la cara, se acabó, el triple de Paxson le dio matarile a los Suns, Cicago campeón Three-peat. Y seguimos, porque entre 1987 y 1996 Jordan encajó un promedio de 30 puntos por partido siendo el máximo anotador en cada una de las temporadas. Por si fuera poco fue el máximo anotador de su equipo con 21.541, una pelusa mano.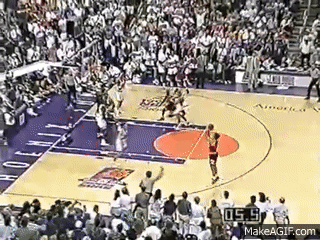 Paxson Final 1993
On the other hand, of the 6 rings obtained by Jordan, the first 3 were in the 1991-1992-1993 seasons. The Chicago Bulls scored their first Three-peat by submitting the Lakers in the first, Portland in second, and in six strong games the Phoenix Suns. In the last game on June 20, 1993 with 14 seconds left Chicago is losing 96-98, Phil designs the last play everyone thinks that Jordan will be the killer, the Air takes the ball on the sideline and the Bulls lower the ball, the time is running out the defense is fierce they move the ball, the ball inside Grant cannot Paxson waits alone at the 3-point line, receives the ball 5 seconds to go shoots oh my God the matador Paxson scores Chicago up 99-98 but there are 3.9 seconds left enough time to turn the game around. Defense, defense, ball for Kevin Johnson who in a desperate attempt penetrates but finds Horace Grant a plug in the face, it's over, Paxon's triple killed the Suns, Cicago Three-peat champion. And we continue, because between 1987 and 1996 Jordan conceded an average of 30 points per game, being the leading scorer in each of the seasons. As if that were not enough, he was the top scorer of his team with 21.541, a fluff hand.

Récords
Su Majestad el air Michael Jordan, desde mis perspectiva, considero que es el mejor jugador de baloncesto de todos los tiempos; y es que sus números no son cuento y confirman tal aseveración, con marcas fabulosas muchas difíciles de igualar. Una de ellas, es que puede presumir de ganar dos veces tres anillos de la NBA seguidos. Ahora la lista de récord es tan extensa que vamos a tener que obviar algunos de ellos porque luego al momento de publicar me pueden mandar error por exceso de palabras, ja ja ja ja.
Records


His Majesty the Air Michael Jordan, from my perspective, I consider him to be the best basketball player of all time; and the fact is that their numbers are not a story and they confirm such an assertion, with fabulous brands, many difficult to match. One of them is that he can boast of twice winning three NBA rings in a row. Now the record list is so extensive that we are going to have to ignore some of them because later when publishing they can send me an error due to excess words, ha ha ha ha.

6 veces mejor jugador de las finales. Aun nadie tiene seis MVP de la final de la NBA. LeBron James, tiene 4 y aún está en activo. Su estante alberga 22 trofeos: 6 anillos de campeón de la NBA, 6 MVP de la final, 5 MVP de la temporada regular, 3 MVP del All Star, 1 galardón de mejor defensor del año y el rookie del año. **Máximo anotador de la temporada en 10 oportunidades **. Entre 1986 y 1993, figuró como máximo anotador de la NBA. Para su regreso lo fue también entre 1995 y 1998. Posee el mejor promedio de puntos en una carrera. Jordan se retiró con un promedio de 30,12 puntos, por encima de Wilt Chamberlain 30,06. Es el que más puntos hizo en unas finales de la NBA. En 1993 ante los Suns, Jordan promedió 41 puntos por encuentro. Hizo 44 en el tercero, los 55 del cuarto y los 41 del quinto.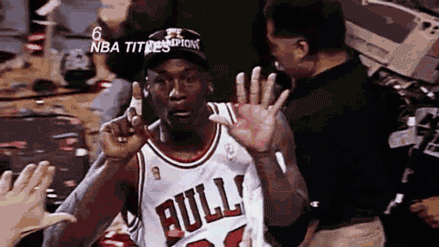 Fuente-Source
6 times best player of the finals. No one has six NBA Finals MVPs yet. LeBron James is 4 and still active. Its shelf houses 22 trophies: 6 NBA champion rings, 6 Finals MVP, 5 Regular Season MVP, 3 All Star MVP, 1 Best Defender of the Year award, and Rookie of the Year. Top scorer of the season in 10 opportunities. Between 1986 and 1993, he was the top scorer in the NBA. For his return it was also between 1995 and 1998. He has the best point average in a career. Jordan retired with an average of 30.12 points, above Wilt Chamberlain 30.06. He is the one who scored the most points in an NBA finals. In 1993 against the Suns, Jordan averaged 41 points per game. He did 44 in the third, 55 in the fourth and 41 in the fifth.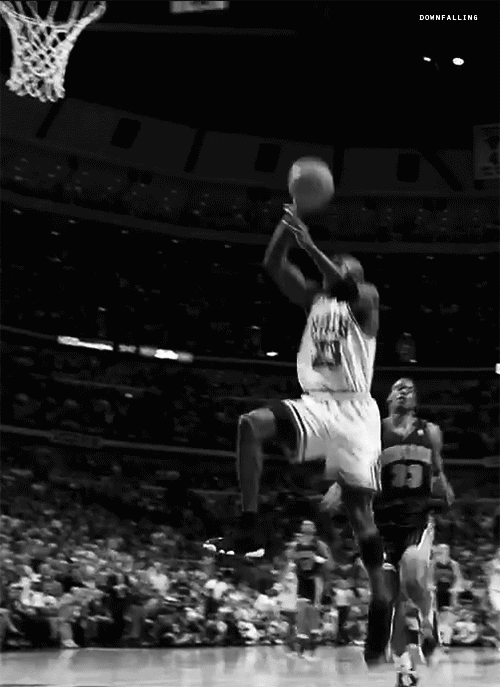 Air Jordan

Primer Adiós de la NBA
Tras el asesinato de su padre, Jordan decide retirarse de la NBA alegando que ya no sentía el mismo amor por el juego, cosa que materializó antes de la llegada de la temporada 1993-1994. Entonces se retiró para ir a jugar béisbol firmando contrato con los Chicago White Sox, que posteriormente lo asignaron al equipo de ligas menores Birmingham Barons, donde todo lo que hacía era puro ponche por lo que dijo esto no es lo mío, me voy de nuevo al baloncesto.

Fuente-Source
First Goodbye of the NBA


After the murder of his father, Jordan decides to retire from the NBA claiming that he no longer felt the same love for the game, something that materialized before the arrival of the 1993-1994 season. Then he retired to go play baseball signing a contract with the Chicago White Sox, who later assigned him to the Birmingham Barons minor league team, where all he did was pure strikeout so he said this is not my thing, I'm going again to basketball.

Primer Regreso a la NBA
Luego de ser un fracaso en el #beisbol, el tipo anuncia su regreso a las canchas el 18 de marzo de 1995, con su majestuosa I'm back. Pero su 23 había sido retirado, así que jugó con el
45 que usó con los Barons. En su debut aunque perdiendo anotó 19 puntos ante los Pacers de Indiana, sin embargo, los triunfos no se harían esperar ya que desde esa temporada se construía el camino para sus siguientes 3 anillos de campeón.
I'm Back
First Return to the NBA


After being a flop at #beisbol, the guy announces his return to the field on March 18, 1995, with his majestic I'm back. But his 23 had been retired, so he played with it 45 that he used with the Barons. In his debut, although losing he scored 19 points against the Indiana Pacers, however, the triumphs would not wait since from that season the way was built for his next 3 championship rings.

Segundo Adiós de la NBA
Es el 13 de enero de 1999, y nos volvemos a ir pues. Jordan dijo vérmole ya no estará Phil Jackson porque se terminó su contrato. Pippen declaró que quería ser traspasado. Rodman se va para los Lakers a hacer sus locuras, hay un cierre patronal de la NBA. Entonces yo también me voy. Y así en rueda de prensa el tipo anunció su deseo de decir chao por segunda vez, adiós a su majestad.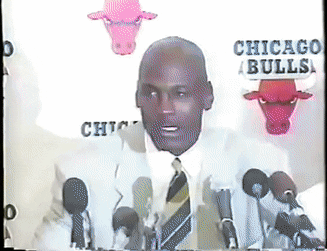 Fuente-Source
Second NBA Goodbye


It is January 13, 1999, and we are leaving again. Jordan said Vermole will no longer be Phil Jackson because his contract is up. Pippen stated that he wanted to be traded. Rodman is going to the Lakers to do their crazy things, there is an NBA lockout. Then I'm going too. And so at a press conference the guy announced his desire to say bye for the second time, goodbye to your majesty.

Segunda vuelta a la NBA
A bueno pero ya esto es una mamadera de gallo mi hijo. Porque el 19 de enero del 2000, #MichaelJordan regresa, pero sorpresa vendría como Presidente Operativo de Washington Wizards.​ Ajá pero el tipo no se aguantó porque en 2001 comienza a jugar nuevamente, pero adiós Bulls porque me voy con los Wizards ya que allí soy jefe. Un gesto especial fue la donación de todo su salario de la temporada a las víctimas del 11-S. Oficialmente jugó el 30 de octubre de 2001 en el Madison Square Garden perdiendo ante los Knicks. Pero le gente dijo que me importa si perdieron, lo que queríamos era ver de nuevo jugar a su majestad quien terminó con 19 puntos, 5 rebotes, 6 asistencias y 4 robos de balón en 37 minutos.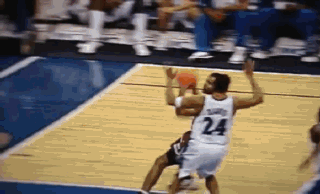 Fuente-Source
Second round to the NBA


A good but this is a cock bottle my son. Because on January 19, 2000, #MichaelJordan returns, but surprise would come as Operating President of Washington Wizards. Aha but the guy couldn't hold out because in 2001 he starts playing again, but goodbye Bulls because I'm going with the Wizards since there I am boss. A special gesture was the donation of his entire season salary to the victims of 9/11. He officially played on October 30, 2001 at Madison Square Garden losing to the Knicks. But people said that I care if they lost, what we wanted was to see his majesty play again, who finished with 19 points, 5 rebounds, 6 assists and 4 steals in 37 minutes.

Último Juego NBA-Adiós Definitivo
Ahora si mi gente no hay vuelta atrás me voy, y hoy 16 de abril del 2003, Jordan será recordado como el mejor jugador de la historia de la NBA. El último juego fue en Philadelphia, donde los Washington Wizards estuvieron de visita en el último partido de la temporada en la cual ya no tenían nada por qué luchar, solo importaba ver a Michael Jordan. En la actualidad es propietario del equipo de la NBA los Charlotte Hornets.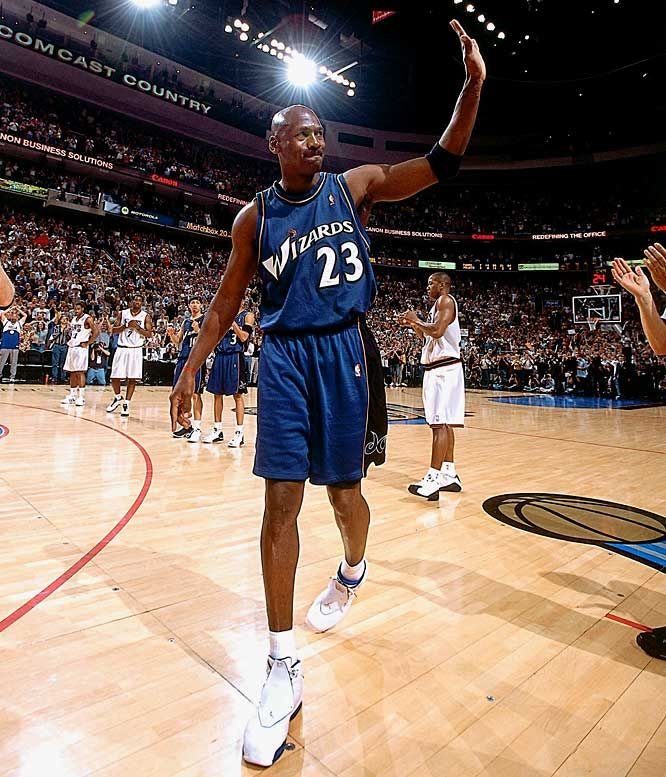 Fuente-Source
Last NBA Game-Final Goodbye


Now if my people there is no turning back I am leaving, and today April 16, 2003, Jordan will be remembered as the best player in the history of the NBA. The last game was in Philadelphia, where the Washington Wizards were visiting in the last game of the season in which they no longer had anything to fight for, it only mattered to see Michael Jordan. He currently owns the NBA team the Charlotte Hornets.

Resumen de Logros y Numeritos
Summary of Achievements and Numbers
1 vez Premio al Novato del Año (1985). Premio al Defensor del Año (1988). Triple-doble en un All-Star. Rookie liderando a su equipo en puntos, rebotes, asistencias y robos. Líder anotador de la liga y elegido Defensor del Año. 2 Veces Canastas que dieron dos títulos (NCAA 1982, NBA 1998). Medallas de oro olímpicas (1984, 1992). Premios en el concurso de mates del All-Star (1987, 1988). 3 Veces MVP en el All-Star (1988, 1996, 1998). Liderando la liga en robos por partido (1988, 1990, 1993). Liderando la liga en puntos por partido y robos por partido (récord NBA).
4 Veces Partidos de 60 puntos en temporada regular. Partidos consecutivos de Finales anotando al menos 40 puntos (1993). 5 Veces MVP (1988, 1991, 1992, 1996, 1998). 6 Veces Campeón NBA (1991, 1992, 1993, 1996, 1997, 1998). MVP Finales NBA (1991, 1992, 1993, 1996, 1997, 1998, récord NBA). 7 Veces Liderando la NBA en puntos por partido. Series de playoffs anotando al menos 30 puntos en todos los partidos. 8 Veces Temporadas promediando más de 30 puntos por partido (récord NBA). Partidos de playoffs anotando más de 50 puntos (récord NBA).
10 Veces Temporadas en las que lideró la NBA en puntos por partido. Temporadas en las que lideró la NBA en canastas anotadas. Elegido para el primer equipo All-NBA. 14 Presencias en el All-Star. 17 Su récord personal de asistencias (1989). 24 Canastas convertidas en un partido de playoffs en 1988. 27 Partidos anotando al menos 50 puntos en temporada regular. 30 Triples-dobles en su carrera entre regular season y playoffs. 30.12 La media de puntos en su carrera. 33.4 La media de puntos en su carrera en playoffs. 35 Puntos anotados en la primera parte del primer partido de las Finales de 1992. Partidos consecutivos de Finales de NBA anotando al menos 20 puntos.
40 Partidos de playoffs anotando más de 40 puntos. 41 Promedio de puntos en las Finales de la NBA de 1993. 43 Puntos anotados en un partido con 40 años y 4 días. 49.7 El porcentaje de tiros de campo en su carrera. 55 Puntos anotados a los Knicks en Nueva York en el quinto partido tras su vuelta a la NBA en 1995. 60 Partidos de playoffs consecutivos anotando al menos 20 puntos. 63 Su anotación en el Boston Garden en los playoffs de 1986. 69 La máxima anotación de su carrera (1990).
109 Partidos de playoffs anotando más de 30 puntos. 135 Puntos anotados en una serie de playoffs de tres partidos. 142 Partidos en los que anotó al menos 40 puntos en temporada regular. 173 Partidos de playoffs anotando al menos 20 puntos. 179 Partidos de playoffs anotando al menos 10 puntos. 226 Puntos anotados en una serie de playoffs de cinco partidos. 563 Partidos en los que anotó más de 30 puntos.
759 Puntos conseguidos en unos playoffs. 866 Partidos consecutivos en los que anotó más de 10 puntos (récord NBA hasta que le superó LeBron James). 893 Tapones conseguidos a lo largo de su carrera. 1.251 Partidos jugados a lo largo de su carrera entre temporada regular y playoffs. 5.987 Puntos conseguidos a lo largo de su carrera en playoffs. 12.192 Canastas anotadas a lo largo de su carrera en temporada regular. 24.537 Tiros intentados a lo largo de su carrera en temporada regular. 32.292 Puntos conseguidos a lo largo de su carrera.
Fuente-Source
1 time Rookie of the Year Award (1985). Defender of the Year Award (1988). Triple-double in an All-Star. Rookie leading his team in points, rebounds, assists and steals. The league's leading scorer and named Defender of the Year. 2 Times Baskets that gave two titles (NCAA 1982, NBA 1998). Olympic gold medals (1984, 1992). Prizes in the All-Star dunk contest (1987, 1988). 3 Times All-Star MVP (1988, 1996, 1998). Leading the league in steals per game (1988, 1990, 1993). Leading the league in points per game and steals per game (NBA record). 4 Times 60-point games in regular season. Consecutive Finals games scoring at least 40 points (1993). 5 Times MVP (1988, 1991, 1992, 1996, 1998). 6 Times NBA Champion (1991, 1992, 1993, 1996, 1997, 1998). NBA Finals MVP (1991, 1992, 1993, 1996, 1997, 1998, NBA record). 7 Times Leading the NBA in points per game. Playoff series scoring at least 30 points in every game. 8 Times Seasons averaging more than 30 points per game (NBA record). Playoff games scoring more than 50 points (NBA record). 10 Times Seasons in which he led the NBA in points per game. Seasons in which he led the NBA in baskets scored. Chosen for the first All-NBA team. 14 All-Star appearances. 17 His personal attendance record (1989). 24 Baskets made in a playoff game in 1988. 27 Games scoring at least 50 points in regular season. 30 Triple-doubles in his career between regular season and playoffs. 30.12 The average number of points in his career. 33.4 The average number of points in his career in the playoffs. 35 Points scored in the first half of the first game of the 1992 Finals. Consecutive NBA Finals games scoring at least 20 points.
40 Playoff games scoring more than 40 points. 41 Average of points in the 1993 NBA Finals. 43 Points scored in a game with 40 years and 4 days. 49.7 The percentage of field goals in your career. 55 Points scored against the Knicks in New York in the fifth game after their return to the NBA in 1995. 60 Consecutive playoff games scoring at least 20 points. 63 His score at the Boston Garden in the 1986 playoffs. 69 The highest score of his career (1990). 109 Playoff games scoring more than 30 points. 135 Points scored in a three-game playoff series. 142 Games in which he scored at least 40 points in the regular season. 173 Playoff games scoring at least 20 points. 179 Playoff games scoring at least 10 points. 226 Points scored in a five-game playoff series. 563 Matches in which he scored more than 30 points. 759 Points achieved in a playoffs. 866 Consecutive games in which he scored more than 10 points (NBA record until surpassed by LeBron James). 893 Caps earned throughout his career. 1,251 Games played throughout his career between regular season and playoffs. 5,987 Points earned throughout his career in the playoffs. 12,192 Baskets scored throughout his career in regular season. 24,537 Shots attempted throughout his career in the regular season. 32,292 Points earned throughout his career.

Lo Que Posiblemente no Sabías
What You Possibly Didn't Know
El hermano fallecido de Jordan utilizaba el 45 decidiendo usar el número 23 (22.5) porque se conformaba ser la mitad de bueno de lo que era su hermano, lógico había que redondear el numero.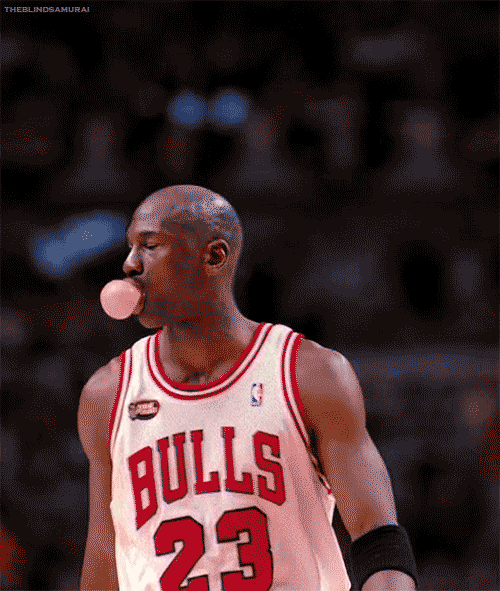 #23
Jordan's deceased brother used 45, deciding to use the number 23 (22.5) because he was content to be half as good as his brother was, of course, the number had to be rounded.
El gesto de sacar la lengua se trataba de un homenaje a su padre y abuelo, quienes solían hacerlo mientras hacían sus labores de trabajo.
Fuente-Source
The gesture of sticking out his tongue was a tribute to his father and grandfather, who used to do it while doing their work.
El debut de Jordan en los dibujos animados no fue Space Jam, ya que a comienzos de los años 90 fue parte de la serie Prostars, donde protagonizó superhéroes junto a Wayne Gretzky y Bo Jackson.
Prostar
Jordan's debut in the cartoons was not Space Jam, since in the early 90s it was part of the Prostars series, where he starred in superheroes alongside Wayne Gretzky and Bo Jackson.
Space Jam
En el día de San Valentin de 1990 Michael jugó con el número 12 ya ue alguien le robó la camiseta 23 y no contaba con repuesto.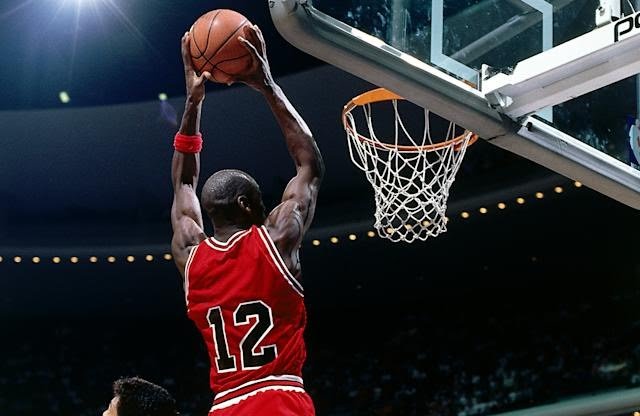 Fuente-Source
On Valentine's Day 1990 Michael played with the number 12 and someone stole his shirt 23 and he did not have a spare.
Su majestad a pesar de no haber jugado en los Miami Heat, el equipo retiró el dorsal número 23 en su honor por ser alguien que hizo historia en la NBA.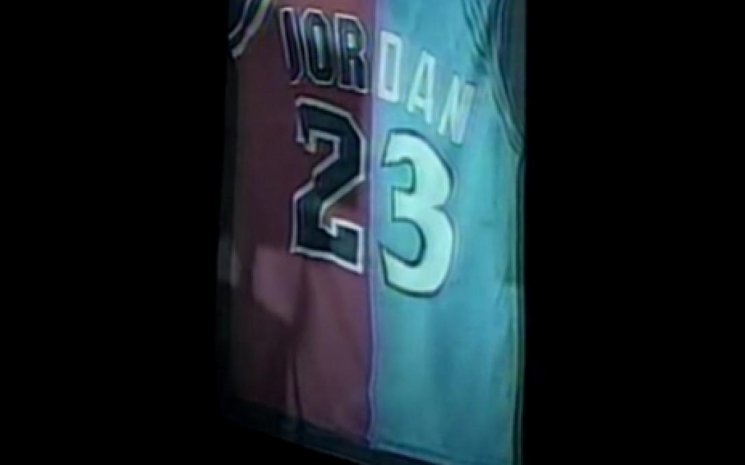 Fuente-Source
His Majesty despite not having played for the Miami Heat, the team retired the number 23 in his honor for being someone who made NBA history.
En 1991 Michael Jackson lanzó su octavo álbum de estudio 'Dangerous', en el que 'Jam' apareció como el cuarto sencillo. En el video del tema Jackson contó con la participacion de Michael Jordan.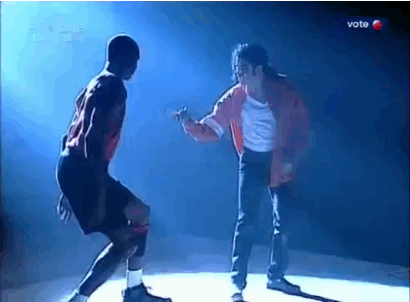 Fuente-Source
In 1991 Michael Jackson released his eighth studio album 'Dangerous', on which 'Jam' appeared as the fourth single. In the video of the song Jackson had the participation of Michael Jordan.
...Gracias Leer, Comentar y Votar...

...Thank you Read, Comment and Vote...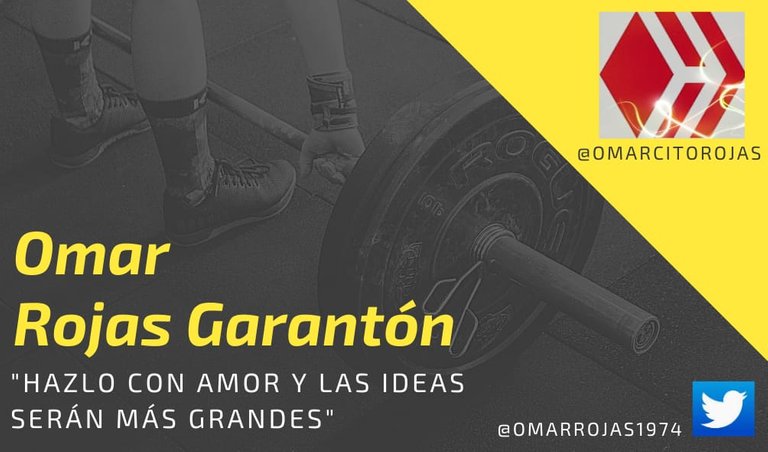 Sorry. English is not our native language. Therefore, a web translator is used for texts in English. (Spanishdict)