The Miami Dolphins have made multiple calls to Cincinnati's front office in hopes of trading for the first pick in tonight's NFL Draft. Unfortunately for Brian Flores' crew the Bengals seem intent on being the team to lock in Joe Burrow as their franchise QB. That being said they've yet to confirm this call in favor of waiting until they are on the clock to announce that Burrow will become a Bengal.
With sports more or less on hiatus over the last month the draft is a welcome relief for me. I usually don't watch these events with much excitement but tonight I will be tuned in like it's the Super Bowl instead. Just having something sports related will be a nice change of pace.
Outside of seeing Burrow go to the Bengals, I'm excited to see where Kentucky's QB/WR Lynn Bowden goes tonight. I think Lynn is an excellent athlete that will be an immediate help to any team lucky enough to pick him up. Who are you looking forward to seeing drafted? Any projections for the draft choices? Let me know below!

---
Read more: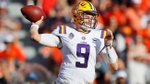 Sources: Bengals rebuffed Fins' interest in No. 1
Over the past couple of weeks, the Dolphins have called the Bengals to see if Cincinnati would be willing to deal the No. 1 pick and each time were told no -- in no uncertain terms -- sources told ESPN.
Source:
https://www.espn.com
---
Share this post:







---