The ACC has announced that today's Duke game against Florida State will be cancelled. This is due to a member of Duke men's basketball team testing positive for Coronavirus and the need for the team to quarantine.
"Since last March when the pandemic started, we have listened to our medical experts and always put safety at the forefront of any determinations regarding competition," Duke Athletic Director Kevin White said. "As a result, this will end our 2020-21 season. We wish every team still playing college basketball good health and the very best during the next few weeks."
This puts an end to a season where Duke has struggled to get their feet beneath them. Duke was held to a 13-11 overall
record with an even 9-9 set in ACC games. It's certainly not where they expected to be going into this season but they had put up two quality wins in tournament play to get to where they were.
"We have not asked more of any team in our history, and they deserve enormous credit for handling everything like the outstanding young men that they are." said Duke head coach Mike Krzyzewski in a prepared statement.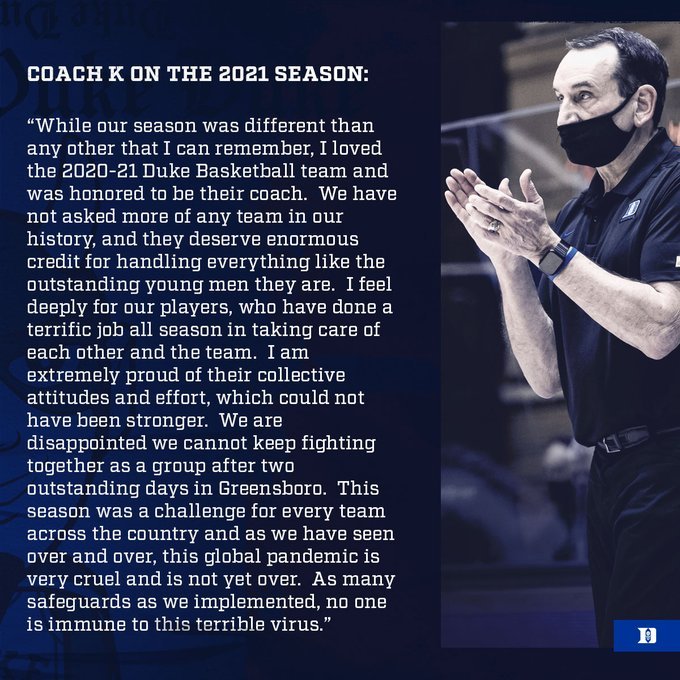 Coach K has struggled to get the performance he wanted from this team. With their poor season record they were reliant on the ACC tournament for a bid into the NCAA Tournament. Now with this news it is likely we'll see the Blue Devil's 24 season streak of March Madness appearances come to an end. This ends the third longest NCAA tournament appearance streak in history.
With this cancelation, Florida State will now automatically advance to the ACC Tournament semifinals. They will play the winner of tonight's North Carolina vs. Virginia Tech game.