I think we can finally say that the era of one and done basketball players is finally coming to a close. As CBS Sports discusses Daishen Nix moving to the G League despite signing with UCLA last fall there's clearly a change in how tomorrow's future players are making their choices.
Since 2005's collective bargaining agreement, players have had to be 19 years old and at least one year removed from high school before becoming eligible for the NBA draft. This has led to the phenomenon of one and dones who play college ball for one year to meet the draft requirement and then move on to play professionally.
Do I blame these kids for choosing to go to college instead of taking an option like the G League or playing internationally? No way! These guys have college recruiters coming to them guaranteeing a lifestyle that most people would dream of. With all of the events that unfolded with Kansas and others showing how they were unfairly, and often unethically, recruiting kids to play we see exactly what temptations some of these kids face. Why would I go be a nobody in G League when I can be king for a year regardless if I make it pro?
One reason is because colleges are soon going to need to start paying players. That thought might seem opposite of my point until you realize that colleges, despite having plenty of funds, will likely never pay the players the same they will earn in professional ball. This will also mean that when money is on the line a lot of the extra benefits that recruiters used to show will slowly dry up.
The other is the talent shift. Not only do kids go to college for the good time but also because that's some of the best talent in the nation to compete against. Before Nix made his decision to go G League that call was also made by top recruits Jalen Green and Isaiah Todd. If this becomes a trend then this is going to become the place to really hone your game in before the draft.
Finally I want to point out that this is not a bad thing. These kids should have never been coming to play college ball in the first place. Some of them have the skills to go professional out of high school and they should. Why should they have to go to college when they have the skills to make more than most of us will earn in a decade in a single season?
This is also good news for college basketball. In my opinion it will bring back the good old days of the sport. As a Kentucky fan, one of the schools who benefits most from one and dones, I can say I've lost a lot of the love I had as a kid for college basketball. I think a lot of this stems from the style change that relying on over talented kids to lead a team to winning brings. Now maybe we can start to watch average players begin developing into the future stars they could become instead of waiting to lose a player at the end of the season when we just got to know them.

---
Read more: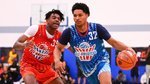 Why Daishen Nix heading to the G League after he signed with UCLA could be a bad sign for college coaches
Nix, who signed with the Bruins months ago, is leaving UCLA at the worst possible time
Source:
https://www.cbssports.com
---
Share this post:







---