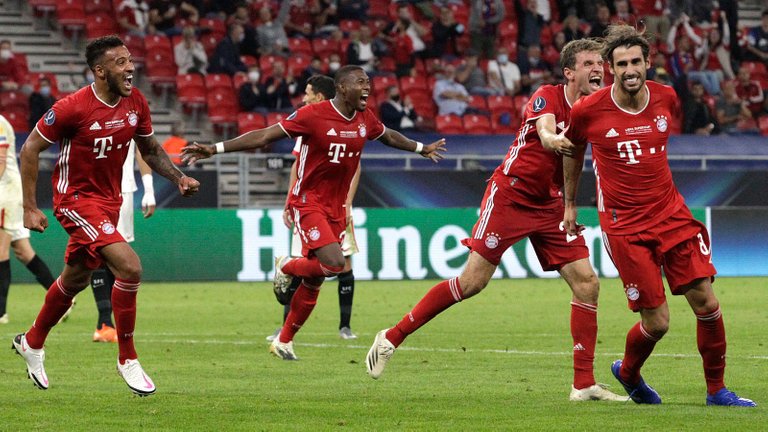 source
Bayern Munich continues her match unto becoming a world-European dynasty by adding Sevilla to yet another club side that falls before them. The Bavarian defeated the Spanish club 2-1 to lift the UEFA Super Cup at the Puskas Arena, Budapest, Hungary. It's Bayern 4th silverware of the year 2020 having already claimed the Bundesliga, DFB-Pokal and the UEFA Champions League.
Sevilla gave a good fight though, taking the lead through Lucas Ocampos spot-kick(13') and then forcing an extra time. However, that was the farthest the Spanish side could push against such an unstoppable force. Bayern would eventually seal a late winner from substitute Javi Martinez(104'), having come from behind through Leon Goretzka(34').
Bayern gaffer Hansi Flick has managed to put together not only an unstoppable force but an immovable object made up with a blend of experience(with the like of Robert Lewandoski, Thomas Muller and David Alaba leading by example) and a whole lot of youths with talents in abundance(talk about Serge Gnabry, Leroy Sane, Alphonso Davies to mention few).
I mean Bayern's numbers in 2019/20 season don't lie. An eighth back-to-back Bundesliga title, finishing the league with 13 points ahead of nearest challenger Borussia Dortmund. 100 league goals, the 2nd most in Bundesliga history(having set the most goal 101 themselves). Lewandoski 34-league goals made it his 5th top-scorer gong in Bundesliga career. Thomas Muller's Bundesliga's season-best assists with 21. Left-back and speedster Alphonso Davies clocked 22.7mph on one of his dashes down the flack. Goalkeeper Manuel Neuer kept 15 clean sheets, a Bundesliga best.
And on the international stage, Bayern's UEFA Champions League triumph particularly cannot be said without mentioning some of their exploits in the knockout phase. Taking out former winners and formidable adversaries Chelsea and Barcelona with reckless abandon 7-1, 8-2 in the round of 16 and quarterfinals respectively. Bayern's 24 group stage goals are the 2nd most prolific in UCL after PSG's 25 in 2017/18 season. And even better was their 16 away goals, the most in the competition history.
With such impressive stats and personals on and off the pitch, it will take sometime special to usurp this Bayern side. The Bavarian still scouting Europe for more talented youth(like recently reported news of their pursuit of Chelsea's Callum Hodson-Odoi), it's clear Bayern wants to build a dynasty that will last for years. Who is going to stop Bayern?
Cross-blogged.