Lakers Triumph, A Befitting Homage To Lakers Finest Kobe.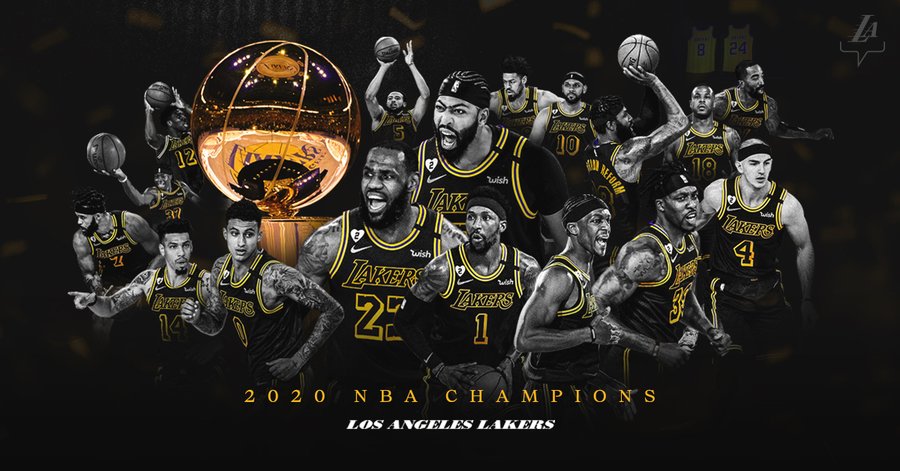 Champion
The Los Angeles Lakers completed a 4-2 series success with a 106-93 win over the Miami Heat to win the NBA title for the 1st time since the late Kobe Bryant led the Lakers to triumph in 2010. LeBron James posted yet another triple-double with 28 points, 14 rebounds and 10 assists while Anthony Davis adding 19 points. Lakers have now equalled the Boston Celtics title haul of 17 NBA titles.
A strange and longest NBA season, 2019-20 season will be remembered for various reason. Notably, the death of one of NBA's finest, players protests for discriminating shootings(racial justice), the Golden State Warriors missing out on the playoffs having contested in the last 5 consecutive NBA finals(winning 3) and of course, an altered season blighted by coronavirus pandemic.
Lakers 2010 triumph was a remarkable 7-game thriller against the then most decorated franchise Boston Celtics(17 NBA titles ahead of Lakers 16 titles). It was a postseason Kobe show, as he guided Lakers to victory(his 5th championship with Lakers), averaging 28.6 points per game, 10 points ahead of nearest teammate Pau Gasol. Kobe went on to win the finals' MVP.
10 years on, the Los Angeles Lakers are back on the podium, howbeit without the towering figure of one of NBA greatest. Kobe alongside his teenage daughter Gianna was among 9 passengers killed in a helicopter crash on an ill-fated Sunday night in January. A sudden and tragic demise of one of the franchise legend.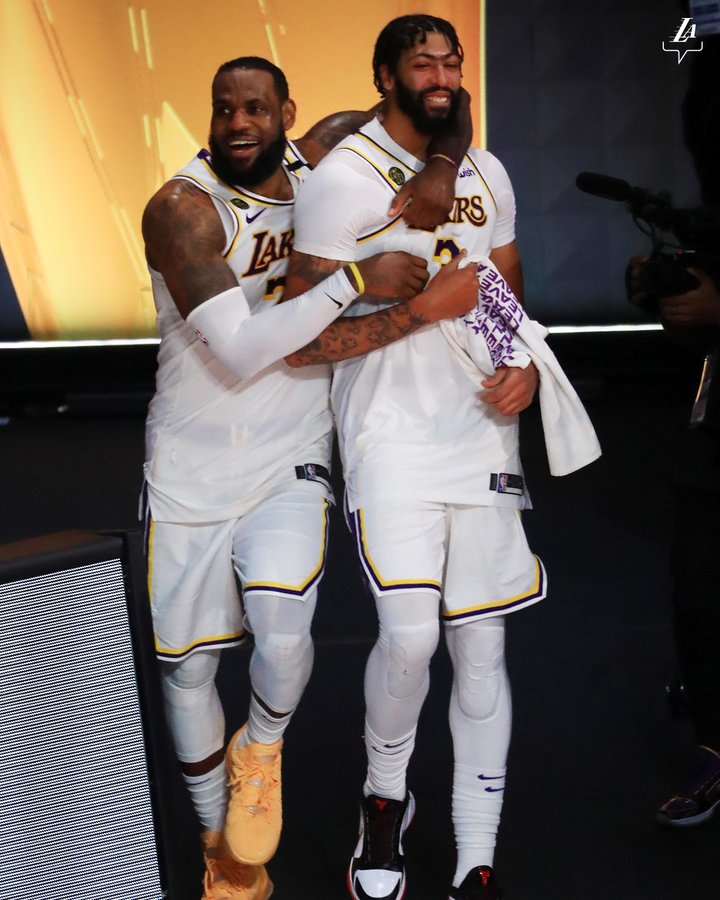 LeBron-Davis
Lakers title success this time around was led by the duo of Anthony Davis and LeBron James. Davis-LeBron have struck a partnership worthy of a title-winning side, reminiscing of the ruthless combo of Kobe Bryant-Shaquille O'neal for Lakers from the late 1990s through early 2000s. Averaging 27.7 and 27.6 points per game respectively in the postseason games, both were in line for the finals MVP, however, it was LeBron that carted away with the gong, his 4th NBA finals MVP(only the legendary Michael Jordan has more - 6).
In his tribute to the late Kobe, LeBron James said Lakers famous Black Mamba jersey represents an individual who had given Lakers 20 years of blood, sweat, tears and dedication on and off the court... He(LeBron) couldn't be more accurate.
In his tribute, Davis said that ever since Kobe's demise, the Lakers only wanted to do it for Kobe, and they didn't let him down.
Congratulations to the Los Angeles Lakers.
Cross-posted
Thanks
---
---