Hi there my Hivean friends and followers!
This is something I have intended to discuss with you for quite some time already and finally, I have time to do so. Let me take you back in time to March 18, which was the day of the rematch of the Europa League round of 16 tie between Glasgow Rangers and Slavia Prague.
---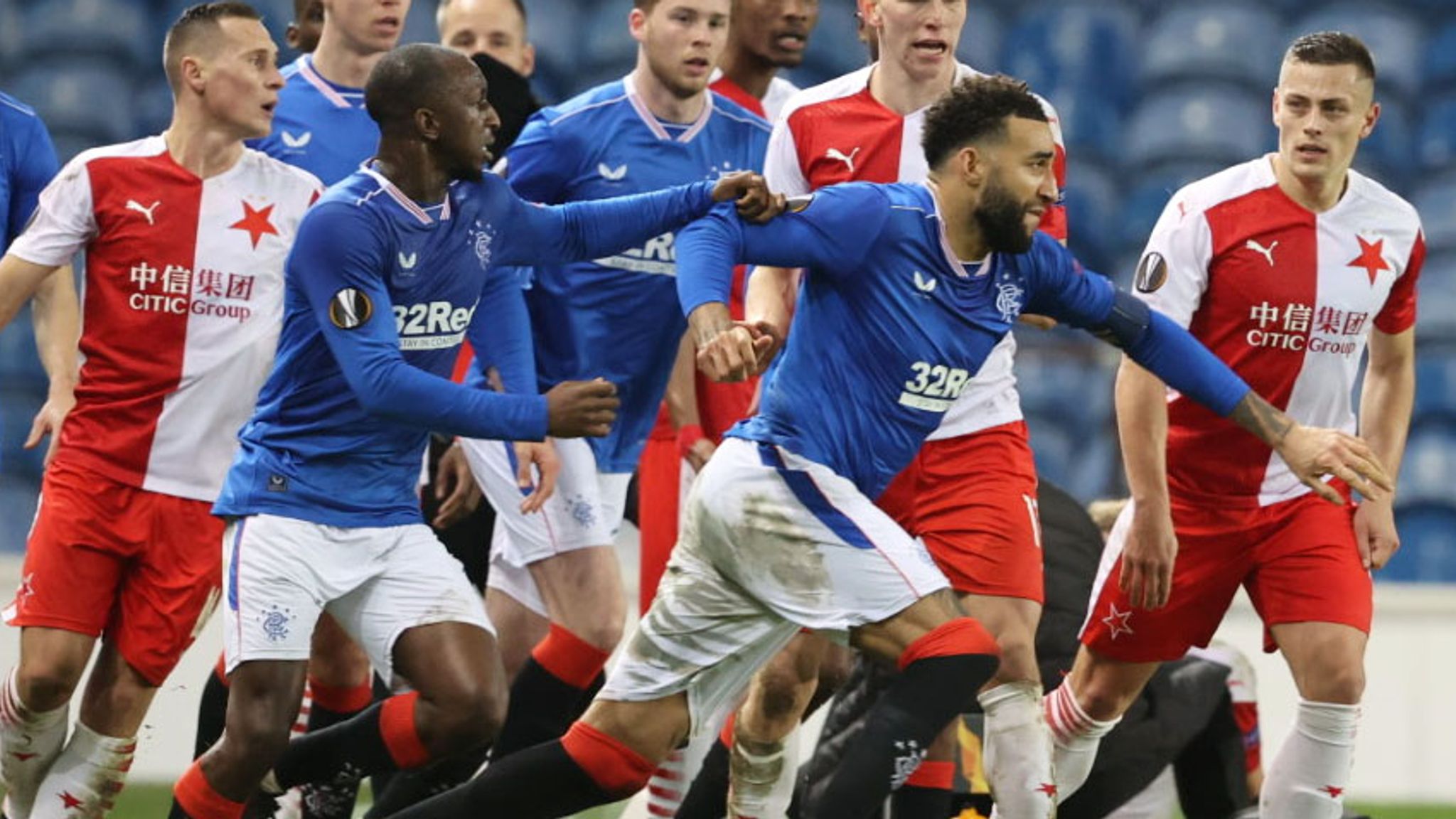 Image source: Sky Sports
---
The Czech side won that game 2:0 and qualified for the semi finals but it´s not the result of the game what has been hotly debated by football fans all over Europe since then. A lot of crazy and hard to believe things happened in that match. Frustrated by the forthcoming elimination from the competition, the Scotsmen committed a number of brutal fouls, including a potentially deadly attack by Rangers´ Roofe on Slavia´s goalie Kolar whose skull was broken in the attack.
---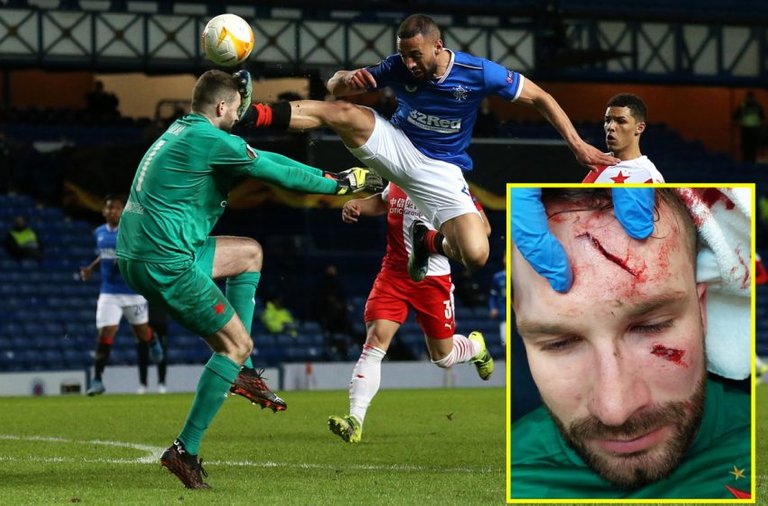 Image source: Last Bulletin
---
There was also intentional stepping on lying Slavia´s players by the home players during the game. Just a few minutes before the end of the extremely heated match, there was a quarrel between Rangers´ Kamara and Slavia´s Kudela, after which Kudela whispered something into Kamara´s ear. Kamara, a Finnish player of African origin, immediately accused Kudela of being racist to him. Kudela denied it.
---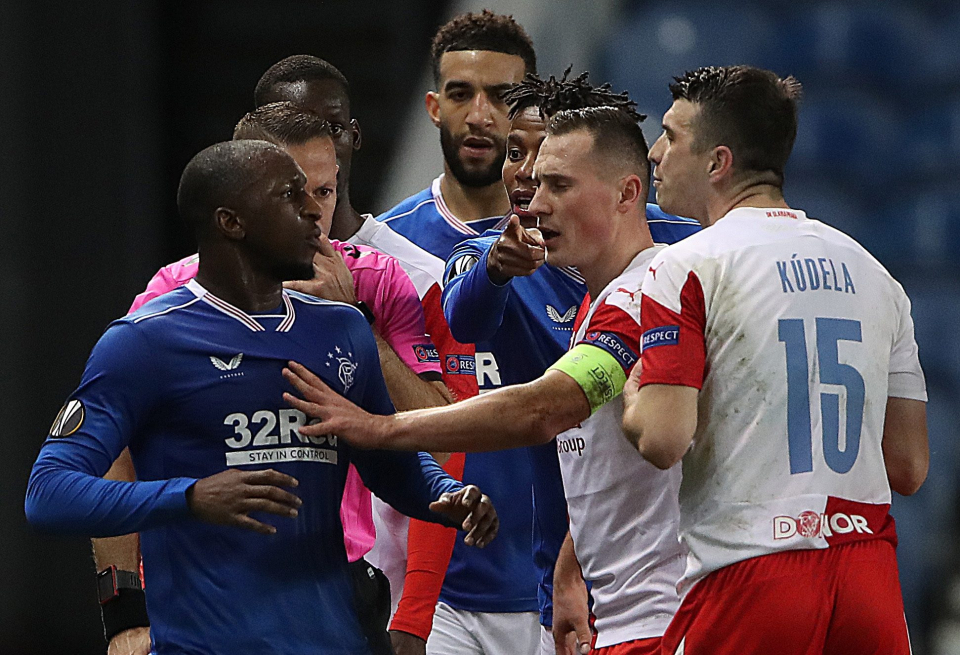 Image source: Talk Sport
---
After the match, the home team made their Czech opponents wait on the pitch and didn´t allow them inside the stadium to change clothes and take shower for about 30 minutes. Then, Kudela was physically attacked and beaten by Kamara in the tunnel, in front of the Rangers´ coach Gerrard. The cameras were allegedly turned off in the tunnel where the incident happened.
So this is just a little summary of what happened in and after the game. A lot of crazy stuff, as I said, I know... However, the consequent verdicts by UEFA were just as shocking as the events of the game, at least to me... Only 3 personal punishments were actually imposed.
For the extremely brutal foul and breaking Kolar´s skull, Roofe got a 4 match ban.
For attacking and beating Kudela in the tunnel, Kamara got a 3 match ban.
For the alleged racist insult whispered into Kamara´s ear, Kudela got a 10 match ban.
The intentional stepping on Slavia´s players and some other offenses by Rangers remained unpunished.
To me, the only possible interpretation of the verdicts by UEFA is that for the current society, words (no matter how bad) are more important than acts (no matter how bad). Now don´t get me wrong please - I am by no means approving racist behavior. I am strongly against racism and if it ever is proved that Kudela´s insult was really racist, I will agree with a strict punishment for him. Still, however, in my book, words will never mean more than acts so I will never get the disproportion in the UEFA punishments in this case...
Your opinions guys?
---
---
---
This post was created by me for the Hive blockchain exclusively. All rights reserved.
---
---
---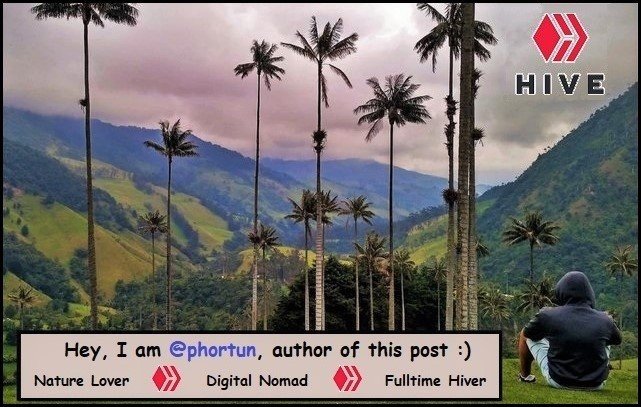 ---
Thank you for visiting my blog. If you like posts about Nature, Animals, Ecology, Crypto, Traveling, Photography and discovering secrets and beauties of the World, feel free to follow me as these are the topics I mostly write about. Have a wonderful day and keep on hiving! :)