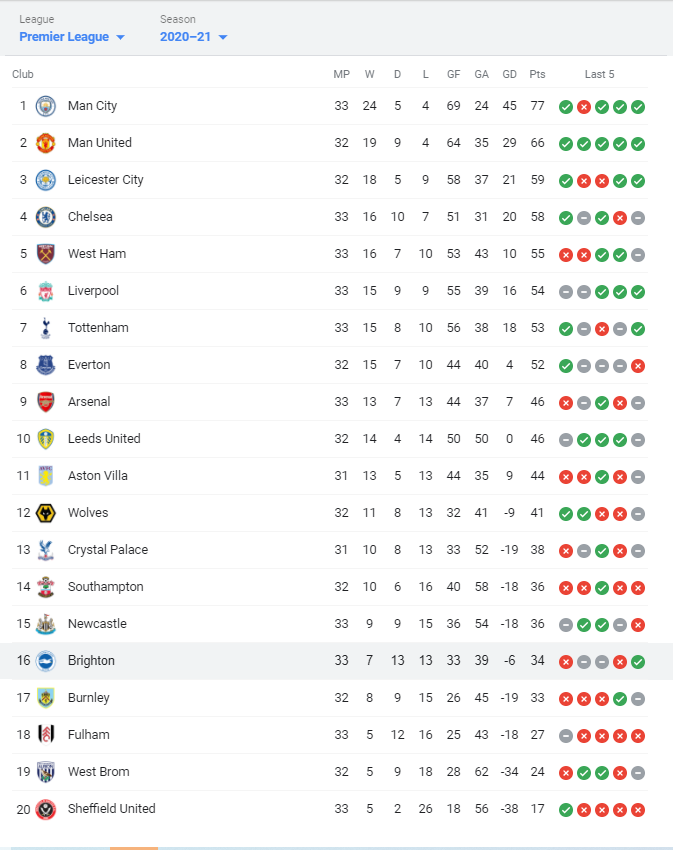 If you follow EPL from start to finish, you can easily pick the top ten clubs at the end of the season.
Hard if you are a fan of the last three ready to be relegated. Both Manchester occupy the top with Leicester with Chelsea on top four. These are the teams that may go all the way for UCL. Chelsea has been holding on quite well for the past couple years to hold top four. Next year Leicester and United will join in where Liverpool may drop back to Europa League.
15 points will decide the fate of many teams down the road. Manchester United needs 18 points to take the top where City need to win three more matches to be the League champion. The fun part is what team will allow them to be champion? Will it be Newcastle or Brighton?
Leicester may keep the third place if only they are convincing to finish the season strong. Somehow they have to play Chelsea twice for FA CUP finals and regular season Premier League.
Tottenham and Liverpool may finish the year strong. Liverpool and United are only the teams with five matchdays winning streak. It is like pressure on top of pressure for all teams. The debacle of Super League should disappear by now.
Will Fulham change course this year? Only if Burnley allowed them to win two games while they lost two. It is getting critical at this stage knowing how hard the players compete and then you drop down. West Brom is more out than in. Not sure why Sheffield is so bad this year. I mean they finish 9th last year. West Brom and Fulham if everything stays unchanged will go back down again.
Sometimes injuries can have a lot to do with a team. So far Leeds United really improves to remain in Premier League. Looking at all the teams you can see the strength they possess to remain in top league. Five matches are going to be crucial for the managers. Jose was gone and Tottenham is still
in 7th place. I know they can do better.
Is your team in good place?