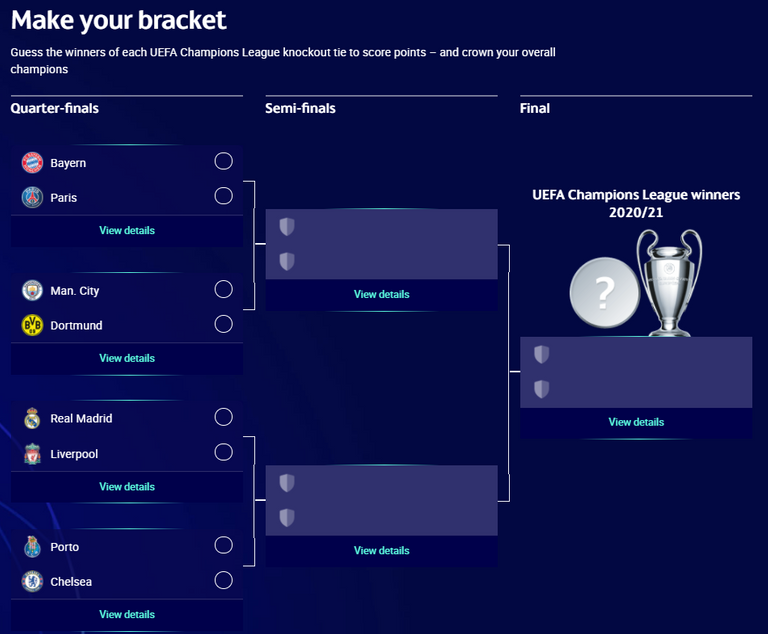 source
It is getting interesting to see how the quarter-finals will fall in place.
8 teams are ready to prove us all wrong going down the wire. Again English Premier
League have three teams in contention. Chelsea, Liverpool and Manchester City.
With Bundesliga, there are two teams. Bayern and Dortmund. Ligue 1 has PSG and Portugal
with Porto. And the last one from La Liga is the usual suspect, Real Madrid.
So far every match will be crazy to go for. Let me start with Chelsea. I do not know much about Porto.
Even though they cause problem for Juve, Chelsea should be able to take care of them easily.
I am saying hopefully it goes that way.
When you get to play quarter-finals you feel strong and ready to go. Chelsea has a great defense so far.
For the offense it is still at work by Tuchel. So many options at play. I know Giroud will be there with Werner. Kai should be ready to continue his entrance as the player that can change the game. Abraham
if ready should be there to give it all.
Lately Pulisic has fallen behind for Tuchel. Callum should start early to shake the opponent defense. James tends to be more defensive on his side.
Bayern vs PSG will be interesting to watch. Is Neymar ready to play? So far PSG looks good. Mbappe with Di Maria, Draxler should hold on and keep scoring cause Bayern will find a way to score at will.
Lewandowski hardly misses with Sane and Gnarby with Muller pushing the ball.
Real Madrid vs Liverpool will be fun to watch. Liverpool is struggling at EPL and Real lost its real identity since CR7 left. This meeting will be very exciting to see how Real can remember its past
glory against Liverpool. Out of contention in EPL, Liverpool can pull a stunt to go all the way.
I leave the best for last. Manchester City vs Dortmund. City is the best team in EPL. Dortmund with Haaland is a creative team to watch for. Watching them tactically will be the best match to watch.
I do not think Chelsea vs Porto will be fun. Either way an English club maybe go all the way.
After Barca and Juventus left early, the play field is wide open for a team like Chelsea to grab it.
Last year PSG tried and fell short. City could be the game changer this year.
Two full weeks to prepare for these matches by April 5,6. In between these clubs will continue to play
their regular leagues. Everything should be done by May 2021. By June it will be Euro2020, another main event for this summer.