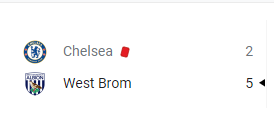 With less than two months left to play in the EPL, West Brom has proven the quality of a team not before
last place in the Premier League. As a fan of Chelsea, this is what happen when you do not prepare for any occurrences like west Brom. They came to play from start to finish and they believe they can win.
I did not see that many goals coming. There you have it. Chelsea was caught at home playing like the last time ready to go down in flames. I am not going to antagonizing them for the red card. Somehow the defense did not fill the void and you see the results.
After playing quite so well for a while I guess Chelsea was rusty. As always lack of a strong finishes, it was getting obvious the luck by the defense will not sustain today. Pulisic early goal was a damper to ricochet my head for the rest of the match. Cheslea is still in fourth followed by Liverpool. It will be interesting to see how Tuchel will handle the situation.
It was not a collapse of the offense. Somehow they scored two goals. The defense did quick readjustment in moment like that. actually when the score line was 2-4 I was hoping to see a comeback. Then 2-5 sealed the deal. you know it was over. Getting beat by a top team is a story you can bring up with excuses.
Getting beat by West Brom is another story you can bring and try to refute with time. Champions League and FA CUP are coming for Chelsea. The beat down should fuel them to get something out of it. I will not forget, I should say for any reason I will see how Chelsea plays West Brom next year.
Oops I am out of my head, will West Brom clear out of relegation ?
West Brom will play 8 matches total to 24 possible points. If they can beat Chelsea why not the other teams? This development captures my attention to see how it will unfold in the eyes of Fulham and Newcastle. It will be a fought battle to see them pull this in the last minute.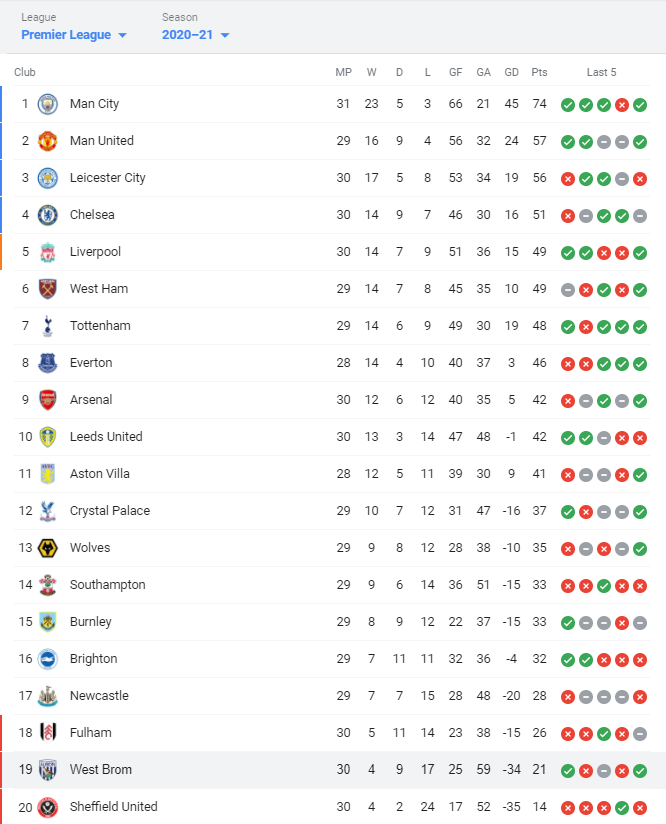 source
Chelsea I am not so concerned right now. As always it is one match. They have to rebound. So much at stake, they fell asleep against a team with no clear plan the whole year. Chelsea also 8 matches to play plus so more in other leagues like I mention. They have to come out strong against Porto, knowing Porto saw what happen to them at home.
FA CUP against Manchester City is another match they need to show up like this is the end of the world. This FA CUP will make or break Tuchel for the rest of his Chelsea managerial life. Readiness is what will change everything. Thiago can play on the other league and he needs to be quick and not play behind. It will be a psychological trivia to have him on the field.
From time to times I could not understand Timo Werner on the field. Today he proves to be a team player by allowing the best player position to score the goal. Apart from all the negatives, there are some positive. Chelsea can and will improve to retain the fourth place.
It will be worth watching the remaining of the season and give a score to each team as they go down to each match to secure their position for next season.
What a year we had. I know Chelsea play weird today, what about your team for this weekend ?