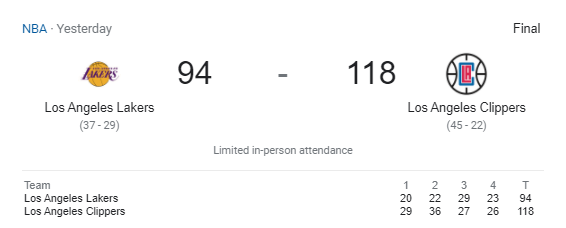 source
The scoring line tells you a story. The players on the filed tells you another story.
The Lakers lost this game by 24 points. At the same time there is no AD and Lebron playing.
I am asking myself, not to mention injuries, is the Lakers really out this season? It looks that way
seeing no true competition since AD got hurt and then LeBron. When you see Kuzma is the leading scorer
you know what to expect. I have to say if they play great defense it could be a tighter game. Injuries could derail
them this year.
One other aspects of this match, they were three ex-Lakers players on the field totaling 36 points. They have fueled
to play better and proved they should keep them. Me just saying it that way. The grass is greener on the other side.
I could say the same thing for Montrezl and he scored 14. Few are watching regular season NBA. Playoffs are a different
beast. Just an outsider, I wish NBA change the format of the season by introducing different leagues where the competition
remain fierce year around. I wish they adopt the European model where they have regular club matches and a different league
for the top four best teams for another Championship match.
That way they can play less regular season and incite the teams to play better doing a stretch of time.
It will benefit a team that is well prepped for this occasion. It may allow for more rest and the veterans
will shine in due time. Last year the Clippers look the favorite. The bubble burst on their face and they lost
in the most unimaginable way. All I can say having all your key players on the fields is a giving. Clippers should
glide this year and win something.
Lakers with James and Anthony will remain a threat by all means. So far this is a contrast that injuries still linger
around them. LeBron stated that he may never be 100%. This statement shows he may not be able to do what he used to do.
At the end of the day He won a Championship for the Lakers. You can put an asterisk all you want they beat the Heat fair and square. This could be LeBron last prime year on the league. That way the door is open for other teams to step in and reign.
I have not mention Drummond much cause adjustment phase he is still on.
Hard to say that season could be over for the Lakers. Actually it is a short one where they could profited from it. Healthy is one reason other teams capitalize on your demise. James spent almost 10 years at the top level. Going to Championship every year. Winning only four with three teams is spectacular. I think Lakers fans should be grateful to have him around. The season is not over yet even though the wins are hard to come. The teams still have spirit. We will see how the West will enfold when Clippers are third behind Jazz and Suns.
Are you ready for the playoffs?