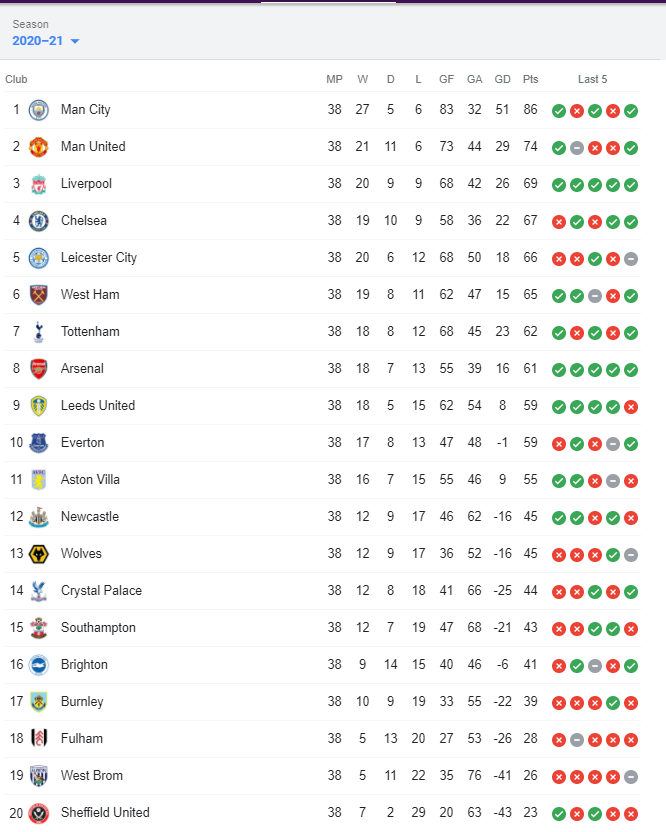 Tottenham found a way to give Chelsea a lucky ticket to UCL next year. So far EPL is done for this season. Liverpool champion last year found a way to finish third. I still do not know how Chelsea got through by losing to Aston Villa. This is Football where another team can bring the blessing touch for you. I am wondering how Chelsea is going to win UCL next weekend? This is the question I am asking. Time can heal many wounds. Both teams have a week to prepare and find the right 11 players for the big event.
Chelsea lost two out of 5 last matches they played. It is the same scenario for the Citizens. Liverpool and Arsenal are the only two teams finishing the season 5 out 5. I mentioned at the beginning we have to thank Leicester cause they were leading EPL almost all of the season. It was for them to lose. Tottenham could be helping too but they are far behind. At least Leicester will play Europa League next season.
Right now it will be a surprise if Chelsea can pull a win for the grand Finale. I am not losing hope. As a fan I wish for the best. This loss proves to be weird to swallow when they know four place is in the line and they have to wait for another team to help them get there. Really do not know what to expect right now.
Hopefully adding a guy like Kane should help with the scoring goal. This busy Summer Chelsea needs help to boost the front. I started to wonder if a star player is needed to bring more eyes on the club.
Tuchel next season will be seen as a make or break season. At least he needs to have a strong 11 guys he can rely on for any match.
Leicester is not done. I know they will come back. Quietly Manchester United grabbed top 2 and they remain quiet for a strong season. The competition will be tense in August. Can't wait to see how things will roll. While EPL is on a two month break, Sport fans are just beginning to cherish more Football for the Summer.
Will you be watching the UCL ?