PLAYOFFS BOUND. WILL PHOENIX CONTINUE THE QUEST?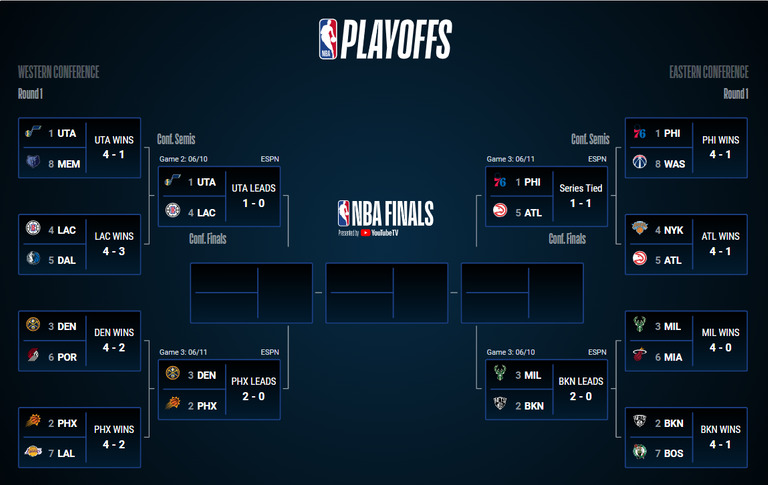 source
Congrats to Jovic for winning the MVP for this year. Giannis ain't got a thing to worry about about. This season came from a short crazy season last year. All teams played less game to get it going. Rest has been gone and best way for team to cope, they have to rest their key players throughout the season. Coming from the first round in the West Utah played less game. I can say the same for the Milwaukee as well. Unfortunately it is getting serious where the Bucks are down 0-2 against a hot Nets team. The Suns are doing their part to push the sweep. Jovic as a MVP has a lot of work to do. Denver got to wake up quick.
Looking at the Suns you expect Devin booker to take over the game during the second round. It is getting to a point where a team effort was prevalent. CP3 has shown his presence was key. He played the last game TO free and scored more than 10 points. Assurance by beating Lakers help them to play stress free where Ayton control the paint.
Bucks the high flying team for first round, are having difficulty with the Nets. Without Harden, KD and KI are giving problems to Giannis and company. You probably heard the story of Jay Williams spilling the beans about KD and GA. It did not look good for Jay Williams. Giannis should use this story to bring more interest in game 3. From afar Nets look really good to advance to the East Finals. This could be a blow for Giannis. I mean they should be happy Harden is not there to complete the trio.
Clippers need the next game to balance out Utah. Weird to see Clippers losing game 1 twice this playoffs. Hopefully game 2 will bring light and see if Utah number seed means something. A Clippers vs Nets NBA Finals would be what the experts want. Phoenix look ready to spoil the beans. 76ers or Hawks not sure what to expect from them. Nets will go to the Finals due to the way the series are going. CP3 in Finals will be epic where veterans and best ball handlers will go toe to toe. Hopefully Harden should be back before to bring his part.
We are getting to a point where the NBA is looking for the next Lebron James, Kobe or MJ. Not sure AD can fill that shoe. KD and Kyrie, Harden healthy can dominate the games for couple years to come. Not to forget the warriors with Klay and Curry. They will need help in the West to compete again. Klay should be back after two absent seasons. Off season will be moving fast due to Olympics and other events and here we go again by end October
---
---