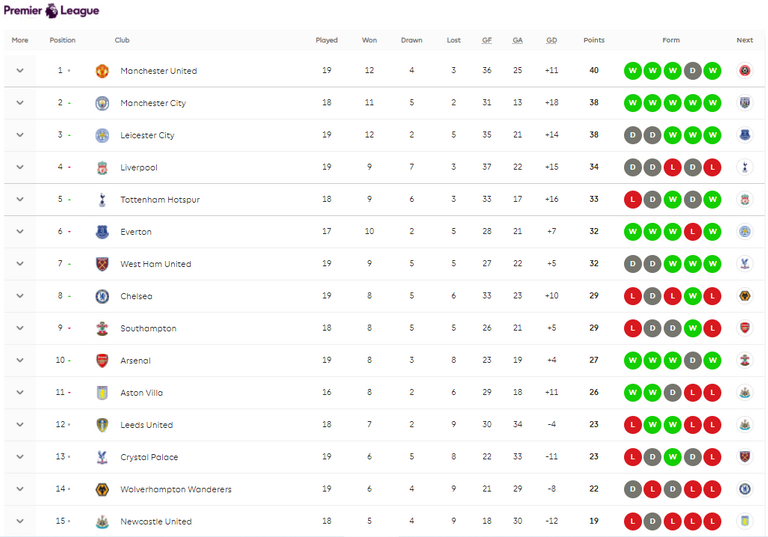 Source
Apparently Manchester United is holding first place for a good couple of days. When you play many matches and realized you can compete why not got all the way. Fulham did try to mix it up early with an early goal but it did not end well for them.
Cavani always find a way to score. He is almost out of contention, minus well he plays really good and help his team wins. You can surely appreciate Progba goal where it is undeniable a hard shot to take. Being on top at the EPL could be a deal breaker for them.
The season is still a long way to go. Still have to play 19 more matches and they need to stack as much w as possible to win it this year. It is there to grab.
On the other hand, Liverpool is slowing down. Burnley did come out on top with help of a penalty.
They defend well and Liverpool cannot overcome that penalty. Last five games no great result from a current champion. Liverpool is not out yet. They are vulnerable and other teams will take that to play them harder.
Chelsea is not up to par lately. I wish to say more but they need to find a way to win fast. Manchester City is coming swift in second position. They won their last five matches with 38 points.
Next match for all five top teams will either shake or hold everything in place.
The only thing I know about any clubs in EPL, they come to play and a stunner can come at any play. Every team needs to start making ways for the next 19 matches. No easy route for bottom feeder or top hunter.
Definitely strange times ahead as well.
Enjoy the world wide game.