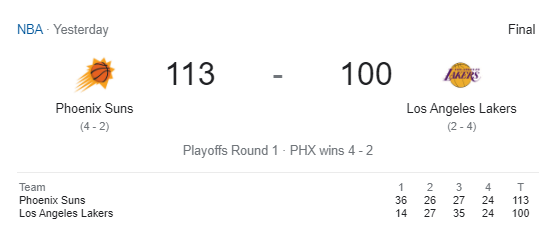 source
You probably watching Clippers playing it all to survive another day. Yesterday it was Lakers giving it for three quarters and lost the game cause of the first quarter. Look at the numbers for yourself and you can see Lakers won second and third and not enough to flip the switch in fourth. You probably asking yourself why AD even play the game when the Suns scores all the points while he was in the game. Devin booker was lightning in the Staples Center.
I was watching the game so I left before half time. Suns was scoring easy on three points like it is practice. Crowder was not missing at all. The Suns showed up in the right time knowing AD is not there to control the paint. Lakers defense is good but slow at the same time. When you figure out
fast pace is a problem, you can play neck and neck with the Lakers. Losing the first game was a sign that give assurance to the Suns.
Got to give it to CP3 for his decision skills to break Lakers defense and pass the ball right. CP3 only scored 8 points but he had more than 10 assists. We all know the Suns passed first round but I do not see them moving pass second round. Things are getting harder and harder. They will play Nuggets. A tougher opponent and Jokic is the difference maker. AD always getting hurt is a problem that need to be fixed. James is getting older. The window of Lakers opportunity is closing quick. I expect to see a more aggressive Schroder and Kuzma. At least Dennis scored 20 but Kuzma only 2.
Looking at LeBron James lately, he could take over the game and win it. That will negate the team spirit. No clue if AD will be ready for next round. I think James is hurt too cause you do not see him early going inside. He scored bulk of his point in the third quarter. First half Lakers scored 14 points. That's lame. Now how would you like to see Lillard coming to the lakers?
In the East like I mention the doors are wide open for the Nets to win a Championship. It is getting clearer. Tomorrow game will be pivotal for Bucks or Nets. The winner of this series will win it all. Who are you going to watch in this series?
Giannis is the man I am going to watch. If he plays well he will be a matchup made in heaven for the Nets. Jrue is another player with the mind of a champion. Middleton should do his best to match his last effort. Bucks are well rested by sweeping the Heat early.
One more week before we have more events coming our way. Now let's see if Clippers can push for a game seven in Dallas.