THE CHAMPAGNES ARE STILL ON ICE FOR ANOTHER DAY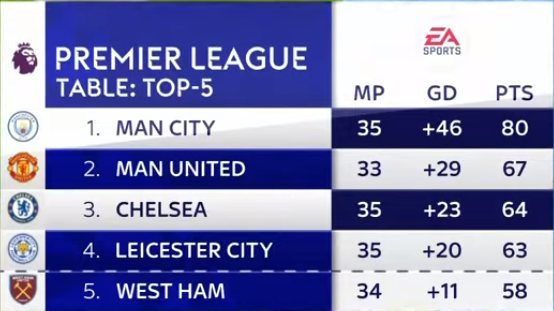 source
So if I can get this straight Manchester United still can win the Premier League this year.
There is a big gap between both teams of 13 points and I am not sure how could this happen.
No need to go through the whole sphere to show how this is possible but eventually United has
to win all remaining matches for 15 points and City to lose the remains of three games. So this is 5%
chance that could happen to City to lose and United to win as well.
There are a lot to say about this game when champagnes were on ice and at home City misses the opportunity to finish strong and put Chelsea in the corner. First half it was fantastic football from both teams. As always City plays great whoever they put on the field. First goal is all about pressing and
than the first goal is there. I do not know why Aguero did not shoot the ball but Sterling wanted more.
The first penalty was giving and not sure why. The camouflage and trip from behind during the melee made it a giving.
Aguero was doing a special penalty called Panenka. I do not know what it was thinking at the time.
Maybe he think of the champagnes on ice and it is time to slow everything now. It was a mess when Mendy did not fall for it. I was like what is this? This is Football. Manchester City doesn't respect Chelsea. Scoring first so they think it is our time now. Pep was what! He knew Chelsea is not an easy team to play. Aguero is leaving at the end of the season. If you do not see him on the field now you know why. Unfortunately he has to apologize to the fans and teammates for this gaffe.
At least Chelsea was paying attention and turn everything around in the second half. The second penalty should be given. It could change the game as well. Looking at it many times I can see why the referee did not give it. The referee relies on 5% that Sterling could fake it. Just like that City is in trouble, unable to find a concise way to score another goal. Chelsea knew how important for them to win this match. It was a psychological win that can help them to the final of UCL.
Now the pressure is more on City to win UCL. Not able to secure EPL is another headache for Guardiola. Battling in two fronts is not fun. It favors them to win everything. The pressure is on Chelsea as well. They need to win FA CUP versus a team they need to beat twice. That is a lot of pressure. Winning against City should bring a lot of confidence for the team. I am not sure how Leicester will finish the season but they lost to Newcastle badly. They will play United.
I mean every match is so high level to finish the season.
Tomorrow Aston Villa vs Manchester United will play an important match cause it could help Manchester City to win the Premier League.
I am not playing the game I can sense the intensity tomorrow. United will not want to give City a free pass. The month of may sounds resolute for a fan of Football. Hopefully your team is giving you joy to watch the game.
---
---