The Premier League of season 2021-2022 will be starting soon. Many clubs are playing their friendly matches, including Liverpool. They did in Austria and in England. They won over Bologna, but today they drew with Spanish side, Athletic Bilbao. Friendly or pre-season match is important for clubs to make some strategy, tactic and testing their players, whether old or new ones. It's okay they win, draw or lose the matches. I love to see Liverpool doing their friendly matches very well.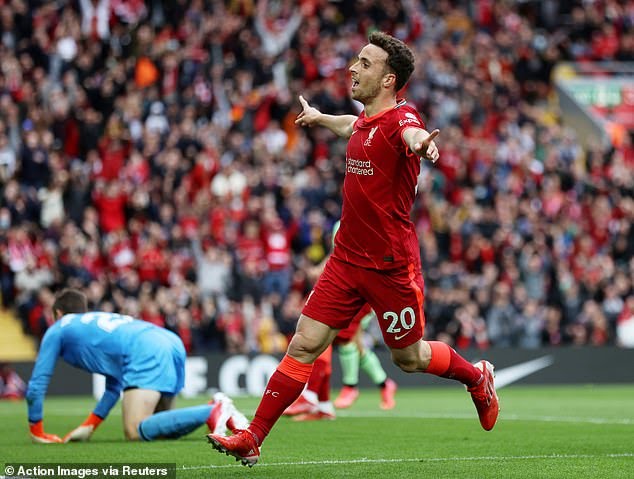 Source
When playing against Athletic Bilbao at Anfield Stadium, Liverpool just played drew. Diogo Jota scored for Liverpool. The Portugal International player was in great performance. It's great for him. I hope he may contribute much this season. I am sure, Jota will have more minutes to play this season. Coach Jurgen Klopp has alredy set a new strategy for his team this season, as Virgil van Dijk is playing again.
Near-full Anfield
It seems pandemic is nearly finish as I saw that Anfield Stadium is almost fully seated by fans when the friendly match. It's really nice to see how fans started coming to the stadium to support the team play. It's almost 2 years Covid-19 pandemic and it has affected the football industry so much.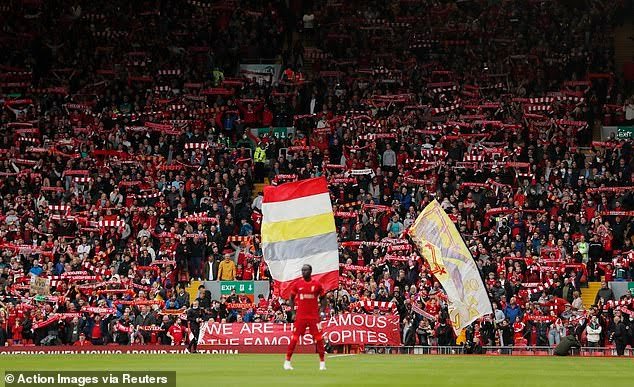 Source
As a fan outside England, we may see the crowd on live broadcast. Football without the crowd is not so lively. It's not excited to watch the match when stadium is empty, no crowd, no songs, no applause, no cheers. When stadium is full of fans, the the players will be more enthusiastic when playing.
Really love to see the fans cheering during the match. When fans come back to the stadium, then the football industry is safe now. The clubs need some earning from selling the tickets. And the fans are also have some entertainment at the weekend, mostly when their teams playing against opponents of the league.
However, there was a bit problem of electronic ticket system when the fans were long queuing outside the stadium that made the game was delayed.
Giant queues outside Anfield and a half-empty Kop caused Liverpool's friendly with Athletic Bilbao to be delayed, with a new ticketing system causing chaos.Source
Jota Sharp, Robertson Injured
There is a bad and a good thing in the same time for Jurgen Klopp after the friendly match. Diogo Jota is pretty sharp recently, he scored at Anfield stadium on minute 13th. This made Jurgen Klopp and fans were so excited.
However, on the other side Klopp was not happy when Robertson got injured. It looks Andy Robertson got ankle problem. We still don't know how severe the injury is. I just hope the injury is not so serious, so the defender doesn't need to be absent longer. As a Liverpool fan, I was not happy to see Van Dijk, Joe Gomez and Joel Matip were absent very long time last season. So, we don't want to see the same problem this season. Andy Robertson is one of Liverpool's great defender.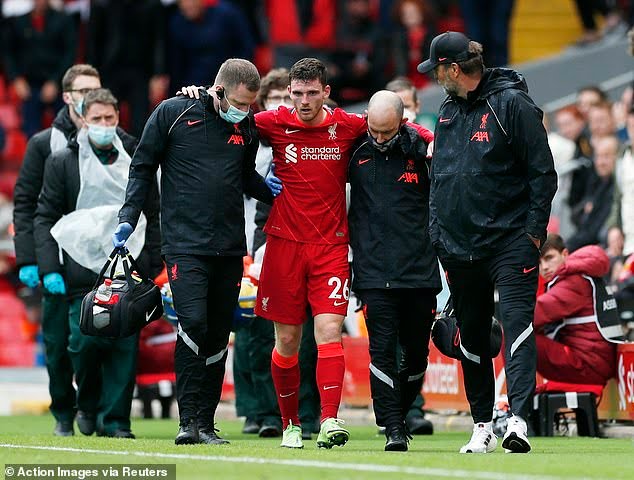 Source
We need to see him playing side by side with Van Dijk and others this season. I hope he will recover soon from the ankle injury. I hope the injury is not bad,