Garay's departure from the lawns and the actions of benfica with investments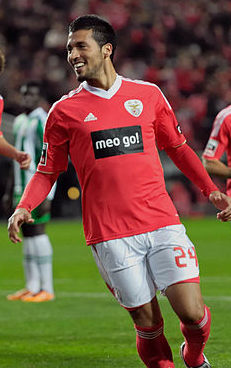 Image authored by this site font
In this world of football and I, as a supporter of sport Lisboa and Benfica, I am proud that this great player garay has passed through my heart club.
At this moment, he announced the end of his long and brilliant career in this world of football, which had passages all over the world, always leaving his mark wherever he went.
He was a player who had a nickname in the football world as EL NEGRO and started his career with Newell's Old Boys in 2005.
The country in Europe that opened its doors to him was Spain in the racing of Santander but his flights quickly, due to their quality, were different, having ended up at one of the best clubs in the world, Real Madrid, where he completed about 3 years. My always attentive Benfica managed to convince him to come to Portugal and Lisbon, and he won several competitions at national level between the championship and several cups and then followed a long journey and a new challenge in Russia at the service of Zenit. meanwhile, to the country that opened the doors of Europe to him, Spain to represent the valencia team, where he still showed all his enormous value.
Garay was and is an Argentinian central of enormous quality and value at the moment he leaves football due to injuries that affected him for a long time and made it impossible for him to get back in shape and play football as he wanted. international player for argentina time even been in a world cup was in 2014 and before that he was also a player and always a starter in his national team during the olympics.
But at this moment his career on the pitch has come to an end, we will see if he will embrace a project that will soon be linked to football.

The investor and American millionaire John Textor wanted to compare and still want to buy shares in Benfica, despite the red leadership already saying that he will vote against this purchase and it will not continue as he thinks it is not appropriate at this time due to the revolution in Sport Lisboa e Benfiac with the departure of its president Luis Filipe Vieira.
The idea was to buy about 25 percent of the red club's shares. The American millionaire says that despite his disappointment he perceives the decision of the club's governing bodies, seeing in the issue of timing mentioned in a statement that possibly one day later there may be opening to negotiate with the club.
It should be noted that the actions of benfica rose a lot and they are even now able to pay the guarantee to former president of Befica Luis Filipe Vieira who held a percentage and they may serve to pay for his freedom until the investigation is concluded.
---
---