On a dramatic move, for the upcoming England series Sarfraz Ahmad has been selected as a second option wicket keeper.
In was last October when he left the captaincy of Pakistan team, even just after he lost his place in the national team.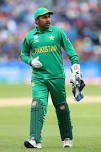 Sarfraz says, it was surprising for him to not see his name in the national team.
But now he has been selected in the 29 member squad of Pakistan team for upcoming tour.