Mixed Martial Arts is a world away from what it used to be. In less than two decades MMA grew from an idea in the mind of a Jiu-Jitsu instructor teaching out of his garage, to a world wide phenomenon. This write up is about how political and financial reasons forced MMA to evolve from a spectacle to a legitimate sport.
Genesis
Rorion Gracie created the Ultimate Fighting Championship almost 27 years ago. Rorion is the eldest brother in the Gracie clan, and son of Helio Gracie, who founded Gracie Jiu-Jitsu. Rorion's intention wasn't to create a new sport. It was to prove to the world that his families fighting system was the best. The way for him to do that was to create a no-holds barred tournament where, Royce, the youngest, and least skilled brother took on fighters representing different fighting styles.
The concept of the UFC was not revolutionary for the eldest Gracie. It was a way of fighting that his family had been doing for over sixty years in Brazil. For the Gracies, "Value Tudo", or anything goes fighting was the only worthwhile proving ground for a fighting style.

Rorion front row center: Source
The first 8-man tournament turned the martial arts community on its head. Most martial artists at that time believed striking styles like Karate and Kickboxing were the best. After Royce won the first tournament using the "gentle art", many martial artists gave up their current system to study Jiu-Jitsu.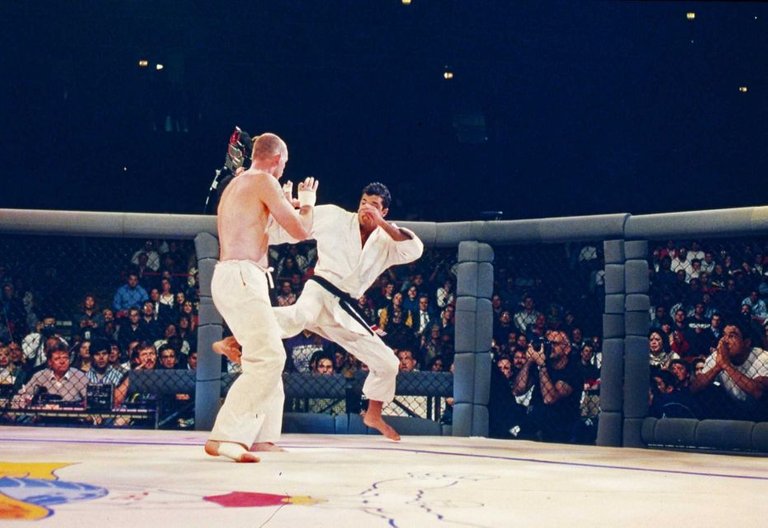 Royce fighting Gerard Gordeau: Source
The early tournaments exceeded Rorion and the original owners pay-per-view expectations. After the second or third tournament, Forbes called the UFC "the most successful franchise in pay-per-view history."
Rorion ended up selling his shares of the company by the time UFC 5 aired. At UFC 4 the promotion had 2 hours to air the whole competition. Because there were no time limits, Royce's long fight with Dan Severn pushed the event over by 3 minutes. The pay-per-view went off and nobody at home saw the end of the main event. Afterwards, Rorion's partners, Art Davie and Bob Meyrowitz insisted on changing the rules to make the event better for TV. This went against Rorion's philosophy and he left. However, he was satisfied that his goal of putting Gracie Jiu-Jitsu on the map had been accomplished.
The Dark Ages
Trouble came looking for the UFC eventually. The sparse rule set which only outlawed biting, eye gouging and fish-hooking, and the lack of weight classes caused concern. The event was eventually removed from PPV providers and banned everywhere except Indian reservations. This would mark the dark ages for the UFC where it's future remained uncertain. While the UFC was fighting for survival the Japanese promotion, Pride FC, became the darling of MMA. Pride's unique rule set favored strikers and created some of the most exciting, and gruesome, fights in MMA history.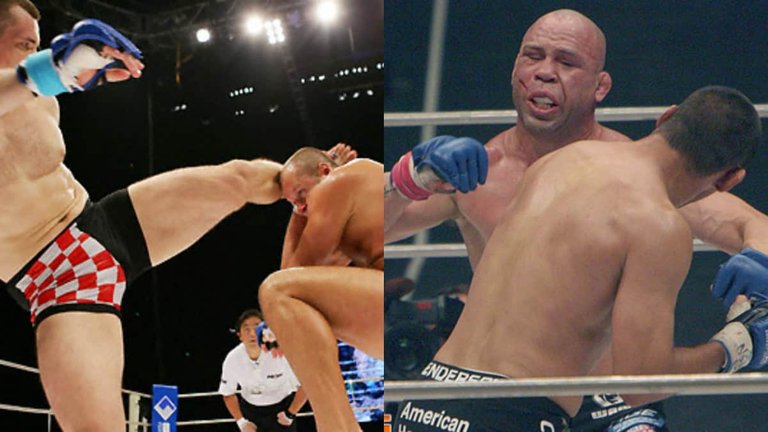 Fighters from Pride FC: Source
Things looked dire for the UFC after it caught the attention of Senator John McCain. McCain was disgusted by what appeared to be senseless violence and described the UFC as "Human Cockfighting." The late Senator wanted to ban the competition, then later made regulating the sport one of his top priorities. Here is an excerpt from an interview with Dana White in 2008.
Jhabvala: Who do you think is the best presidential candidate for MMA?
White: I'd have to say McCain. I consider John McCain the guy who started the UFC. If it wasn't for McCain I wouldn't be here right now. What people don't understand about mixed martial arts and the UFC is, what [McCain] was saying to the old owners is that you cannot put on fights in states that aren't sanctioned. It's illegal. You can't do it. You have to be sanctioned by an athletic commission, which we agreed with him on 100 percent. John McCain wasn't saying this thing shouldn't happen, or it shouldn't be running. He was saying, if 'You're going to do it, it has to be sanctioned by an athletic commission.' We agree.
source
Dana White was correct. The silver lining of regulation and an increased focus on safety was that it helped MMA become the fastest growing sport in the United States. After White and his friends bought the floundering promotion, they went to work making it respectable. His efforts resulted in it being sanctioned by the Nevada Athletic Commission and the formation of the Unified Rules of Mixed Martial Arts. Pride FC folded in 2007, and along with it, the only other interpretation of what MMA should be.
Going Mainstream
I was 13 when UFC 1 took place. I didn't watch it on PPV because my parents couldn't afford cable. I learned about it from a karate magazine, which I still have. The only people I knew who talked about the UFC were from my dojo. The"sports guys" from my town were only into what was happening in the mainstream, football, baseball, and basket ball.
I eventually lost interest in MMA during the UFC's dark ages. I was convinced it was just a matter of time before the whole thing folded.
When I got back into MMA in the early 2000's I was following Pride. I thought Pride was more exciting than the wrestler friendly UFC. Then, the UFC got a major boost in popularity from the reality show "The Ultimate Fighter." I knew the sport was growing, but I didn't ever imagine it would be popular outside of its core group of martial artists and hardcore fight fans.
Reality hit me in 2007 when my aunt said she liked Matt Serra. I thought to myself "How do you know who Matt Serra is? And, what's to like about him?"
Post Mainstream
In the decades that followed the Ultimate Fighter things fell in place for the UFC. Pride folded and was eventually bought by Zuffa LLC, the owner of UFC. The San Jose based Strikeforce promotion was also bought by Zuffa. Strikeforce hosted the very first sanctioned MMA event in California back in 2006. The purchase brought Daniel Cormier, Josh Barnett, Ronda Rousey, Luke Rockhold, Nick Diaz, Dan Henderson, Alistair Overeem, and Cung Le into the UFC fold.
Women's MMA exploded when Ronda Rousey joined the UFC roster. Women's MMA had been growing in popularity since the mid-2000's. The first female MMA star was Gina Carano. For a brief time, she was considered the "face of women's MMA." Carano retired from fighting after losing to Chris Cyborg in 2009, leaving the women's division without a bankable star.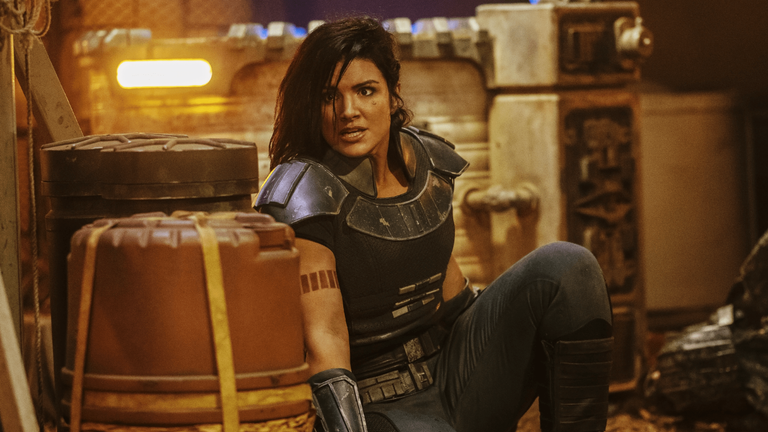 Gina Carano in the Mandalorian: Source
White exploited everything he could with Rousey, from her looks, her talent, and her ferocity to put women's MMA on the map. The combination of marketing and trash talking worked. The masses were turned on to women's MMA.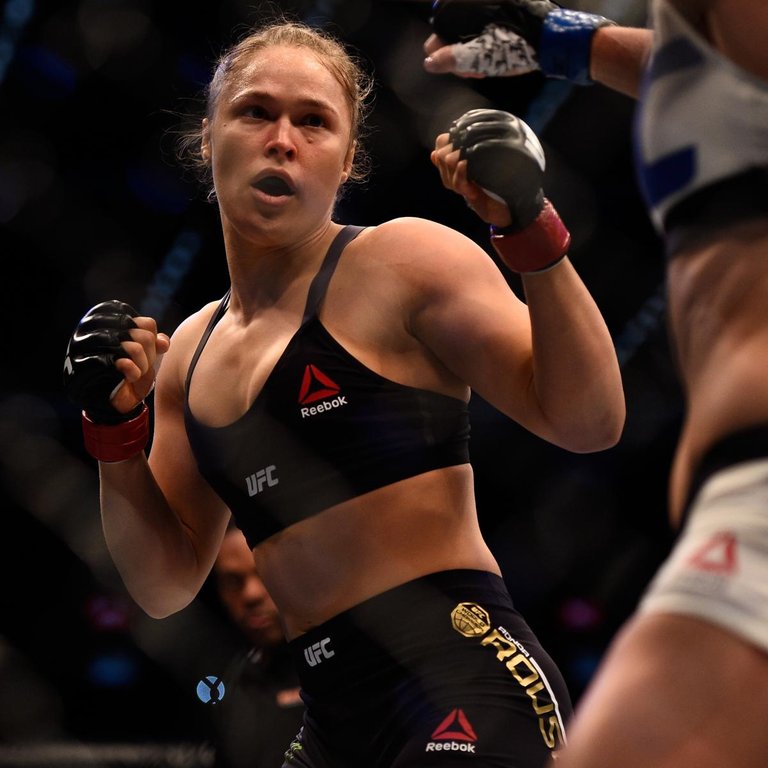 Women's MMA is only going to continue to grow in popularity. On 9/12/2020 Angela Hill became the first ever black female to fight in a UFC main event.
Training, Tactics, and Techniques
The MMA fighter of the early 1990's looked radically different from the fighter of today. However, a few fighters from the early days can be credited for prototyping the modern MMA athlete. Of all the early pioneers, Ken Shamrock looked the closest to a modern fighter. Ken's famous rivalry with Royce Gracie started after their first battle in UFC 1. He had submission and striking skills to go with his body builder's physique. He would have steam rolled the competition had it not been for Royce Gracie. Ken instinctively knew what would work in the Octagon because of his shootfighting background. Ken was the first King of Pancrase.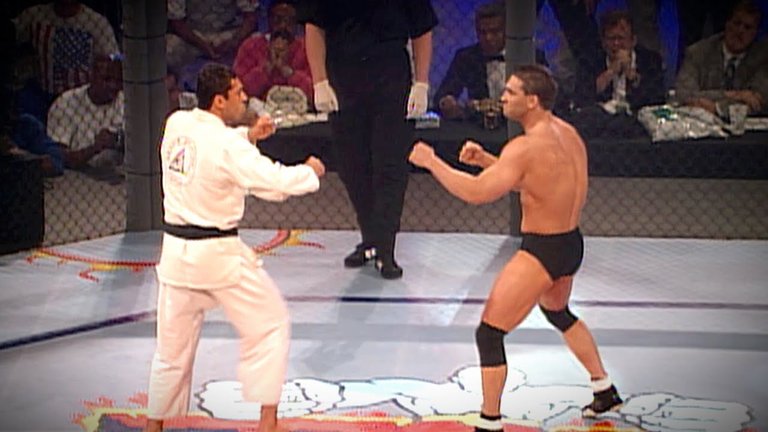 Ken taking on Royce in UFC 5: Source
His fighting team, The Lion's Den, produced some of the most complete fighters of the early era. Fighters such as Guy Mezger, Frank Shamrock, Jerry Bohlander, and Mikey Burnett all hailed from the Lions Den.
Fighters quickly learned that you needed to know a combination of wrestling, Judo and Brazilian Jiu-Jitsu to succeed in MMA.
However, what works in the striking department has, and is continuing to evolve.
Striking was horrendous in the early events. Keith "The Giant Killer" Hackney delivered two of the most cringe worthy moments in UFC history when he beat sumo wrestler, Emmanuel Yarbrough into submission with palm and forearm strikes. He later went on to smash Joe Son's testicles into another universe in UFC 4.
As MMA evolved from "human cockfighting", to legitimate sport the stand-up part of the game evolved too.
In my opinion, the biggest difference between the early UFC and modern MMA, is that the early UFC wasn't a sport, it was a spectacle designed to showcase Gracie Jiu-Jitsu. Rorion even admitted to floating the idea of placing crocodiles around the ring so fighters couldn't escape. When UFC 1 kicked off, no one except for the Gracie's and their partners knew what to expect.
Stand up fighting has gone through several transitions. I broke them down into four eras.
The Brawling Era
The Sprawl and Brawl Era
The Karate Era
The Hybrid Era
The Brawling Era
The first four UFC's showed us what groin smashing, headbutting, and eye gouging looked like. The stand-up fighters who managed to win some matches made up for their lack of skill with savagery. I call this the Brawling Era because of the lack of technical skill, and/or ethics.

Keith Hackney vs. Joe Son: Source
Notable stand-up fighters from the Brawling Era:
• Gerard Gordeau (UFC 1)
• Patrick Smith (UFC 1, 2, 6)
• Keith Hackney (UFC 3, 4, Ultimate Ultimate 1995)
• David "Tank" Abbot (Debuted UFC 6, active from 1995 – 2013)
The Sprawl and Brawl Era:
Marco Ruas introduced the world to Luta Livre in UFC 7. Luta livre is a Brazilian no-gi martial art that blends striking with catch wrestling and Jiu-Jitsu. Marco Ruas was an expert in Lute Livre and Muay Thai. When he chopped the 6'8", 330 lb. Paul Varlens down with low kicks to win the tournament, the MMA community learned the value of Muay Thai. I mark this as the beginning of the sprawl and brawl era. Sprawl and brawlers are fighters who have the grappling knowledge to avoid take downs and keep the fight standing. Pure grapplers began to lose their dominance during this era. This type of fighting is still used, but it is beginning to fade because fighters have gotten more mobile.

Marco Ruas vs.Paul Varlens: Source
Notable stand-up fighters from the Sprawl and Brawl Era:
• Marco Ruas
• Pedro Rizzo
• Maurice Smith
• Wanderlei Silva
• Mirko Cro Cop
• Bas Rutten
The Karate Era
We can't speak of Karate in MMA without mentioning Lyota "The Dragon" Machida. Heads exploded when Lyota entered the scene. Before Machida, it was far gone conclusion that anyone representing karate in MMA was a fool. Memories of flailing karate black belts and rolling thunder kicks that missed by a mile were still in MMA fans minds. All that changed when Machida, a master of Shotokan karate, was able to use the styles elusive footwork and powerful punching to his advantage. For a time, no one thought Machida could be stopped. Machida gave karate back its respect. People understand now that a karate black belt can be dangerous if they know how to grapple. There are a lot of champions with black-belts in karate. You can include George St. Pierre, Uriah Hall, and Chuck Liddell to the list. But the fighters below best showcase the signature karate style, which uses a bladed stance, sidekicks, elusive footwork, and fast straight punches.

Lyoto Machida vs. Randy Couture: Source
Notable stand-up fighters using Karate:
• Lyoto Machida
• Steven Thompson
• Michelle Waterson
• Raymond Daniels
• Michael "Venom" Page
The Hybrid Era
This era was ushered in by Anderson Silva. I use the term "hybrid-striker" because these are fighters who's striking style combines the best of Muay Thai, Karate, and Kickboxing. It is the most complete style of striking in MMA. These fighters use distance and footwork to avoid taking damage. They will baffle their opponents with unorthodox (for mma) strikes. They will throw anything from jumping front kicks, lead leg round houses, low line side kicks, spinning elbows, and even back-fists. On top of it all they have the bone crunching power of a Muay Thai fighter.

Anderson Silva vs. Israel Adesanya: Source
Notable hybrid-strikers:
• Anderson Silva
• Connor McGregor
• Israel Adesanya
• Robert Whittaker
If you enjoyed this article consider following me. I write about Mixed Martial Arts, self-defense, fitness, and mental health.