This Saturday 9/12/2020 the UFC will be featuring Michelle "The Karate Hottie" Waterson vs. Angela "Overkill" Hill as the main event. The two contenders will be competing in a five-round fight at the UFC Apex in Las Vegas.
Michelle Waterson


source
Waterson (17-8 MMA, 5-4 UFC) is coming off back-to-back losses to Joanna Jedrzejczyk and Carla Esparza. Prior to that she was on a three-fight winning streak.
Angela Hill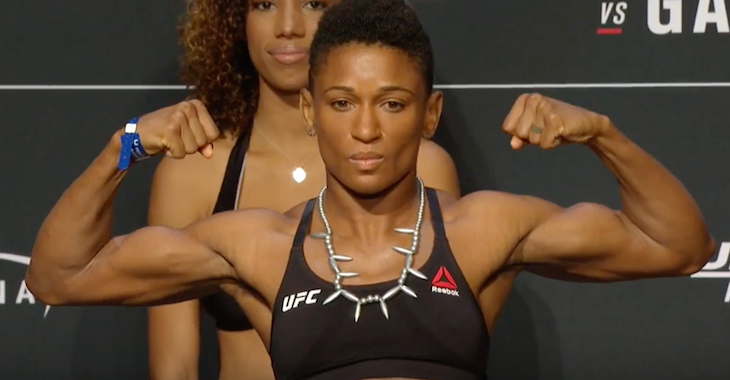 source
Hill (12-8 MMA, 6-8 UFC) just had her three-fight winning streak broken by a split decision loss to Claudia Gadelha.
The two fighters need a victory to start their way back up the rankings. Waterson probably needs it the most.
Waterson is the slim underdog, which is nothing new for her. She has not been favored to win a fight since fighting Paige VanZant in 2016.
Hill promises to be a tough opponent for Waterson. She's an aggressive Muay Thai striker who can finish fights with punching volume and power.
I think Waterson has faced tougher opponents though. In 2018 she earned a close decision against Felice Herrig. Waterson also went five rounds with Joanna before losing the decision.
Waterson can take this fight if she does the following:
Avoid Hill's right hand
Waterson needs to avoid Hill's power punch. She must fight on the outside and shut down Hill's lateral movement with chopping sidekicks. This is her signature strategy anyways.
Take the fight to the ground
As soon as Hill's inside her kicking range she needs to look for a throw or takedown. I believe Waterson will dominate Hill with her superior Jiu-Jitsu.
Avoid taking damage in the clinch
Waterson has displayed a weakness against pressure fighters. Joanna beat her up in the clinch and Hill will have to do the same. If Hill stands in the center of the ring, Waterson will work the angles and pick her apart with kicks.
Let her strikes go
Waterson is the more accurate striker so this will only work in her favor.
I give a narrow edge to Hill because she has more momentum going in. However, if you're betting on the fight, I think the smart money is on Waterson. Out of Waterson's recent fights Joanna is stylistically the closest to Hill. But Hill has holes in her game that Joanna does not. So, don't expect a knockout victory from her.
Conclusion
As a fan of "The Karate Hottie" I honestly hope she moves on to bigger better things soon. Her window of opportunity is closing and she's facing strong headwinds in the form of Weili Zhang, Rose Namajunas, Joanna Jedrzejczyk and Jessica Andrade.
I would love to see her try more profitable pursuits, like a career in Hollywood.