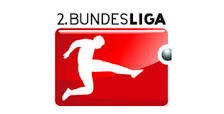 Heute Abend 2 interessante Spiel um den Aufstieg in die 1. Bundesliga.
Tonight 2 interesting games about move up to the 1st Bundesliga.

vs.

Kiel spielt zu hause gegen Hannover. Kiel kann mit einem Sieg einen großen Schritt in Richtung 1. Bundesliga machen und sie werden meiner Meinung nach ihr Heimspiel souverän gewinnen. Ich tippe 4:1.
Kiel plays at home against Hannover. With a win, Kiel can take a big step towards the 1st Bundesliga and, in my opinion, they will easily win their home game. My guess is 4: 1.
---

vs.

Der HSV spielt zu hause gegen Nürnberg. Der HSV muß gewinnen um noch theoretisch eine Chance zu haben, in die 1. Bundesliga aufzusteigen. Nürnberg war in den vergangenen Spielen verbessert und wird mit Kampf dagegen halten. Ich tippe 2:2 Unentschieden.
HSV plays at home against Nürnberg. HSV must win in order to theoretically have a chance to move up to the 1st Bundesliga. Nürnberg was improved in the past games and will fight against it. My guess is a 2-2 draw.
Funny matches @all
Best regards & Glück auf
sportfrei